PLEASE CLICK TO DONATE TO OUR SITE!!!!
This is just an unofficial fan page, we have no connection to "One Life to Live" or ABC.
PLEASE CLICK TO DONATE TO OUR SITE!!!!
One Life to Live Fan Fiction
We need more daytime recap/update writers, article writers, MS Frontpage and Web Expression users, graphics designers, and more, so please email us if you can help out! More volunteers always needed! Thanks!
Mystery Man by Willy
Part 1 Part 2 Part 3 Part 4 Part 5 Part 6 Part 7 Part 8
The Thornharts Return!
Dazzling intrigue and romance
By Alisa Blevins
Proofread by Iram
Chapter One
Chapter Two
Chapter Three
Chapter Four
Chapter Five
Chapter Six
Chapter Seven
Chapter Eight
Chapter Nine (Last Chapter)
Todd's Story Chapter One (Unfinished and we don't know the author's name)
---
Please email us if you have any OLTL fanfiction you'd like to contribute!
Check our other fan fiction: AMC, ATWT, B&B, Days, GH, Passions, Sunset Beach, Y&R, & Buffy the Vampire Slayer.
---
Buy Soap Magazines
Go here for great news & scoops, photos and in-depth articles!
Soap Opera Digest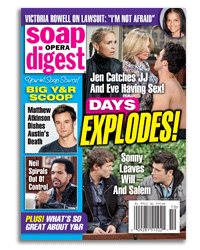 ---