PLEASE CLICK TO DONATE TO OUR SITE!!!!
One Life to Live Fan Fiction
The Thornharts Return
Chapter Six
By Alisa Blevins
Proofread by Iram
CARLO'S REVENGE PART 1:
After the Dr's released Marty Saybrooke/Thornhart with a clean bill of health, she and Bo Buchanan headed to the Cherryvale Police Department, where Marty was to make a statement about her kidnapping. Upon arrival, Marty was taken to an office to make her statement, and Bo headed to Constable Crain's office to fill the Constable in on what he knew. After filling the Constable in on everything he knew, Bo began pacing the floor of the small office. Constable Crain leaned forward from his desk chair, resting on his elbows; concern on his face.
"What is it Commissioner?" Constable Crain asked Bo.
Bo stopped pacing, looked at the Constable, and then took a seat on the other side of his desk. He ran his fingers through his hair, and looked at the floor.
"It's Patrick….of course I'm concerned about his safety…but, it's also…" Bo looked up at Constable Crain. "I don't know how I'm going to tell Marty. I mean after all she's been through…I don't know how I'm going to break it to her. And with Penny's surgery coming up, I don't want to have to put any more burden on her." Bo continued. "I'm not sure how to tell her, or even….if I will tell her." He concluded.
"What do you mean NOT TELL HER?" Constable Crain questioned Bo, as he straightened in his chair, surprised at Bo's words. "What are you talking about Commissioner?"
"I know…it sounds crazy…it's just that I was thinking...well Marty doesn't even know he was coming to help me look for her…but of course, that wouldn't work…she'd just call him at home and when he wasn't there, she'd worry. There's no way around it. I'm going to have to tell Marty that Patrick is missing." Bo said, resignedly. He ran his fingers through his hair again, and rose to find Marty. At that moment, one of Constable Crain's officers entered the room.
"I'm sorry to interrupt Constable, but I was instructed to get this message toCommisioner Buchanan immediately." The Officer apologized, as he handed the note he carried, to Bo.
"Thank you." Bo told the Officer as he turned to leave. Bo opened the message and read to himself. After a brief pause, Bo looked up at Constable Crain with a smile and a look of relief on his face. "Well Constable…it looks like I won't have to deliver any bad news to Marty after all."
"What do you mean Commissioner?" Constable Crain questioned Bo.
"Dear Bo" Bo read aloud "I know by now you are probably quite worried about me, as I was to have arrived in Cherryvale by now, but I wanted to let you know that I'm fine. I discovered from "friends" that you located Marty, and also found out that Penny is safe, so for the "safety of my case" I have decided not to come to Cherryvale. I have, instead made a detour, and am meeting with colleagues relevant to the issue I am involved in. Please let Margaret know, and I will be in touch as soon as I am able. Your friend, Patrick." Bo finished.
"Well, there you go then, Commissioner…you have no need to worry and no reason to worry that little lady now. Your troubles are solved." Constable Crain told Bo with a smile.
"Yeah….I guess I worried over this for nothing." Bo replied. "But I still need to talk to Marty and let her know about Patrick's whereabouts, so she won't worry when she tries to call home." Bo said as he rose to go fill Marty in.
"Amazing how things seem to turn out well, after such unpleasant events." Constable Crain commented, with a smile, as Bo was leaving.
"Yeah…amazing." Bo answered, not quite convinced that things were going to stay calm. He then left the office, and approached Marty with the news of Patrick.
Back in the mansion where Carlo Hesser and Todd Manning had been toasting Carlo's "revenge" just hours earlier, Patrick Thornhart began to awaken. He opened his eyes and found himself laying in a bed, in a strange room, handcuffed, and suffering from a terrible headache. He tried to rise, but discovered that he was not only handcuffed, but chained to the bed as well. He began to yell. "HEY! HEY! IS ANYONE OUT THERE? SOMEBODY LET ME OUT OF HERE!" He continued to yell as he struggled to free himself.
In another room, Carlo Hesser and Todd Manning sat, relaxing and going over details of Carlo's Revenge against Patrick Thornhart.
"Ah, sounds like our "guest" has awakened." Carlo calmly informed Todd. "Now…it's time to complete my revenge. By now Commissioner Buchanan and Mrs. Thornhart have received "Patrick's" message that he won't be joining them, so there's only one detail left to complete my plan." Carlo finished, as he lifted a metal briefcase from the floor, and placed it on the coffee table in front of him. He opened the briefcase, to reveal a bomb inside. He then closed the briefcase carefully, rose from his chair, and walked to the door with the briefcase in his hand. "Get Thornhart, and meet me where we agreed. Soon, my plan will be complete." Carlo told Todd with a sinister smile.
"Yes master…as you wish master.." Todd told Carlo, rising and limping toward Patrick's room, mimicking Igor, of monster-movie fame.
Carlo ignored Todd's foolishness, now much more obsessed with what was to happen next. He left the mansion with a smile on his face.
What WILL happen next? Is this the end of Patrick Thornhart, just when he's returned? Will Penny survive her surgery? Tune in next week to find out in Carlo's Revenge, Chapter 2.
Chapter 1 | Chapter 2 | Chapter 3 | Chapter 4 | Chapter 5 | Chapter 6 | Chapter 7 | Chapter 8 | Chapter 9
Back to the Main OLTL Fan Fiction Page
---
Buy Soap Magazines
Go here for great news & scoops, photos and in-depth articles!
Soap Opera Digest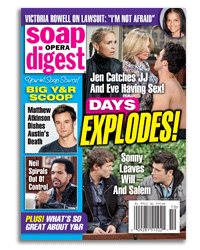 ---