PLEASE CLICK TO DONATE TO OUR SITE!!!!
This is just an unofficial fan page, we have no connection to "One Life to Live" or ABC.
PLEASE CLICK TO DONATE TO OUR SITE!!!!
One Life to Live Fan Fiction
"Mystery Man" Part 4/8
Written by: Willy

Officer Natalie Buchanan enjoys her day off as she prepares to spend some quality time with her mother Vicki.

"I can't believe it.. Dr. Dorian Lord has agreed to take on a case out in Port Charles ?! I thought the day would never happen where she dared not to leave our shaky town of Llanview!" she sighs.

Vicki knods in agreement.

Meanwhile.. Dr. Maria Santos is all spruced up showing off her beauty and trying to maintain her nerves! She sighs slightly as Dr. David Hayward alerts her that Edmund her husband is alive behind the door. "Enough of this close & dagger nonsense... why the hell did you not tell me he's alive ?!" she demands, no longer fighting back her tears.

He opens the door.. To her shock is Aidan Devane in a very protective mood holding a gun.. "Your spouse is a wanted man - he's a fugitive!" warns Aidan angry.

Maria is overwhelmed.. "Oh my god, please tell me who did he kill ?!" She demands slowly approaching him.

Edmund looks at her with such admiration, yet dark in a way it rattles her.

"Palmer's son.. Edmund killed Petey Cortland." reveals Aidan.

Next.. Maria seeks legal assistance!

Back to the Main OLTL Fan Fiction Page
---
Buy Soap Magazines
Go here for great news & scoops, photos and in-depth articles!
Soap Opera Digest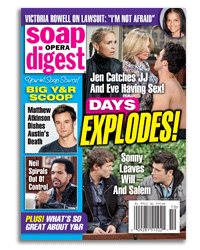 ---