PLEASE CLICK TO DONATE TO OUR SITE!!!!
One Life to Live Contact Info
We need more daytime recap/update writers, article writers, MS Frontpage and Web Expression users, graphics designers, and more, so please email us if you can help out! More volunteers always needed! Thanks!
ABC is no longer accepting fan mail for the actors at their network addresses. Your best bet is to find the actor's official site, or their Twitter feed, or their Facebook page, and find out from there where you can write to them or get their autograph. To help you, please visit our OLTL links page.
---
Write to save the soaps! https://www.facebook.com/SaveAMCandOLTL
Anne Sweeney
President, Disney/ABC Television Group
ABC Studios
500 South Buena Vista Street
Burbank, CA 91521
Phone: 818-460-7700
Email: Anne.X.Sweeney@email.disney.com
Fill out a contact form at http://abc.go.com/site/contactus.html
See the current OLTL cast list at http://www.tvmegasite.net/day/oltl/cast.shtml.
President, ABC Daytime
2300 Riverside Drive
Burbank, CA 91506
Phone: 818-460-7020
Phone ABC at (818) 460-7477 (NOT FREE)
And if you'd like to let the magazines know what you're thinking.
Sound Off
Soap Opera Digest
4 New York Plaza, 2nd Floor
New York, NY 10004
e-mail: sodsound@soapoperadigest.com or comment on their Facebook page.
To get your letter in Ask Us, email SODask@soapoperadigest.com or write in.
See our All My Children Contact Page for a list of ABC Daytime Sponsors that you can write to!
FYI: Actors are very busy people. Some of them answer or send autographs, and some just don't. It could take weeks, months, or years for them to answer, or you may get no reply at all.
Other Daytime Address Pages: AMC, ATWT, B&B, Days, GH, GL, Passions, PC, & Y&R.
---
Buy Soap Magazines
Go here for great news & scoops, photos and in-depth articles!
Soap Opera Digest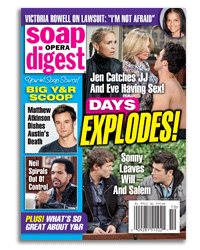 ---