PLEASE CLICK TO DONATE TO OUR SITE!!!!
This is just an unofficial fan page, we have no connection to "One Life to Live" or ABC.
PLEASE CLICK TO DONATE TO OUR SITE!!!!
One Life to Live Rumors & Predictions
We need more daytime recap/update writers, article writers, MS Frontpage and Web Expression users, graphics designers, and more, so please email us if you can help out! More volunteers always needed! Thanks!
Rumors by Suzanne 1/11/15
Ever since the show has left the air (both times), there have been rumors about it (and AMC) returning. The latest round of rumors was sparked by Kristen Alderson (Starr) leaving General Hospital. For now it's just rumors. Also, I believe the rights to AMC and OLTL have now reverted back to ABC, so even though there is still a lawsuit going on with Prospect Park, they could bring them back if they wanted to. This has added to the rumors.
Predictions by Suzanne 5/1/13
Todd and Victor will have an uneasy alliance to make peace in the family and help Dani.
Blair will fight her feelings for Todd.
Dorian will be forced to resign from the senate. She and David will start a new business.
Dorian will disrupt Viki and Clint's wedding.
Matthew will be jealous when Jeffrey gets involved with Destiny.
Jeffrey will get in trouble with Viki when she finds out that he only had one source for this article. He will go to work for Todd.
Rumors by Suzanne 4/29/11
POSTED JUST NOW BY Jerry VerDorn (Clint) ON FACEBOOK!!!!!
"Rumors of Sony purchasing OLTL and AMC with several outlets to televise, NBC being one of them. Bad calls to ABC 818-467-7477. Good calls to NBC 818-777-3030. Things are interesting in tv land what with the original owners of GH now bringing suit against ABCdaytime. Batali getting cold feet? Rosie on the Radio smacking down opera cancellations. With of course Robin Strasser egging her on. Interesting stuff."
According to soap expert Michael Fairman, SONY is looking into buying the shows, but if they can't, then they are going to just steal away their best actors for DOOL and Y&R (both owned by SONY).
Predictions by Suzanne 10/19/10
Rex is Charlie and Echo's son.
Cristian and Gigi grow closer.
Clint has a big downfall.
Eli gets murdered.
Inez finds new love.
Predictions by Michelle 12/8/08
Marty will continue to have feelings for Todd after she learns all the things he has done in the past. Although it appears that she doesn't want to have anything to do with him, when she regains all of her memory, she will notice that there was a change from the man that he was in the past to who he became with her.
Jessica' s baby will become ill and the only way she will survive is with the help of her real parents (Starr or Cole).
Sarah and Cris maybe over as his feelings shift towards Vanessa.
Predictions By Suzanne 8/13/08
Rex and Bo return to the present, but Gigi is missing. Rex rescues Gigi, with Brody's help.
Antonio and John rescue Talia from Carlo. Carlo gets killed, finally.
Someone gets a clue about Marty.
Viki forgives Charlie.
By Suzanne 11/19/07
Mimi's son Shane is Charlie's grandson (Charlie's son is dead).
FBI Agent Lee Ramsey is involved in Marty and Cole's disappearances.
A terrible tragedy will cause Todd to soften towards both Cole and Marcie.
Marcie won't go to jail for long (if at all) when she is captured.
Jared and Natalie will end up together, much to everyone's dismay.
Jared will let Nash and Jessica off the hook.
Viki will get involved in Charlie's search for his son.
Clint and Dorian will break up for good.
By Rachel 4/9/07
Blair tries to come between Todd and Evangeline.
Todd finds T.J. (Tommy), wins the custody battle and becomes a single father that is until Evangeline helps him raise T.J.
Blair admits to Todd that she wants him back and can't stand seeing him with Evangeline.
Cole impresses Todd enough to allow him to see Starr.
Natalie finds out she's pregnant after she hooks up with Vincent. The baby could be Vincent's or John's. The baby is Vincent's.
Adriana will cheat on Rex with Tate. Rex finds comfort with Layla. An all out war ensues between Adriana and Layla.
Clint becomes jealous of Vicki with another guy. He dumps Dorian for Vicki. He's too late, Vicki has already moved on.
David Vickers is released from jail and comes back to get Dorian.
John realizes that he still has feelings for Evangeline.
After Jessica leaves Antonio for Nash, Bree becomes ill. Through testing, it is revealed that Antonio is Bree's biological father.
By Suzanne 4/4/07
Asa will leave town so he doesn't go to jail for killing Spencer. Nora and Matthew will stay at his mansion to keep Renee company. Bo will fall again for Nora as they hunt for the arsonist. Vincent and Natalie will have sex. Layla will be a victim of the arsonist. Tate is the arsonist. Adriana will be Tate's victim; Rex will have to rescue her. Todd will get his son back and have a big custody battle with Michael and Marcie. Michael will go to great lengths to keep Tommy, but Marcie will talk him back from the ledge. John and Natalie will get back together, but she will keep her liaison with Vincent a secret. Antonio will be out of town for a while, leaving Nash and Jessica tempted again. Eventually, Jessica will have to dump Antonio for Nash, and it won't be pretty. Antonio will have Talia to soothe his hurt feelings. Clint will get jealous of Viki's new beau. Evangeline will keep resisting Todd. Starr and Langston will seek revenge on Britney. Marty and John will date for a while.
By Suzanne 1/6/07
Starr will be responsible for Spencer's death. Cole and Starr will go on the run. Nora and Lindsay will end up on opposite sides again. Paige will leave town. Michael and Marcie will have difficulties after they lose their baby to Todd. Marty will be a threat to John and Natalie's relationship. Antonio will have a hard time forgiving Jessica for her night with Nash. Viki will fight hard to keep Clint from Dorian's clutches. Adriana is not happy to find Rex getting close with Dorian.
2002 Predictions | 2003 Predictions | 2004 Predictions | 2005 Predictions | 2006 Predictions
---
Don't forget to join our mailing list for soap scoops!
Please check out our predictions and rumors pages for AMC, ATWT, B&B, Days, GH, GL, OLTL, Passions, PC and Y&R
---
Buy Soap Magazines
Go here for great news & scoops, photos and in-depth articles!
Soap Opera Digest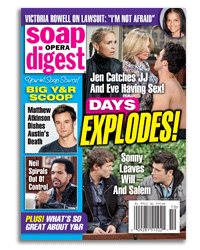 ---