All About General Hospital!
NEWS AND INFORMATION! Scoops and Spoilers Below
General Hospital will be preempted by MLB on September 29 - October 1 @ 2PM ET, with an additional possible preemption on 10/2 as well. More
OLDER NEWS:
GH will not air a new episode Monday, September 7, due to Labor Day. They'llll show a re-run from 4/14/20.
SID Spoilers: Is Nelle Really Gone?
SID Spoilers: Wiley's Custody Is Decided
Soap vet Lindsay Hartley will be replacing Kelly Monaco temporarily as Sam
Emme Rylan (Lulu) Mourns the Death of Her Sister, Lara
GH will air new episodes starting August 3, according to ABC
SID: See How Your Favorite Stars Celebrated the 4th of July!
Congratulations to all the Daytime Emmy winners! The show won for Outstanding Directing Team for a Drama Series and Tamara Braun (ex-Kim) won for Outstanding Supporting Actress in a Drama Series.
If you missed the Daytime Emmys, you can watch it on CBS.com or HULU Live TV if you're subscribed to either of those...the first has a free trial. Also, CBS has a lot of clips of it on YouTube.
General Hospital May Start Filming Again in July!
SID poll: vote on whether Maurice Benard (Sonny) should go grey.
Daytime Emmy Nominations: GH is nominated for Outstanding Drama Series, Outstanding Writing Team for a Drama Series and Outstanding Directing Team for a Drama Series; Finola Hughes (Anna) and Maura West (Ava) are nominated for Outstanding Lead Actress in a Drama Series; Steve Burton (Jason), Jon Lindstrom (Kevin/Ryan) and Jason Thompson (ex-Patrick, now on Y&R) are nominated for Outstanding Lead Actor in a Drama Series; Tamara Braun (Kim) and Rebecca Budig (Hayden) are nominated for Outstanding Supporting Actress in a Drama Series; and James Patrick Stuart (Valentin) is nominated for Outstanding Supporting Actor in a Drama Series. Also, Wally Kurth (Ned) is nominated for his other role on Days of Our Lives as Justin for Outstanding Supporting Actor in a Drama Series. See the full list. The Daytime Emmys air June 26 on CBS. More Info
Maurice Benard (Sonny)'s daughter, Callie, got married to her long-time beau, Carlos, and Maurice married them on Instagram
The governor of California is allowing all TV series and movies to resume filming, starting June 12, but it depends on where they're filming and what they work out with the unions. More
Tristan Rogers (Robert) tweeted that they would be back to work June 12 (which is not quite true), so now the other actors on Twitter, like Nancy Lee Grahn and William deVry are having to correct fans when they ask about it. That must be annoying!
SID: Happy Anniversary to Port Charles
The show is slated to return to production June 12, according to Tristan Rogers (Robert) on Twitter.
Soaps.com: Nurse's Ball Episodes Coming up
The show will run new episodes Monday through Thursday through May 22, and then they'll run out of new ones. They'll show re-runs.
GH Will Broadcast Classic Nurse's Ball Episodes
ABC will air a special, "Story of the Soaps," May 19.
SID Spoilers: Michael and Willow Are Getting Married
SID Spoilers: The End of Nelle?
SID Spoilers: Cyrus Plots to Kill Jason
Kelly Thiebauld (Britt) Addresses GH Exit
Chat today, Friday, 4/24 11am Pacific Time with Jon Lindstrom (Kevin/Ryan), his wife Cady McClain (Dixie, AMC) and her former co-star Michael E. Knight (Tad, AMC, and Martin, GH)!
SID Spoilers: Brando and Molly Keep a Heartbreaking Secret
As of today, April 3, GH will be airing re-runs on Fridays, due to the virus shutting down production. They're running low on the episodes they've filmed, so this is one way of conserving what they have left.
SID Spoilers: Sasha Tells Michael to Marry Willow
Nancy Lee Grahn (Alexis) and Ingo Rademacher (Jax) have been feuding on Twitter and Wil deVry (Julian) tries to make peace between the two It's interesting to note that Rademacher took some flack from fans on both sides of the political spectrum when he posted a photo of Trump after his election in 2016. Rademacher didn't support either Obama or Romney, although he did support Democratic nominee Tulsi Gabbard.
SID Spoilers: Sonny Must Face the Reality of Mike's Condition
Soap vet John Callahan Dead at 66 (ex-Leo). His former Santa Barbara coworker Nancy Lee Grahn (Alexis) tweeted that she complained about him back then for acting inappropriately with some of the younger non-contract actresses, but nothing was done. She regretted her tweet, deleted it, and apologized, because of his mourning family.
Elizabeth Hendrickson (ex-Margaux) Welcomes Daughter Josephine James
SID Spoilers: Wiley Is Rushed to the Hospital
Chloe Lanier (Nelle) falls ill
SID Spoilers: Carly Vows to Stop Nelle
SID Spoilers: Valentin Takes Aim At Jax.
SID Spoilers: Nelle Reveals Her Master Plan
NOTE: Senate impeachment hearings start Tuesday, 1/21 and will probably affect daytime programming.
SID Spoilers: Quartermaine Family Drama!
Martin West (ex-Phil) passed away
SID Spoilers: Nikolas Makes His Move
GH Toasts 30th Anniversary of Emmy-winning Casting Director Mark Teschner
Michael E. Knight on SOD's Podcast
Michael Fairman Interviews Michael Easton
Michael Fairman Interviews Roger Howarth
Paula, wife of Maurice Benard (Sonny) is helping Réal Andrews (ex-Taggert) restart his acting career as his new agent. See the video on Instagram
Cameron Boyce passed away at age 20 from unknown causes (related to an ongoing medical condition). He played Jagger's son, Stone, on "General Hospital: Night Shift." More info
Former actor and comedian Arte Johnson passed away. He was most known for "Rowan & Martin's Laugh-in," but he also appeared on GH for two years as Finian O'Toole. He had a long 50-year-plus career before he retired in 2005.
Soap Vet Jed Allan (ex-Edward) Passed Away
Jaime Ray Newman (ex-Kristina) and her husband won an Oscar this week for Best Short Film for their film "Skin."
Soap fans, make sure you subscribe to Jacob Young's (ex-Lucky) new talk show, "Daytime After Dark" on YouTube! Review
Video celebrating Maurice Benard's 25 years on the show
On August 7, 2017, Chris Van Etten joined Shelly Altman as GH's co-head writers.
Steve Burton (ex-Dylan, Y&R; ex-Jason, GH) launched a guide for losing weight and becoming fit at www.burtonnutrition.com. The online program offers tips, recipes and products to purchase to help achieve a healthier lifestyle. There's also a VIP Club to join that offers more benefits, such as weekly webinars with Burton and other fitness celebrities.
If you loved AMC and/or OLTL and would like to see them back, please show your support to ABC & Hulu. Right now, they are considering airing vintage episodes & incorporating some characters into GH. Click here to find out how you can help make that happen!
Steve Burton (Dylan, Y&R; ex-Jason, GH) & Derk Cheetwood (Max, GH) have launched a new business called HollywoodSchooled.com where people can sign up for audio coaching lessons, learn how to avoid common mistakes, and become working and thriving actors in Hollywood.
Set to the tune of "Mad Love" by JoJo, the sleek 30-second GH Winter Romance promo showcases Sonny & Carly (played by Maurice Benard & Laura Wright), as well as Elizabeth and Franco (Rebecca Herbst & Roger Howarth), with a forlorn Griffin (Matt Cohen) as odd man out. Also featured are Nelle/Michael (Chloe Lanier & Chad Duell), Jordan/Curtis/André (Vinessa Antoine, Donnell Turner, & Anthony Montgomery), Maxie/Nathan (Kirsten Storms & Ryan Paevey), and Kiki/Dillon (Hayley Erin & Robert Palmer Watkins).
Enjoy the new GH Merry Christmas Happy Holidays Cast Video!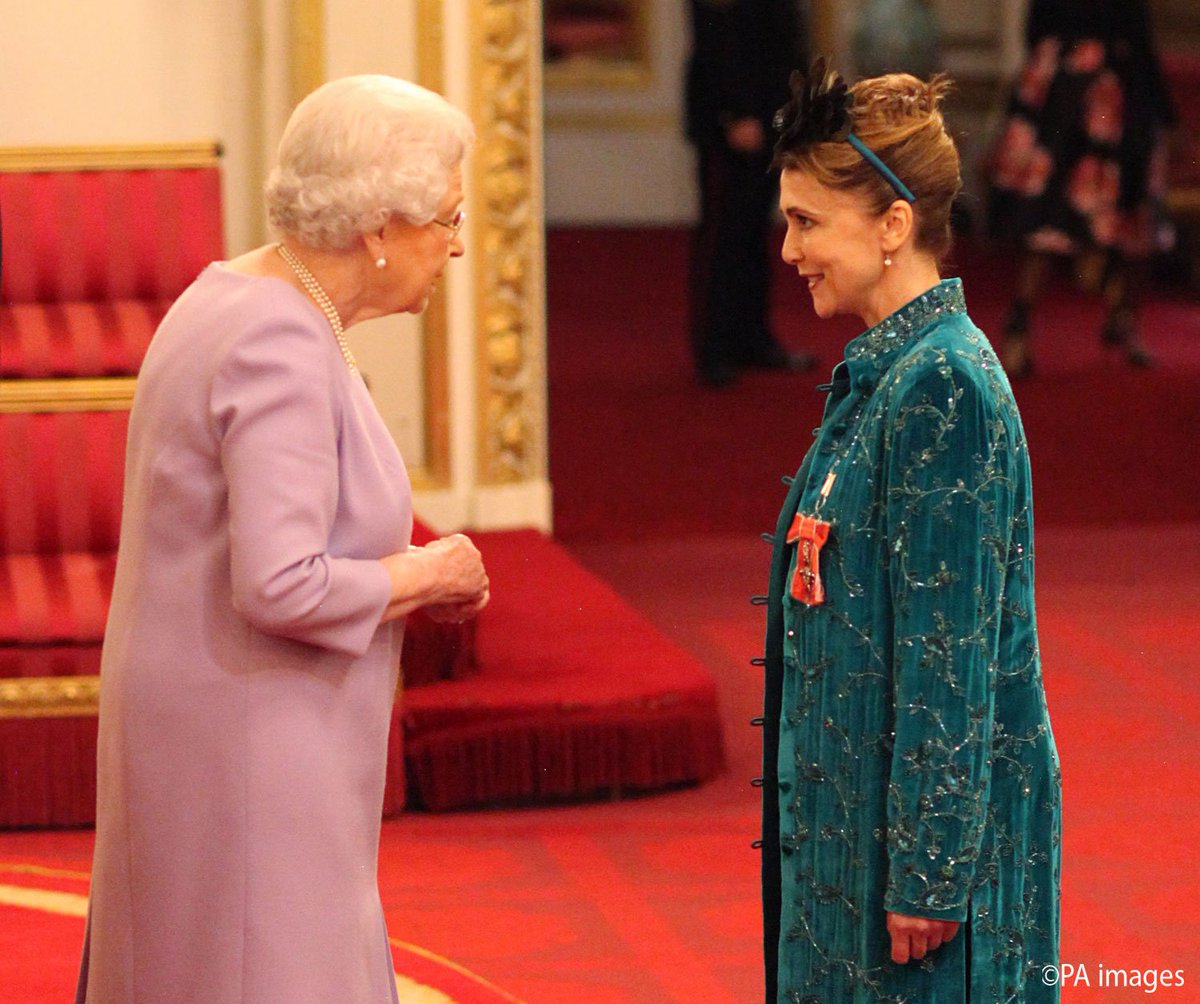 On October 25, 2016, Emma Samms (ex-Holly) was appointed MBE (Member of the Order of the British Empire) by Queen Elizabeth II at Buckingham Palace in London for her work with the Starlight Children's Foundation that she co-founded, bringing happiness to seriously ill children.
Writer Claire Labine died on November 10, 2016 at 82 years of age. She created Ryan's Hope as well as many beautiful stories for GH, OLTL, & GL.
Watch Full GH Episodes Online on ABC.com, GH-HD-Blogspot, Fulltvshows.org, Hulu.com, Daily Motion, & YouTube.
Michelle Stafford (Nina, GH; ex-Phyllis, Y&R), hosts a podcast " Single Mom A Go-Go" on Monday, July 11 at 7 p.m. PT / 10 p.m. ET, featuring Lauralee Bell (Christine, Y&R).
Siri Pinter is Mark Pinter's (ex-Agent Rayner) daughter by his first wife. She's married to NBC's Carson Daly and has a food blog at http://siriouslydelicious.blogspot.com.
Robert Palmer Watkins (Dillon), with a little help from his friends, released a cover of Justin Bieber's "Love Yourself" on January 22, 2016.
Watch an extended cut from ABC with never-before-seen footage of Robin and Patrick's wedding episode of January 7 with a special introduction by Finola Hughes (Anna).
Steve Burton (Dylan, Y&R; ex-Jason, GH) & Jonathan Jackson (ex-Lucky) have teamed up to open a family-friendly restaurant called "Jack and Jameson's Smokehouse" with great barbecue and world-class music at 509 Hillsboro Road in Franklin, TN near Nashville.
Enjoy a little tune with Maurice Benard (Sonny) and his teen daughter, Cassidy, who's a bit embarrassed.
Watch Tony Geary on ABC's Nightline on 7/22/15!
Great interview with Tony Geary about leaving the show!
Michael Easton (Silas, GH; ex-McBain, OLTL; ex-Caleb, PC; ex-Tanner, Days) has written the graphic novel "Credence: Lose This Skin." Check out the trailer here!
---
By Suzanne
SOD 9/28/20
Ratings, week of 8/24: 1.54.

Kim Delaney (ex-Jenny, AMC) will be joining the show.

Natalia Livingston (ex-Emily/Rebecca) welcome a son 8/31.

Stars from each show show off their pets, including Réal Andrews (Taggert).

What Will Happen: Molly doesn't know what to say when she's not expecting something. Portia and Alexa meet up. Someone corners Robert.
SOD 9/21/20
Kelly Thiebaud (Britt) and Réal Andrews (Taggert) each talk about their returns to the show.

Ratings, week of 8/17: 1.41

Nathan Parsons (Ethan) returns for a short period. Stella (Vernee Watson) also returns.

Joe Flanigan (Neal)'s last day was 8/31.

9/14 Jax learns about Nina's mother. Franco receives an apology from Elizabeth. Julian is confronted by Britt. 9/15 Carly gets some closure. Brook Lynn gets news from Portia. Felix supports Sonny. 9/16 Jason finds out from Carly what's going on. Sonny thinks about what could have happened in his life. Stella has sympathy for someone. 9/17 Avery and Ava spend time together. Michael supports Brook Lynn. Sonny gives a gift to someone who doesn't expect it.

Wally Kurth (Ned) is chosen as Performer of the Week.

Finola Hughes (Anna) talks about a new thriller that she starred in and directed while in quarantine.

What Will Happen: Robert gets an unusual phone call. Nina and Jax go on a trip.

William Lipton (Cameron) is featured in the short, one-page interview "Take Five."
SOD 9/14/20
Ratings, week of 8/10: 1.42

Tamara Braun (ex-Kim/Carly) joins the case of Days in the Fall, reprising her role as Ava.

Kelly Thiebaud (Britt) returns for a longer stay.

Nelle was killed, so Chloe Lanier has left the show.

9/7 Alexis can't believe something; Olivia gets very upset; and Kevin is checked on by Lulu. 9/8 Carly and Brick have a drink; Valentin gets a tongue-lashing from Bobbie; and Cyrus is confronted by Cyrus. 9/9 Elizabeth is defended by Franco; Sonny and Ned meet up; and Mike gets worse. 9/10 Liz feels sorry about something; Franco lends an ear to Ava; and Mike gets a visit from Josslyn.

The Nurses' Ball was this week's Editor's Choice storyline.

Briana Nicole Henry (Jordan) shares photos from her wedding.

Actors look back on their characters' messy love life, including Nancy Lee Grahn (Alexis).

What Will Happen: Curtis is careful about something. Anna has a conflict. Finn supports someone.
SOD 9/7/20
Dominic Zamprogna talks about his return as Dante.

Ratings for 8/3: 1.43

Réal Andrews (Taggert) returned in mid-August. Kelly Monaco (Sam) is back as well. Jackie Zeman (Bobbie) returned for the first time pre-Covid 8/17.

8/31 Carly wonders if she made the right decision. Mike is visited by Sonny. Jax is relieved. 9/1 Sonny plans a special day for someone. Nina is closer to find out the truth. Jax is Carly's confidante. 9/2 Lulu tells a friend something that happened to her, hoping it will help. Dante is the subject of Olivia's concern. Sonny trust someone. 9/3 Sam is interrogated by her mom. Spinelli has a cunning plan. Anna gets a phone call that bothers her.

The show is given a Thumbs Up! for its continuation of the Alzheimer's story, with the end of Mike's life and how it's affecting his family.

Fall preview: Carly has to help Sonny out when his full attention is on his dying dad. Carly tells Jax something she shouldn't, which causes problems for her, and for Nina and Sonny. Jason and Sam will reunite and be happy, but not for long. The hospital workers don't support Cyrus. Nobody's job is safe. All of Anna's hard work with regard to Peter may be in danger by someone from the past. Finn will also be involved in this new threat. Neil and Alexis are at "a crossroads." Franco and Elizabeth start to realize that their problems may be caused by someone else's manipulations. Jordan's secret (that she helped fake Taggert's death) may hurt her relationship with Curtis and Trina. Also, they find out that Portia felt differently about her and Curtis years ago. Peter is ecstatic to learn that Maxie is pregnant but worries about his past. He confers with Valentin about it. Julian still has to worry about whether his part in Brad and Nelle's schemes will be revealed. Lulu has to deal with Dante's return, now that she and Dustin are closer. Chase hopes to get back with Willow, but will she fall for Michael in the meantime? As Brando gets friendly with TJ, Molly worries more about her secret coming out. Brando is also involved with the Cyrus story. Ned's problems with Olivia and Brook Lynn, about ELQ, will not go away. Robert gets permission for Olivia to visit Dante. She encourages Robert to go to Holly's memorial. He finds more questions when he does. Josslyn starts to figure out her feelings for Cameron just as he and Trina are growing closer.

Actors from each show are quizzed by their time in school, including Carolyn Hennesy (Diane), Mark Lawson (Dustin) and John J. York (Mac).

What Will Happen: Someone traps Jordan. Michael is worried. Jax would like to keep Carly safe.
---
Don't forget to sign up for our weekly scoops newsletter for more scoops!!
Our other pages for news, scoops, and spoilers: AMC, ATWT, AW, B&B, Days, GH: Night Shift, GL, Loving/The City, OLTL, Passions, PC, Y&R, General Daytime, 24, Battlestar Galactica, Heroes, Jericho, Lost, Smallville, & Star Trek.
This page is dedicated to Hilary, our beloved late volunteer, who used to update the scoops pages.
Back to the Main General Hospital Page
Page updated 9/22/20
---