All About General Hospital!
NEWS AND INFORMATION! Scoops and Spoilers Below
SID Spoilers: Sonny Must Face the Reality of Mike's Condition
Soap vet John Callahan Dead at 66 (ex-Leo). His former Santa Barbara coworker Nancy Lee Grahn (Alexis) tweeted that she complained about him back then for acting inappropriately with some of the younger non-contract actresses, but nothing was done. She regretted her tweet, deleted it, and apologized, because of his mourning family.
Elizabeth Hendrickson (ex-Margaux) Welcomes Daughter Josephine James
OLDER NEWS:
SID Spoilers: Wiley Is Rushed to the Hospital
Chloe Lanier (Nelle) falls ill
SID Spoilers: Carly Vows to Stop Nelle
SID Spoilers: Valentin Takes Aim At Jax.
SID Spoilers: Nelle Reveals Her Master Plan
NOTE: Senate impeachment hearings start Tuesday, 1/21 and will probably affect daytime programming.
SID Spoilers: Quartermaine Family Drama!
Martin West (ex-Phil) passed away
SID Spoilers: Nikolas Makes His Move
GH Toasts 30th Anniversary of Emmy-winning Casting Director Mark Teschner
Michael E. Knight on SOD's Podcast
Michael Fairman Interviews Michael Easton
Michael Fairman Interviews Roger Howarth
Paula, wife of Maurice Benard (Sonny) is helping Réal Andrews (ex-Taggert) restart his acting career as his new agent. See the video on Instagram
Cameron Boyce passed away at age 20 from unknown causes (related to an ongoing medical condition). He played Jagger's son, Stone, on "General Hospital: Night Shift." More info
Former actor and comedian Arte Johnson passed away. He was most known for "Rowan & Martin's Laugh-in," but he also appeared on GH for two years as Finian O'Toole. He had a long 50-year-plus career before he retired in 2005.
Soap Vet Jed Allan (ex-Edward) Passed Away
Jaime Ray Newman (ex-Kristina) and her husband won an Oscar this week for Best Short Film for their film "Skin."
Soap fans, make sure you subscribe to Jacob Young's (ex-Lucky) new talk show, "Daytime After Dark" on YouTube! Review
Video celebrating Maurice Benard's 25 years on the show
On August 7, 2017, Chris Van Etten joined Shelly Altman as GH's co-head writers.
Steve Burton (ex-Dylan, Y&R; ex-Jason, GH) launched a guide for losing weight and becoming fit at www.burtonnutrition.com. The online program offers tips, recipes and products to purchase to help achieve a healthier lifestyle. There's also a VIP Club to join that offers more benefits, such as weekly webinars with Burton and other fitness celebrities.
If you loved AMC and/or OLTL and would like to see them back, please show your support to ABC & Hulu. Right now, they are considering airing vintage episodes & incorporating some characters into GH. Click here to find out how you can help make that happen!
Steve Burton (Dylan, Y&R; ex-Jason, GH) & Derk Cheetwood (Max, GH) have launched a new business called HollywoodSchooled.com where people can sign up for audio coaching lessons, learn how to avoid common mistakes, and become working and thriving actors in Hollywood.
Set to the tune of "Mad Love" by JoJo, the sleek 30-second GH Winter Romance promo showcases Sonny & Carly (played by Maurice Benard & Laura Wright), as well as Elizabeth and Franco (Rebecca Herbst & Roger Howarth), with a forlorn Griffin (Matt Cohen) as odd man out. Also featured are Nelle/Michael (Chloe Lanier & Chad Duell), Jordan/Curtis/André (Vinessa Antoine, Donnell Turner, & Anthony Montgomery), Maxie/Nathan (Kirsten Storms & Ryan Paevey), and Kiki/Dillon (Hayley Erin & Robert Palmer Watkins).
Enjoy the new GH Merry Christmas Happy Holidays Cast Video!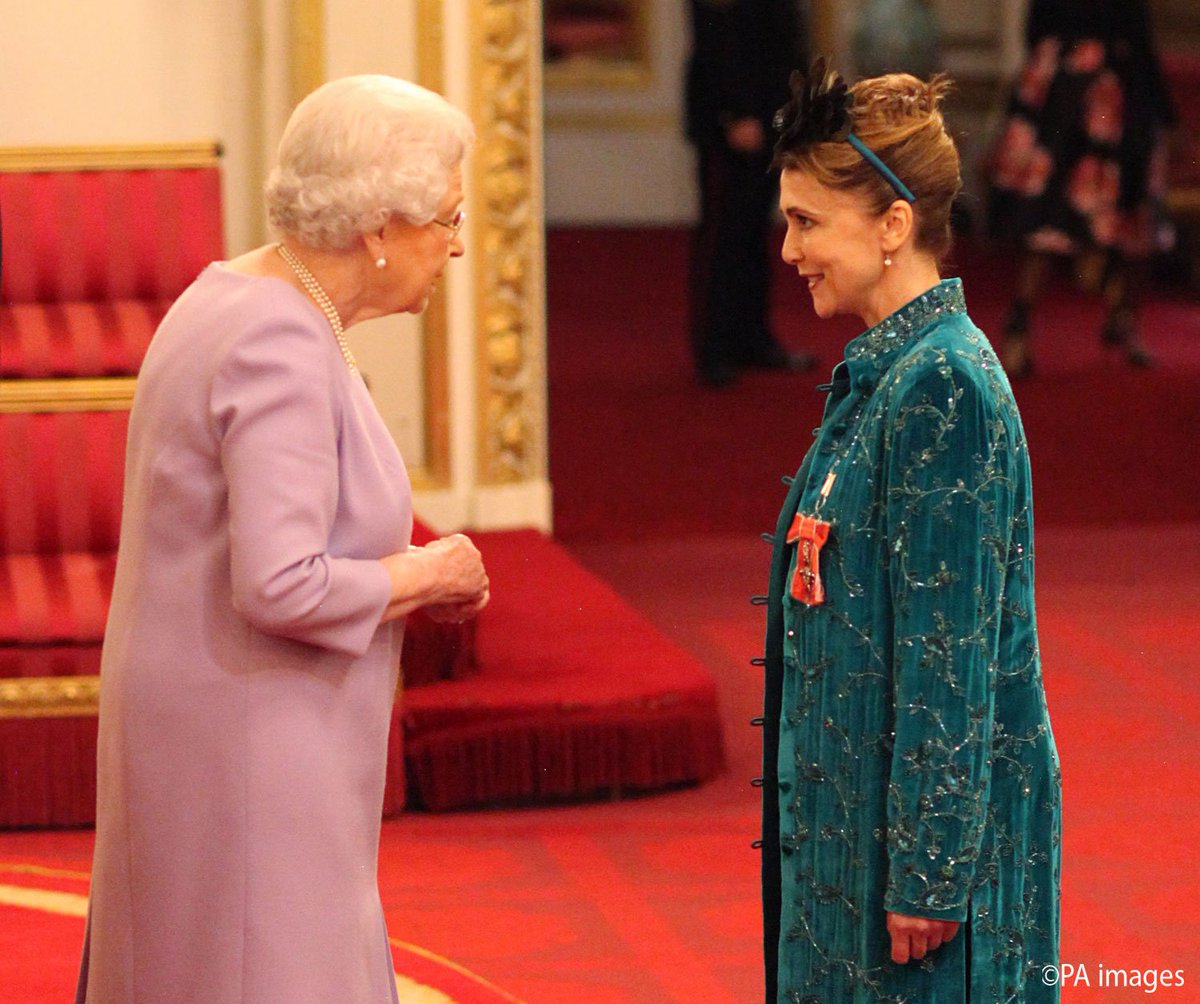 On October 25, 2016, Emma Samms (ex-Holly) was appointed MBE (Member of the Order of the British Empire) by Queen Elizabeth II at Buckingham Palace in London for her work with the Starlight Children's Foundation that she co-founded, bringing happiness to seriously ill children.
Writer Claire Labine died on November 10, 2016 at 82 years of age. She created Ryan's Hope as well as many beautiful stories for GH, OLTL, & GL.
Watch Full GH Episodes Online on ABC.com, GH-HD-Blogspot, Fulltvshows.org, Hulu.com, Daily Motion, & YouTube.
Michelle Stafford (Nina, GH; ex-Phyllis, Y&R), hosts a podcast " Single Mom A Go-Go" on Monday, July 11 at 7 p.m. PT / 10 p.m. ET, featuring Lauralee Bell (Christine, Y&R).
Siri Pinter is Mark Pinter's (ex-Agent Rayner) daughter by his first wife. She's married to NBC's Carson Daly and has a food blog at http://siriouslydelicious.blogspot.com.
Robert Palmer Watkins (Dillon), with a little help from his friends, released a cover of Justin Bieber's "Love Yourself" on January 22, 2016.
Watch an extended cut from ABC with never-before-seen footage of Robin and Patrick's wedding episode of January 7 with a special introduction by Finola Hughes (Anna).
Steve Burton (Dylan, Y&R; ex-Jason, GH) & Jonathan Jackson (ex-Lucky) have teamed up to open a family-friendly restaurant called "Jack and Jameson's Smokehouse" with great barbecue and world-class music at 509 Hillsboro Road in Franklin, TN near Nashville.
Enjoy a little tune with Maurice Benard (Sonny) and his teen daughter, Cassidy, who's a bit embarrassed.
Watch Tony Geary on ABC's Nightline on 7/22/15!
Great interview with Tony Geary about leaving the show!
Michael Easton (Silas, GH; ex-McBain, OLTL; ex-Caleb, PC; ex-Tanner, Days) has written the graphic novel "Credence: Lose This Skin." Check out the trailer here!
---
By Suzanne
SOD 4/6/20
Co-Headwriter Chris Van Etten talks about three new characters Cyrus, Brando and Portia.

After Mike has a fall and hurts his wrist, Sonny is shocked to see how much further downhill he's gone. Mike refuses to get out of bed, which doesn't alarm Sonny at first. Then he hears from Portia and Elizabeth that Mike has lost his confidence and won't leave his bed out of fear, which may mean that he's going downhill fast. This throws Sonny for a loop. It's one more stressful thing in his life, other than his problems with Cyrus, and Michael's custody battle.

GH Spring Preview: Nelle tries to assert her parental rights, but this might put Wiley's health in danger. Carly will be using her family to fight her on this. This may "have profound repercussions" for the whole town. Sasha wants to put a plan in motion that is unusual, to protect Wiley from Nelle. As Chase wonders how far he'll go for Willow, his feelings for her are tested. Willow and Michael work together to save Wiley, which causes them to grow closer. Nelle, as usual, has a lot of tricks up her sleeve. One episode is all about Carly and Nelle's relationship. Jason worries about being a target from Cyrus as he and Sam continue their secret romance. Laura and Robert will face off professionally with Cyrus. TJ is in big danger. Molly faces a serious dilemma because of that. Curtis worries about what will happen with Jordan's risky plan to save TJ. We find out that someone saw that Alexis and Neil had their big night together in NYC. Julian accidentally gets Neil and Alexis in trouble. Trina and Cameron have gone through something major, so they'll be forced to look at how they feel. Brook Lynn tries to revive her music career, but she has to fight Lulu to do it. Valentin was behind her sleazy producer, and he'll keep buying up ELQ shares. Charlotte has been influenced by his plotting and scheming, which he doesn't see coming. Some of the adults will be fighting during Violet's birthday party. Obrecht shows up, but Peter tries to keep her away. Someone else may be in Obrecht's corner. The mystery of Nina's necklace (and daughter) may be revealed.

Ratings, week of 3/2: 1.65.

Finn throws Violet an expensive party. Michael is consoled by Sasha. Anna is given assistance by Maxie. Carly's secret comes out. Chase learns more information about TJ.

Dan Buran (Linc) is off the show now.

All 4 soaps have shut down due to the coronavirus, and they claim they have enough episodes to cover "the break." (I'm not sure that's true, even if we knew how long it is, which we don't)

Jordan lies to the authorities to bring TJ home. She says that Taggert and the other members of the task force falsified evidence to convict Cyrus, so they have to release him. Curtis lets Portia know what's going on, but she's not too surprised. He's worried that she might create problems for Jordan.

3/30 Monica has good news for someone. Carly is confronted by Nelle. 3/31 Curtis wants to find more info about Taggert. Finn wants to help a friend who's in trouble. Julian worries. 4/1 Nina and Charlotte spend time together. Trina hears something and gets mad. Carly sees Brando acting in a kind way. 4/2 Brando is asked for help by Molly. Sam is warned sternly by Jason. Robert is informed by Laura that she has some plans.

The show is given a Thumbs Down! for having Maxie and Anna be fooled so easily by Peter.

What Will Happen: Jordan has conflict. Jason wants to distance himself from Sam for a bit. Cyrus is faced down by Robert and Laura.
SOD 3/30/20
Nina is upset when Maxie quits to go work for Deception, so she hires Nelle to replace her. Maxie quits because she feels Nina is taking her for granted. Nina is hurt that Maxie left without telling her how she felt. Nelle comes in to insist that she can do the job. Nina knows that Nelle just wants a job in order to win the custody battle, and Nelle admits that's true. Nina hires her so that she can watch over her and report any misdeeds to Carly and Michael.

Curtis gets an earful from Trina. Mike doesn't tell the whole truth. Someone assaults Neil. Britt is glad that she has someone to lean. Sonny is consoled by his family.

Kelly Thiebaud (Britt) is featured in a short interview.

Ratings, week of 2/24: 1.68

Felix returns this week and has an unpleasant reunion with Britt.

Britt and Franco confer about Liesl getting arrested. Peter assures them that Liesl really did try to kill Franco. Felix is horrified to see Britt's return. Britt tears into Nikolas when she sees him, and Liz has to pull them apart. Ava sees the confrontation and is happy that her plan is working.

3/23 Curtis is surprised. Sam is misled by Jordan. Sonny hears something awful. 3/24 Someone greets Maxie happily. Brook Lynn gets revenge. Jordan is confronted by Curtis. 3/25 Molly is more and more concerned. Sam gets help from Spinelli. Jason tries to make Jordan see reason. 3/26 Someone phones Sonny urgently. Spinelli may be in danger. Sasha's world is rocked.

Sydney Mikayla (Trina) is chosen as Performer of the Week.

In a "Where are They Now" article, Brad Maule (ex-Tony) tells us what he's been doing lately.

What Will Happen: Britt runs into Anna. Nelle is confronted by Carly once again. Sonny gets news about Mike over the phone.
SOD 3/2/20
Brad is in jail this week after finally telling the truth about Wiley (but not Julian). Nelle is also in prison and claims that she's scared of Brad, who stole her baby when she was unconscious. Brad doesn't know how to handle Nelle. Julian visits Brad, who's frantic to avoid jail. Julian promises to get him the best lawyer. Brad won't promise not to tell everyone about Julian's involvement unless he gets him out.

Felix (Marc Anthony Samuel) will be showing up again soon.

Cameron and Trina agree to go to the winter formal together as friends, but Trina lies to Josslyn that it's a real date, and that they have feelings for each other. Trina is doing this to make Josslyn jealous because she wants her friends to get together. Cam finds out about Trina's lie, but once she tells him why she lied, he's a bit hopeful.

2/24 Jason comforts someone. Monica gets some good news. Michael has a nice morning. 2/25 Julian gets an earful from Sam. Carly warns someone sternly. Nelle refuses to budge. 2/26 Josslyn learns something surprising. Nikolas tells Elizabeth a secret. Laura is filled in by Jordan. 2/27 Alexis thinks about how different things might have been. Carly is very shocked.

Réal Andrews (Taggert) is featured in an interview.

Lighting director Melanie Mohr is interviewed about her time on the show.

What Will Happen: Sasha decides what to do for herself. Michael is stunned by what Willow tells him. Spinelli does someone a big favor.

Sofia Mattson (Sasha) is featured in a short, one-page interview.
---
Don't forget to sign up for our weekly scoops newsletter for more scoops!!
Our other pages for news, scoops, and spoilers: AMC, ATWT, AW, B&B, Days, GH: Night Shift, GL, Loving/The City, OLTL, Passions, PC, Y&R, General Daytime, 24, Battlestar Galactica, Heroes, Jericho, Lost, Smallville, & Star Trek.
This page is dedicated to Hilary, our beloved late volunteer, who used to update the scoops pages.
Back to the Main General Hospital Page
Page updated 3/30/20
---