All About General Hospital!

NEWS AND INFORMATION! Scoops and Spoilers Below

Thanksgiving Pre-emptions!
Thursday GH is a new episode; No GH Friday.
M

ore Info

OLDER NEWS:

The soaps are not airing on Tuesday and Wednesday; they may air on Thursday. Stay tuned!

SID Spoilers: Valentin Threatens Hayden

All of the soaps will be pre-empted Wednesday, November 13, and Friday, November 15, or longer, for impeachment hearings. Stay tuned!

SID Spoilers: Julian Wants Brad Gone!

SID Spoilers: Who Is the Masked Man?

Parry Shen (Brad) guests on "Dishing With Digest"

SID Spoilers: Who Is Watching Ava?

Michael E. Knight on SOD's Podcast

SOD news is late this week....been too busy with school work!

SID Spoilers: Will Nina and Valentin Get Married?

SID Spoilers: Brad Has a Confession to Make

Michael E. Knight (ex-Tad, AMC) joins the show Monday, Sept. 30!

Michael Fairman Interviews Michael Easton

SID Spoilers: Peter Confesses to Maxie

Monday, September 2, GH will show a re-run of the 5/6/19 episode because of the Labor Day holiday.

SID Spoilers: Sasha Fights For Her Life!

Michael Fairman Interviews Roger Howarth

Fans wonder if Kirsten Storms is leaving the show

Billy Miller (Drew) is leaving the show

The show didn't air Wednesday, 7/24, due to congressional testimony; it will air Thursday, 7/25. (Some areas did see a re-run today)

Paula, wife of Maurice Benard (Sonny) is helping Réal Andrews (ex-Taggert) restart his acting career as his new agent. See the video on Instagram

SID Spoilers: Why Is Hayden Back?

Cameron Boyce passed away at age 20 from unknown causes (related to an ongoing medical condition). He played Jagger's son, Stone, on "General Hospital: Night Shift." More info

SID Spoilers: Franco Pushes Liz Away (What, again?)

The show will air a re-run on 4th of July, as always. The episode will be from March 8. More Info

Former actor and comedian Arte Johnson passed away. He was most known for "Rowan & Martin's Laugh-in," but he also appeared on GH for two years as Finian O'Toole. He had a long 50-year-plus career before he retired in 2005.

SID Spoilers: Shiloh Sues for Custody of Wiley!

Find many links to other GH news/scoops/spoilers here!

Cynthia Watros will make her debut as Nina starting Monday, June 17.

SID Spoilers: Jason Wants Shiloh Dead

SID Spoilers: Valentin Goes After Jax!

SID Spoilers: Can Curtis Save Jordan?

Daytime soap fans! Happy Memorial Day! Today, Monday, 5/27 - "General Hospital" is a re-run (4/2/19 56th anniversary episode).

SID Spoilers: Big drama at the Nurse's Ball

SID Spoilers: Willow tells Kristina the awful truth about Shiloh

GH was the big winner last night... Congratulations to all the Daytime Emmy winners!
Maurice Benard (Sonny) won for Outstanding Lead Actor in a Drama Series.
Vernee Watson (Stella) won for Outstanding Supporting Actress in a Drama Series.
Max Gail (Mike) won for Outstanding Supporting Actor in a Drama Series.
Hayley Erin (ex-Kiki) won for Outstanding Younger Actress in a Drama Series
Patricia Bethune (ex-Nurse Mary Pat) won for Outstanding Guest Performer in a Drama Series.
Also, congrats to the show for winning Outstanding Multiple Camera Editing for a Drama Series.
Read the full list of Daytime Emmy winners.

Don't miss the Daytime Emmys, streaming online Sunday, May 5, at 8 p.m. ET.

Watch the Daytime Emmys Online: http://emmyonline.org/
Facebook: https://www.facebook.com/TheEmmys and https://www.facebook.com/DaytimeEmmyAwards
Twitter: https://twitter.com/TheEmmys and https://twitter.com/DaytimeEmmys
YouTube: http://youtube.com/TheEmmys

Daytime Emmy Nominations! GH nominations:
Outstanding Lead Actor in a Drama Series - Maurice Benard (Sonny), Jon Lindstrom (Ryan/Kevin), and Tyler Christopher (ex-Nikolas, now on Days)
Outstanding Lead Actress in a Drama Series - Maura West (Ava) and Laura Wright (Carly)
Outstanding Supporting Actor in a Drama Series - Max Gail (Mike) and Dominic Zamprogna (Dante)
Outstanding Supporting Actress in a Drama Series - Vernee Watson (Stella)
Outstanding Younger Actor in a Drama Series - William Lipton (Cameron) and Garren Sitt (Oscar)
Outstanding Younger Actress in a Drama Series - Hayley Erin (ex-Kiki), Chloe Lanier (ex-Nelle) and Eden McCoy (Josslyn)
Brandon Beemer (ex- Seth) - Outstanding Supporting Actor in a Digital Daytime Drama Series
Outstanding Daytime Drama, Outstanding Writing Team for a Drama Series, Outstanding Directing Team for a Drama Series, Outstanding Casting for a Drama Series, Outstanding Art Direction/Set Decoration/Scenic Design for a Drama Series, Outstanding Lighting Direction for a Drama Series, Outstanding Technical Team for a Drama Series, Outstanding Live and Direct to Tape Sound Mixing for a Drama Series, Outstanding Music Direction and Composition for a Drama Series, Outstanding Costume Design for a Drama Series and Outstanding Makeup for a Drama Series
Outstanding Guest Performer - Patricia Bethune (ex-Mary Pat)

Everything you need to know about this year's Daytime Emmys! Full nominations announced Wednesday, March 20 on "The Talk!"

This stuff below is from the GH Fan Club email:
GHFCW 2019 - Let me start this off with a clarification of rumors and just let you guys know where I stand with all this.
Every year the rumors start that this is our last fan club weekend. Well, I am going to tell you just like I told the crowd last year at FCW.
This year we are celebrating 44 years of GHFCW. We are the originals, we started this trend. Now it has become all about something else. You will have to read between the lines. That is just putting it plain and simple, and that is all I am going to say about that.
We have people confusing us now with the GH Convention which they moved to June. That cannot help us. One thing I always preach is, that is a Convention and we are a small intimate group. I hope you guys know the difference without me spelling that out.
There is a group that now takes the actors except for the janitor all over the country, so that means you do not have to travel out to LA anymore. Not only that they now use our slogan we are GHFCW they are using GHFW which is very confusing to the fans. Our events are in no way the same.
I have always said, I do this for the love of the show and the fans. That is and has always been what is important to me. I have met some incredible people along the way, actors, friends' folks that have impacted my life in a large way and maybe sometimes in ways I wish were different. But I have loved every minute of it, and I love the people. The GH people, they are my people 😊
So bottom line is I am taking this one year at time now. Is this our last year? It could be. I hope not but it could be. When we no longer sell enough tickets to pay the cost of the events then yes, we will have to shut it down. So that is up to the fans if we stay or if we go.
I understand you have many choices, no longer are we the only game in town. But I hope that we have built a loyal following that hangs in with us, not going to lie.
It is kind of like living in a small town and you have the only Dollar Store in town and then a Super Wal-Mart moves in. Where is the little man going to go? Probable out of business. ABC has deep pockets for their conventions, the other group well they have deep pockets also. Last year we gave over $10,000 to charity after our event. So, there is no money left. We start over each year so to speak. This year we will be raising money for a special charity and a cause close to our hearts. More about that later.
We did this back in the day when we had Super Soap Weekend and it went just fine. It actually gives everyone a flavor they may like. I do and will always support anything ABC/GH does. Always!
So, there you have it. You guys come, we stay, you guys stay away we go home. That is pretty simple I would say! Love to you all!
*****************************
So now that is out of the way, lets get on to more pleasant things like the GHFCW2019. July 25-29, 2016. Held in Glendale, CA at the Embassy Suites Hotel.
Tickets are on sale for the Welcome Event (always a fan favorite) on Thursday, July 25th and for the Main Cast Event on Saturday, July 27th. You can get your order forms by going to our website ghfanclub.com to download. I will also attach you a copy here for easy access.
We will have our full line up out shortly. It is going to be an incredible 5 day back to back event weekend. Bringing back the Karaoke, Bingo with Wally is back and just tons of other events. I hope you guys can try to make it. We love for you to join us. If you have never been given us a try.
Hotel room block should go up shortly and that sells out quickly so keep your eyes open for the announcement.

SID Spoilers: Oscar's Final Days

Cynthia Watros will replace Michelle Stafford to play Nina (no word on when yet).

SID Spoilers: Kevin and Laura get a Shocking Gift from Ryan

GH Pre-Empted Today (4/15) but will show tomorrow

SID: Kristina Takes the Next Step with Shiloh

Michelle Stafford (Nina) exits GH, returns to Y&R

On his podcast, Steve Burton (Jason) hosted a lunch with Bradford Anderson (Spinelli) and about 30 fans in a Glendale restaurant. Bradford said that they were at an "undisclosed location in Glendale, CA." Burton laughed and then made inappropriate remarks that many fans are calling racist. They are asking ABC to fire Burton for his remarks, the same way they did Roseanne Barr when she tweeted offensive remarks. So far, Burton has not apologized, nor addressed the issue at all, and neither has ABC or GH. The remarks were edited out of the podcast, but several fans, who were listening live, saved a copy of the remarks. Here is what Burton said: "And they're starting to serve the food... You're gonna hear some ghetto clanks, there's the chicken and the watermelon. I don't know what's going on here." Some fans thought he said "fried chicken," making it worse.

Spoilers: Kevin has his day in court

SID Spoilers: What's Wrong with Dante?

Soap Vet Jed Allan (ex-Edward) Passed Away

From GH Fan Club Email:

"We are very proud to officially launch the 46th Annual Daytime Emmy Awards with this list of extremely talented actors and actresses," said Brent Stanton, Executive Director, Daytime Emmy Awards Administration. "We are also very excited that this year the pre-nomination round includes the very talented performers from the Digital Drama Series."
The pre-nominated performers were selected through an online judging ballot containing all the entrants. Judges were required to view clips of the performances before selecting their top 10 choices in each of the nine performer categories. The blue-ribbon screening round will begin on Thursday, Feb. 21, which will determine the final nominees in each category as well as the final recipient of the coveted Daytime Emmy Award. The final nominations will be announced on Wednesday, March 20.
(We just listed the GH nominees here; for a complete list, see our general Daytime News page)
Outstanding Lead Actress - Finola Hughes (Anna), Michelle Stafford (Nina), Maura West (Ava) and Laura Wright (Carly)
Outstanding Lead Actor - Maurice Benard (Sonny) and Jon Lindstrom (Ryan/Kevin). Also, former GH actors Stephen Nichols (ex-Stephan) and Jason Thompson (ex-Patrick ).
Outstanding Supporting Actress - Tamara Braun (Kim), Kirsten Storms (Maxie) and Vernee Watson (Stella).
Outstanding Supporting Actor - Max Gail (Mike), Wes Ramsey (Peter) and Dominic Zamprogna (Dante).
Outstanding Younger Actress - Hayley Erin (Kiki), Chloe Lanier (Nelle) and Eden McCoy (Josslyn).
Outstanding Younger Actor - William Lipton (Cameron) and Garrin Stitt (Oscar).
Outstanding Guest Performer - Patricia Bethune (Mary Pat) Cassandra James (Terry) and James Read (Gregory)
*******************
James Patrick Stuart (Valentin) has new music that will be released soon. His new album, The Apple Tree, will be available for download on iTunes in April. Be sure to put that on your calendars!
**************************************'
We are so happy to hear that Emme Rylan aka Lulu Falconeri has renewed her contract and will be hanging out in Port Charles a little longer. Always a fan favorite Emme started her run as Lulu In 2013 replacing the very popular Julie Berman. Emme hung in there and worked hard to make the character of Lulu her own. LULU STRONG, proud of ya Rylan!
****************
As happy as we are that Emme is staying the cast and crew were saddened by the retirement of longtime cameraman Dale Carson. He retired on January 31st after four decades with General Hospital. Dale was also a crew member of spinoffs PORT CHARLES & GENERAL HOSPITAL: NIGHT SHIFT.
****************
"Baby Come to Me' singer James Ingram has passed away at the age of 66. It was his big hit duet with Patti Austin. If you are an old time GH fan say like 1982, you will remember this hit song was used as the theme song for the super couple Luke Spencer and Holly Sutton. A couple of the GH cast posted on there twitter accounts praises for Ingram. "I remember singing his songs during sleepovers in high school," recalled Sonya Eddy (Epiphany) on Twitter. And Marc Anthony Samuel (Felix) posted simply: "RIP James Ingram. Such a beautiful voice."

************************************
SOD Exclusive! Brytni Sarpy joins The Young and The Restless
Brytni Sarpy (Valerie) has joined the cast of Y&R in the contract role of Elena Dawson. The actress will begin taping next week, and her character will cross paths with several key players in Genoa City. Sarpy first hit the daytime scene in 2015 as Valerie Spencer and has seen a recent uptick in Port Charles appearances. No word yet on what will happen to Valerie.
*****************************

From Michael Easton's (Finn) Facebook post: DONNA MESSINA Donna was a beautiful soul and to many of us she was the heart of the GH family. She did my makeup every day for the last six years but she was so much more than that. Donna often came to our event during fan club weekend and I know many of you had the opportunity to meet her. As a way of celebrating her life, a fund has been set up to benefit her three sons, Nick, Antonio and Vito. All funds go directly towards their books and tuition.https://www.gofundme.com/anpr4d-education-fund
*****************************

Jaime Ray Newman (ex-Kristina) and her husband won an Oscar this week for Best Short Film for their film "Skin."

SID: Maurice Benard Reveals the Moment That Changed Sonny Forever on GH

SID Will Luke Return? — Anthony Geary Speaks Out

'GENERAL HOSPITAL' POWER COUPLE'S TEMPESTUOUS LOVE STORY NOW AVAILABLE ON ABC.COM AND THE ABC APP
Two Decades of Sonny and Carly Corinthos' Unruly Union Available for Immediate Viewing
To coincide with Maurice Benard's extraordinary 25 years on the show and a very special anniversary episode airing today, MONDAY, NOV. 12, "General Hospital" fans will be able to access 20 episodes featuring the best and most memorable moments from Sonny (Maurice Benard) and Carly's (Sarah Joy Brown, Tamara Braun and Laura Wright, appearing chronologically) explosive and tumultuous 20-year relationship. Beginning today through Feb. 12, all 20 episodes are available for viewers with no sign in required at abc.com/sonnyandcarly and on the ABC app.
ABC.com and the ABC app enables users nationwide to access full episodes of their favorite current ABC shows, including "The Bachelorette," "Grey's Anatomy," "Marvel's Agents of S.H.I.E.L.D.," "Modern Family" and "Shark Tank." Viewers who sign in with a participating TV provider have the added benefit of being able to watch the most recent episodes the day after they air and a 24-hour live network stream in select markets. The ABC app is available in the App Store , ABC.com, Amazon Appstore , Google Play and on most connected TV devices.
"General Hospital" celebrated its 55th anniversary on April 1, 2018. It is both the longest-running American soap opera currently in production and the longest-running scripted television drama currently in production. "General Hospital" has won the prestigious Emmy® Award for Outstanding Daytime Drama a record 13 times. "General Hospital" was created by Frank and Doris Hursley. Frank Valentini is the executive producer. "General Hospital" airs weekdays on The ABC Television Network.

Soap fans, make sure you subscribe to Jacob Young's (ex-Lucky) new talk show, "Daytime After Dark" on YouTube! Review

Video celebrating Maurice Benard's 25 years on the show

On August 7, 2017, Chris Van Etten joined Shelly Altman as GH's co-head writers.

Steve Burton (ex-Dylan, Y&R; ex-Jason, GH) launched a guide for losing weight and becoming fit at www.burtonnutrition.com. The online program offers tips, recipes and products to purchase to help achieve a healthier lifestyle. There's also a VIP Club to join that offers more benefits, such as weekly webinars with Burton and other fitness celebrities.

If you loved AMC and/or OLTL and would like to see them back, please show your support to ABC & Hulu. Right now, they are considering airing vintage episodes & incorporating some characters into GH. Click here to find out how you can help make that happen!

Steve Burton (Dylan, Y&R; ex-Jason, GH) & Derk Cheetwood (Max, GH) have launched a new business called HollywoodSchooled.com where people can sign up for audio coaching lessons, learn how to avoid common mistakes, and become working and thriving actors in Hollywood.

Set to the tune of "Mad Love" by JoJo, the sleek 30-second GH Winter Romance promo showcases Sonny & Carly (played by Maurice Benard & Laura Wright), as well as Elizabeth and Franco (Rebecca Herbst & Roger Howarth), with a forlorn Griffin (Matt Cohen) as odd man out. Also featured are Nelle/Michael (Chloe Lanier & Chad Duell), Jordan/Curtis/André (Vinessa Antoine, Donnell Turner, & Anthony Montgomery), Maxie/Nathan (Kirsten Storms & Ryan Paevey), and Kiki/Dillon (Hayley Erin & Robert Palmer Watkins).

Enjoy the new GH Merry Christmas Happy Holidays Cast Video!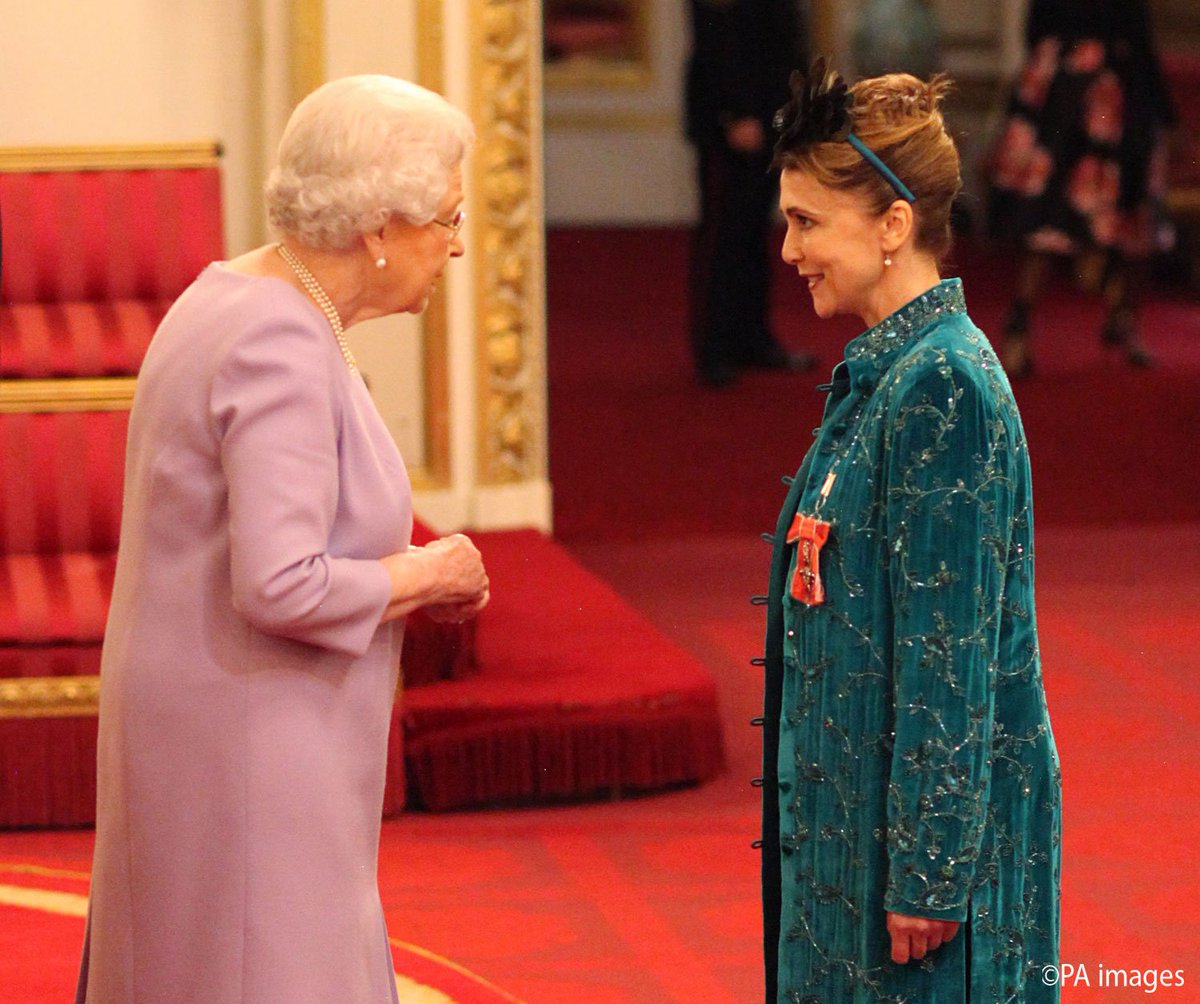 On October 25, 2016, Emma Samms (ex-Holly) was appointed MBE (Member of the Order of the British Empire) by Queen Elizabeth II at Buckingham Palace in London for her work with the Starlight Children's Foundation that she co-founded, bringing happiness to seriously ill children.
Writer Claire Labine died on November 10, 2016 at 82 years of age. She created Ryan's Hope as well as many beautiful stories for GH, OLTL, & GL.
Watch Full GH Episodes Online on ABC.com, GH-HD-Blogspot, Fulltvshows.org, Hulu.com, Daily Motion, & YouTube.
Michelle Stafford (Nina, GH; ex-Phyllis, Y&R), hosts a podcast " Single Mom A Go-Go" on Monday, July 11 at 7 p.m. PT / 10 p.m. ET, featuring Lauralee Bell (Christine, Y&R).
Siri Pinter is Mark Pinter's (ex-Agent Rayner) daughter by his first wife. She's married to NBC's Carson Daly and has a food blog at http://siriouslydelicious.blogspot.com.
Robert Palmer Watkins (Dillon), with a little help from his friends, released a cover of Justin Bieber's "Love Yourself" on January 22, 2016.
Watch an extended cut from ABC with never-before-seen footage of Robin and Patrick's wedding episode of January 7 with a special introduction by Finola Hughes (Anna).
Steve Burton (Dylan, Y&R; ex-Jason, GH) & Jonathan Jackson (ex-Lucky) have teamed up to open a family-friendly restaurant called "Jack and Jameson's Smokehouse" with great barbecue and world-class music at 509 Hillsboro Road in Franklin, TN near Nashville.
Enjoy a little tune with Maurice Benard (Sonny) and his teen daughter, Cassidy, who's a bit embarrassed.
Watch Tony Geary on ABC's Nightline on 7/22/15!
Great interview with Tony Geary about leaving the show!
Michael Easton (Silas, GH; ex-McBain, OLTL; ex-Caleb, PC; ex-Tanner, Days) has written the graphic novel "Credence: Lose This Skin." Check out the trailer here!
---
By Suzanne
SOD 11/25/19
Please be advised that spoiler dates may change due to all the pre-emptions.

Tristan Rogers will briefly return to Y&R as Colin, but he's still on GH and "The Bay."

Marcus Columa talks about his new role as Nikolas.

Alexis finds herself in a dangerous situation. Sonny has to force himself to understand a family problem.

Ryan Carnes (Lucas) is featured in a short interview.

Ratings, week of 10/21: 1.6.

Anna (Finola Hughes) returned last week. Tristan Rogers (Robert) is glad to have her back.

Ned will be back this week, as well as his daughter Brook Lynn (Now played by Amanda Setton, who previously played Kim on OLTL).

Cassandra (Jessica Tuck) was apparently killed last week by Valentin.

Christopher Banninger passed away. He was a former Emmy-winning sound mixer for the show and married to Beth Maitland (Traci, Y&R).

Finn figures out that Alexis has been made sick with rat poison, so she should figure out who tried to kill her. Neil starts to piece the puzzle together after he runs into someone by accident.

11/18 Hayden runs into Kim. Brad is confronted by Lucas. Something upsets Sam a lot. 11/19 Finn is yelled at by Chase. Nina is confronted by Jax. Jason goes to his old pal Spinelli for help.

The show is given a Thumbs Up! for bringing in the new teen Trina (Sydney Mikayla).

Steve Burton (Jason) is featured in a new interview.

William deVry (Julian) talks about Montreal (Canada), his home town.

What Will Happen: Someone shocking visits Jax and Laura. Valentin protects Charlotte. Hayden won't let anyone bully her.
SOD 11/18/19
Matt Cohen (ex-Griffin) is joing Entertainment Tonight as a full time correspondent and co-anchor of their weekend show. He's been a part-time correspondent for the show the past few months.

Jax is not happy to be keeping Nikolas' secret, especially from Carly and Joss.

Hayden goes to the pier and frets as she waits for someone. Alexis gets a visit from Neil. Nina leans on Jax, telling him her secrets. Hayden is targeted by Valentin. A trial verdict is decided.

Ratings, week of 10/14: 1.6.

Marcus Coloma plays Nikolas.

Lucas yells at Julian for blackmailing Brad. Julian doesn't get the chance to explain because Lucas is called away.

11/11 Jason has it out with Jax. Someone phones Valentin, which bothers him. Lulu loses it. 11/12 Nina is very upset. Valentin gets a visit from Jason. Jax and Carly make a deal. 11/13 Jordan wonders something. Valentin and Lulu find they have something in common. Robert gets to hear Chase's opinion. 11/14 Cameron and Elizabeth visit Sonny. Kim gets some love from Monica. Violet and Hayden have a short visit.

Chloe Lenier (Nell) is chosen as Performer of the Week.

What Will Happen: Hayden is told by Finn that he and Anna have to talk about things. TJ finds out what's wrong. Jason tells the police something.

Haley Pullos (Molly) is featured in a short Take Five interview.
SOD 11/11/19
Brad Maule (ex-Tony) returned Oct. 9 to tape some scenes; they'll air 11/8. Ryan Carnes (Lucas) enjoyed working with him.

Julian deliberately tries to sabotage Brad and Lucas's marriage with his naughty texts. Lucas thinks Brad is cheating on him. He and the baby spend the night at Carly's. Brad tries to cry on Julian's shoulder but then finds out that he's the one who sent the fake texts. Julian wants Brad to leave town and never come back. Brad goes to Lucas and tells him that Julian is trying to break them up.

Diane does a good job defending Sam. Julian and Kim have an encounter. Finn declares something. Jax is confronted by Carly. Cassandra acts like things are going her way.

Steve Burton (Jason) is asked questions about the story with Sam and Shiloh, and Drew/Franco.

Ratings, week of 10/7: 1.7.

Michael E. Knight (Martin) will be staying on the show longer than planned.

Elizabeth Hendrickson (ex-Margaux) and Rob Meder were officially married 10/15. They're expecting a daughter in March as previously noted.

Peter reveals to Maxie that he's already found a great condo for them to live. His application is rejected, so Maxie impetuously asks him to move in with her. He's moved, and after making sure that she's serious, he accepts. He's not worried about Maxie finding out his secrets because he covers his tracks well.

11/4 Laura goes looking for Sonny, Curtis can't believe something, and Valentin breathes a sigh of relief. 11/5 Elizabeth learns something awful. Franco realizes something. Ava is supported by Julian. 11/6 Jax stops Laura. Alexis gets sicker. Finn isn't sure how he will face Anna. 11/7 Nina visits Nathan's grave. Something makes Cassadra worried and afraid. Sam wants to ask questions.

New co-headwriter Dan O'Connor is interviewed.

What Will Happen: Julian goes to the hospital. A phone call shocks Jason. Lulu and Maxie have dessert with Charlotte.
SOD 11/4/19
All of the soaps are featuring Halloween stories this week.

The judge issues her ruling on Franco this week. Kim's testimony affects everyone. Franco has a new view of Kim now that he knows she tried to sleep with with a sedated Drew to get a baby. He knows now that he can't fully trust her. Both Kim and Elizabeth are determined to get him back.

Sam does what she thinks is right. Cassandra says snarky comments to someone. Robert finds out the truth. Cameron gets disappointed. Hayden and Jax talk about their recent disappointing shock.

Ratings, week of 9/30: 1.7.

Jessica Tuck (Cassadra) returns this week.

Billy Miller (ex-Drew) plays the role of Alex is the new Apple+ series "Truth Be Told."

Gina Hecht (Judge Lasser) is leaving the show now that Drew's trial is over.

Elizabeth Hendrickson (ex-Margaux) is expecting her first baby.

Kendra drugs Alexis' supplement to get revenge for her brother, Kiefer.

10/28 Julian is shocked. Lucas and Brad head for marriage counseling. 10/29 Bobbie is sympathetic to someone's loss. Scott tries to get help. Sonny offers Franco a way out. 10/30 Jason receives an apology from Cameron. Nina and Sasha are both cross-examined, which makes things tense. Curtis is excited. 10/31 Alexis fights being sick. Michael starts losing his patience. Hayden and Jax compare what they know.

The show is given a Thumbs Up! for having Spinelli back and acting in a believable way.

November Sweeps: There will be many reveals this month. One will happen at the Halloween party. Anna returns and that may affect a number of different people in a dangerous way. Sam takes Diane's advance to have a bench trial so that she can get out of Pentonville sooner. Peter is trying to protect Maxie and his lies. Someone in prison is trying to kill Sam. The truth behind Wiley's parentage will speed up. Will Brad finally tell the truth, and to whom? Julian has to make a difficult decision. Mikko's will affects many people. The month will be difficult for Ava. Sonny and Carly will be impacted by the revelations on Halloween. Carly will have a big secret. She has to make a big decision that could affect Sonny. The judge's decision about Franco will affect many people as well.

What Will Happen: Elizabeth receives a phone call. Brad is undermined by Julian again. Laura is doubtful.

Parry Shen (Brad) is featured in a one page interview.
---
Don't forget to sign up for our weekly scoops newsletter for more scoops!!
Our other pages for news, scoops, and spoilers: AMC, ATWT, AW, B&B, Days, GH: Night Shift, GL, Loving/The City, OLTL, Passions, PC, Y&R, General Daytime, 24, Battlestar Galactica, Heroes, Jericho, Lost, Smallville, & Star Trek.
This page is dedicated to Hilary, our beloved late volunteer, who used to update the scoops pages.
Back to the Main General Hospital Page
Page updated 11/26/19
---