All About General Hospital!
NEWS AND INFORMATION! Scoops and Spoilers Below
NOTE: Senate impeachment hearings start Tuesday, 1/21 and will probably affect daytime programming.
OLDER NEWS:
SID Spoilers: Quartermaine Family Drama!
Martin West (ex-Phil) passed away
SID Spoilers: Nikolas Makes His Move
GH Toasts 30th Anniversary of Emmy-winning Casting Director Mark Teschner
Michael E. Knight on SOD's Podcast
Michael Fairman Interviews Michael Easton
Michael Fairman Interviews Roger Howarth
Paula, wife of Maurice Benard (Sonny) is helping Réal Andrews (ex-Taggert) restart his acting career as his new agent. See the video on Instagram
Cameron Boyce passed away at age 20 from unknown causes (related to an ongoing medical condition). He played Jagger's son, Stone, on "General Hospital: Night Shift." More info
Former actor and comedian Arte Johnson passed away. He was most known for "Rowan & Martin's Laugh-in," but he also appeared on GH for two years as Finian O'Toole. He had a long 50-year-plus career before he retired in 2005.
Soap Vet Jed Allan (ex-Edward) Passed Away
Jaime Ray Newman (ex-Kristina) and her husband won an Oscar this week for Best Short Film for their film "Skin."
Soap fans, make sure you subscribe to Jacob Young's (ex-Lucky) new talk show, "Daytime After Dark" on YouTube! Review
Video celebrating Maurice Benard's 25 years on the show
On August 7, 2017, Chris Van Etten joined Shelly Altman as GH's co-head writers.
Steve Burton (ex-Dylan, Y&R; ex-Jason, GH) launched a guide for losing weight and becoming fit at www.burtonnutrition.com. The online program offers tips, recipes and products to purchase to help achieve a healthier lifestyle. There's also a VIP Club to join that offers more benefits, such as weekly webinars with Burton and other fitness celebrities.
If you loved AMC and/or OLTL and would like to see them back, please show your support to ABC & Hulu. Right now, they are considering airing vintage episodes & incorporating some characters into GH. Click here to find out how you can help make that happen!
Steve Burton (Dylan, Y&R; ex-Jason, GH) & Derk Cheetwood (Max, GH) have launched a new business called HollywoodSchooled.com where people can sign up for audio coaching lessons, learn how to avoid common mistakes, and become working and thriving actors in Hollywood.
Set to the tune of "Mad Love" by JoJo, the sleek 30-second GH Winter Romance promo showcases Sonny & Carly (played by Maurice Benard & Laura Wright), as well as Elizabeth and Franco (Rebecca Herbst & Roger Howarth), with a forlorn Griffin (Matt Cohen) as odd man out. Also featured are Nelle/Michael (Chloe Lanier & Chad Duell), Jordan/Curtis/André (Vinessa Antoine, Donnell Turner, & Anthony Montgomery), Maxie/Nathan (Kirsten Storms & Ryan Paevey), and Kiki/Dillon (Hayley Erin & Robert Palmer Watkins).
Enjoy the new GH Merry Christmas Happy Holidays Cast Video!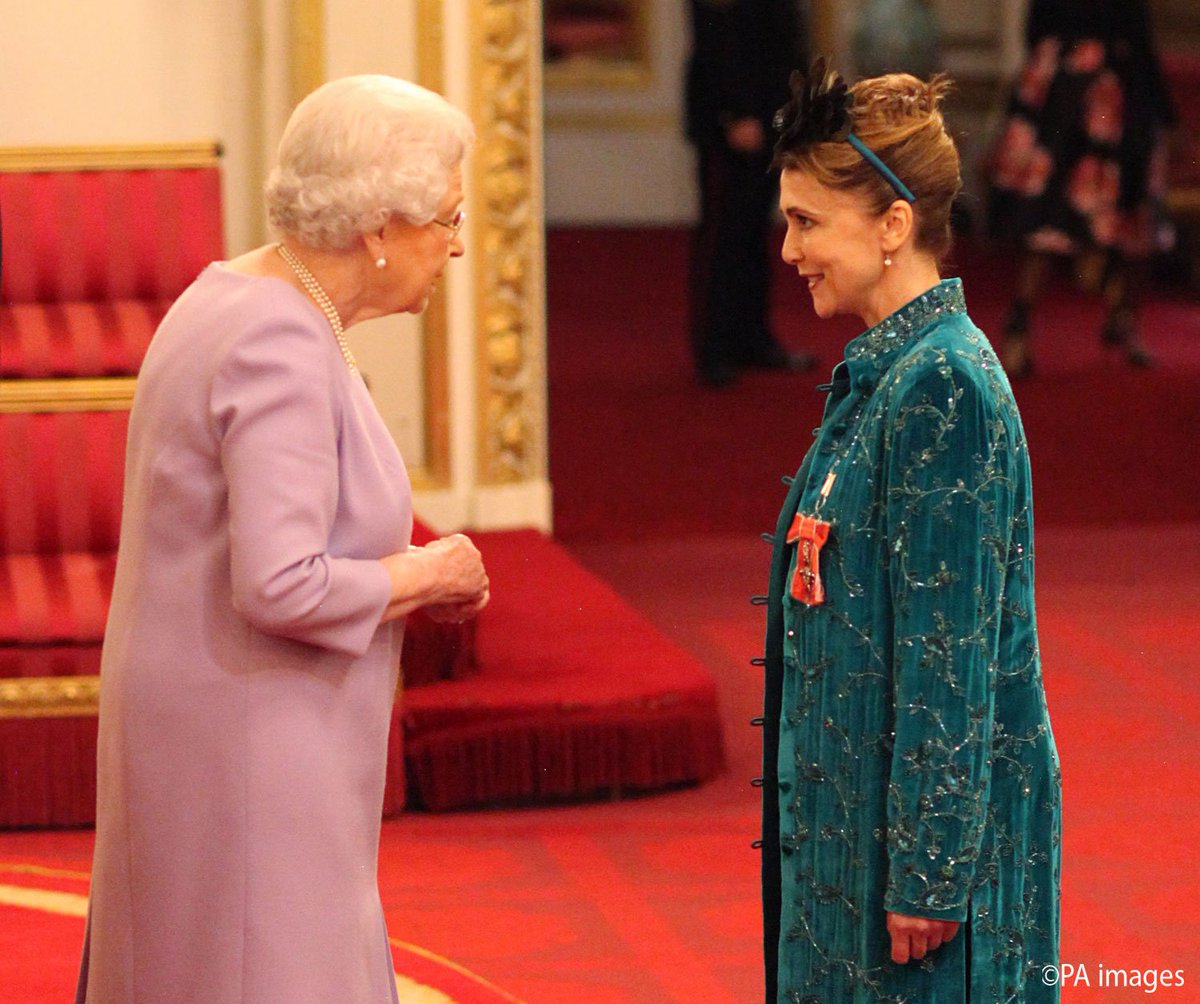 On October 25, 2016, Emma Samms (ex-Holly) was appointed MBE (Member of the Order of the British Empire) by Queen Elizabeth II at Buckingham Palace in London for her work with the Starlight Children's Foundation that she co-founded, bringing happiness to seriously ill children.
Writer Claire Labine died on November 10, 2016 at 82 years of age. She created Ryan's Hope as well as many beautiful stories for GH, OLTL, & GL.
Watch Full GH Episodes Online on ABC.com, GH-HD-Blogspot, Fulltvshows.org, Hulu.com, Daily Motion, & YouTube.
Michelle Stafford (Nina, GH; ex-Phyllis, Y&R), hosts a podcast " Single Mom A Go-Go" on Monday, July 11 at 7 p.m. PT / 10 p.m. ET, featuring Lauralee Bell (Christine, Y&R).
Siri Pinter is Mark Pinter's (ex-Agent Rayner) daughter by his first wife. She's married to NBC's Carson Daly and has a food blog at http://siriouslydelicious.blogspot.com.
Robert Palmer Watkins (Dillon), with a little help from his friends, released a cover of Justin Bieber's "Love Yourself" on January 22, 2016.
Watch an extended cut from ABC with never-before-seen footage of Robin and Patrick's wedding episode of January 7 with a special introduction by Finola Hughes (Anna).
Steve Burton (Dylan, Y&R; ex-Jason, GH) & Jonathan Jackson (ex-Lucky) have teamed up to open a family-friendly restaurant called "Jack and Jameson's Smokehouse" with great barbecue and world-class music at 509 Hillsboro Road in Franklin, TN near Nashville.
Enjoy a little tune with Maurice Benard (Sonny) and his teen daughter, Cassidy, who's a bit embarrassed.
Watch Tony Geary on ABC's Nightline on 7/22/15!
Great interview with Tony Geary about leaving the show!
Michael Easton (Silas, GH; ex-McBain, OLTL; ex-Caleb, PC; ex-Tanner, Days) has written the graphic novel "Credence: Lose This Skin." Check out the trailer here!
---
By Suzanne
SOD 1/27/20
Nikolas has to face Spencer's wrath this week (and also Ava's).

Jason and Sam have a convo about Peter. Michael is happy to have Ned to help out. Anna reunites with someone. Jason gathers more information. Sonny has to explain his actions.

Ratings, week of 12/23: 1.6.

Spencer (Nicolas Bechtel) appears again this week when he finds out his dad is alive.

Brad is put on the spot when Michael finds Nelle holding Wylie.

1/20 Someone impresses Gladys. Willow gets more and more frustrated. Laura decides to start a new project. 1/21 Josslyn is found at the docks by Michael. Martin sticks close to Valentin. Something scares Nelle. 1/22 Finn has it out with Nikolas. Mike is upset, so Sonny tries to comfort him. Sasha is defended by Michael. 1/23 Sasha is scared. Finn gives someone an ultimatum. Jordan worries about the future.

The show is given a Thumbs Up! for the return of Tracy.

What Will Happen: Laura gets a visit from Nikolas. Nelle tries to get Brook Lynn to see her side. Sonny goes to the ER.
SOD 1/20/20
Sean Kanan (ex-AJ) talks about his Amazon series, "Studio City."

Jordan is shocked that an old friend of hers died of an overdose. She calls someone to come back to town and help her with the investigation. She tries to keep Curtis out of the investigation. This new person will be quite a shock. Briana Nicole Henry, who plays Jordan, hopes that Trina will turn out to be Curtis' daughter.

Ratings, week of 12/16: 1.7.

Spinelli comes back this week and has scenes with Sam. Stella also returns this week, from London.

Nancy Lee Grahn (Alexis) is engaged to marry contemporary guitarist Richard Smith. This is her first marriage.

Jason becomes more suspicious of Peter when he sees him have an awkward conversation with Franco and Elizabeth. Peter is rattled when they invite him to dinner to thank him for saving Franco from the gunman (since he hired the gunman). Peter is worried about Jason's attentiveness.

1/13 Alexis learns the truth. Maxie and Spinelli are happy to see each other again. Jason mistrusts someone. 1/14 Someone calls Chase to break up a fight. Laura interrupts someone. Ned is reminded by Tracy of what's important. 1/15 Sonny plans to take to the road. Lulu has questions. Tracy tries to get along better with Olivia. 1/16 Sonny's decision is supported by Gladys. Brad is visited by Julian. Michael is blamed for something by Tracy.

The show is given a Thumbs Up! for reuniting Franco with Elizabeth and Cameron.

An article chooses "Soap's Most Beautiful Women," including Sofia Mattsson (Sasha) and Briana Nicole Henry (Jordan).

What Will Happen: Chase tries to update his boss on the case against Sonny. Brad learns something shocking. Sonny is very nervous.
SOD 1/13/20
Various soap actors talk about the death of former soap producer Lisa de Cazotte, who passed away December 7th. She worked on season 2 of "General Hospital: Night Shift" as well as other ABC soaps "All My Children and "One Life to Live."

Eden McCoy (Josslyn) is featured in a short interview about her character.

Ratings, week of 12/9: 1.6.

Sean Kanan (ex-A.J.) created a new soap called "Studio City," found on Amazon. It has many soap stars in it, including Carolyn Hennesy (Diane), Sarah Brown (ex-Carly/Claudia) and Tristan Rogers (Robert).

André (Anthony Montgomery) has left the show again.

When Valentin and Nina's wedding gets interrupted by two people, he figures out that she knows that he was behind Sasha posing as her daughter.

1/6 Something upsets Josslyn. Jordan and Curtis rush to control things. Lulu and Laura are in shock. 1/7 Jax tries to be there for someone. Anna pleads with someone in an emotional way. Ava spills something shocking. 1/8 Lulu starts to do something. Something stuns Alexis. Carly gets very angry. 1/9 Robert makes a deal with someone. Finn is very shocked. Brad goes back to his job.

The show is given a Thumbs Up! for pairing Alexis and Neal, but a Thumbs Down! for taking too long in developing their romance.

Wally Kurth (Ned) is chosen as Performer of the Week, for his work on DOOL as Justin!

Sofia Mattsoon (Sasha) is featured in an interview.

Stars share their fitness and nutrition tips, including Mark Lawson (Dustin) and Tajh Bellow (TJ).

What Will Happen: Jordan feels helpless. Nina is teased by Lucy. Liz has some big questions for someone.
SOD 1/6/20
Rick Hearst (ex-Ric) talks about how great it was to be on "Ambitions" this season on OWN.

Nina goes a little mad when she finds proof that Valentin got some of her mother's DNA to use, to prove that Sasha was her daughter. Sasha urges her to forgive Valentin. Nina is undecided when she goes to get ready for her wedding. She hopes that Valentin tells her the truth, so they can work things out. Jax also advises her to let it go. A big surprise happens at the wedding.

Ratings, week of 12/2: 1.6

Andi Chapman plays Delores, who has scenes with Sam, telling her something important.

After Trina notices that Dev has a crush on Josslyn, she starts noticing him, too.

12/30 Sonny feels that someone has betrayed him. Sasha hears Michael's opinion. Sam makes a smart move. 12/31 a holiday special from 2017 airs. 1/2 Jax is ready to take what fate has in store for him. Jax doesn't know what to think. Chase and Willow have a romantic encounter.

An article focuses on how GH's wardrobe department put together the costumes for their special Scrooge episode.

The show is this week's Editor's Choice storyline for the car crash with Brad and Lucas.

2020 Preview: Ava will confront Nikolas and offer him the codicil, on one condition. He has to consider how to proceed because her price may be too much. Tracy has come back to warn the family. They need to band together to save their company and legacy. When the town has a crisis, Laura has to step up and lead. Sonny is having a hard time with Mike's illness and with Carly keeping secrets. He finds a way to make Mike's symptoms better, which may create huge problems. Sam and Jason have a good new year's but the shadow of Shiloh still hangs over them. Nelle has been busy to cause havoc in the Port Charles citizen's lives. She will get out of jail, which will be an interesting story. Carly, Michael, Chase, Sasha and Willow will be affected by Nelle's plotting. The truth about Wiley may come out, if Lucas comes out of his coma. Julian may get a new romance, even though he's busy trying to contain Brad. Franco and Elizabeth will have more trials because of his brain surgery and Nikolas' return. Anna tries to find the truth about Peter, which may have an effect on her relationship with Finn. Peter thinks he's safe, but Anna and Chase are looking into him. Robert also wants to prove that Peter is a bad guy, and he may work with Finn to do that. Neil tells Alexis something that happened, which may affect their romance. Jordan finds out that an old friend of hers died, and she wants to investigate the death. Dustin and Lulu may find something from their past that affects their relationship even as they try to move forward. Obrecht contemplates becoming a better person, but she may find that the past is pulling on her too much. Trina, Cameron, Dev and Josh will have romantic adventures as they figure out who is attracted to whom.

An article, "Year in Review," recaps everything that happened on the show in 2019. Another article has actors from the shows listing the best things that happened to them this year.

What Will Happen: Jordan and Curtis rush to deal with a situation. Maxie thinks about what might be. Dev and Josslyn give each other gifts.
SOD 12/16/19
Tracy (Jane Elliot) returns for the holidays. She'll be involved in a big Quartermaine story.

Rebecca Budig (Hayden) talks about leaving the show.

Ratings, week of 11/11: 1.6.

Griffin (Matt Cohen) returns.

Michelle Argyris (Kendra) has left the show.

Brook Lynn and Olivia continue to have problems.

12/9 Jax loses patience with Nikolas. Valentin is suspicious about something. Nina considers going into business with someone new. Trina helps out at the gallery. Elizabeth tries to thank someone.

Maurice Benard (Sonny) is chosen as Performer of the Week.

An article features the new head of NATAS, who talks about changes in the Daytime Emmys.

Ashley Jones (ex-Parker) shares some practical tips for moms this holiday season.

What Will Happen: Willow tells Sasha something important. Sonny has sympathy for someone. Jordan discovers something, but it's not enough.

Eden McCoy (Josslyn) is featured in the short Take Five article.
SOD 11/25/19
Please be advised that spoiler dates may change due to all the pre-emptions.

Tristan Rogers will briefly return to Y&R as Colin, but he's still on GH and "The Bay."

Marcus Columa talks about his new role as Nikolas.

Alexis finds herself in a dangerous situation. Sonny has to force himself to understand a family problem.

Ryan Carnes (Lucas) is featured in a short interview.

Ratings, week of 10/21: 1.6.

Anna (Finola Hughes) returned last week. Tristan Rogers (Robert) is glad to have her back.

Ned will be back this week, as well as his daughter Brook Lynn (Now played by Amanda Setton, who previously played Kim on OLTL).

Cassandra (Jessica Tuck) was apparently killed last week by Valentin.

Christopher Banninger passed away. He was a former Emmy-winning sound mixer for the show and married to Beth Maitland (Traci, Y&R).

Finn figures out that Alexis has been made sick with rat poison, so she should figure out who tried to kill her. Neil starts to piece the puzzle together after he runs into someone by accident.

11/18 Hayden runs into Kim. Brad is confronted by Lucas. Something upsets Sam a lot. 11/19 Finn is yelled at by Chase. Nina is confronted by Jax. Jason goes to his old pal Spinelli for help.

The show is given a Thumbs Up! for bringing in the new teen Trina (Sydney Mikayla).

Steve Burton (Jason) is featured in a new interview.

William deVry (Julian) talks about Montreal (Canada), his home town.

What Will Happen: Someone shocking visits Jax and Laura. Valentin protects Charlotte. Hayden won't let anyone bully her.
---
Don't forget to sign up for our weekly scoops newsletter for more scoops!!
Our other pages for news, scoops, and spoilers: AMC, ATWT, AW, B&B, Days, GH: Night Shift, GL, Loving/The City, OLTL, Passions, PC, Y&R, General Daytime, 24, Battlestar Galactica, Heroes, Jericho, Lost, Smallville, & Star Trek.
This page is dedicated to Hilary, our beloved late volunteer, who used to update the scoops pages.
Back to the Main General Hospital Page
Page updated 1/20/20
---