PLEASE CLICK TO DONATE TO OUR SITE!!!!
This is just an unofficial fan page, we have no connection to "Guiding Light" or CBS.
PLEASE CLICK TO DONATE TO OUR SITE!!!!
Guiding Light Store
We need more daytime recap/update writers, article writers, MS Frontpage and Web Expression users, graphics designers, and more, so please email us if you can help out! More volunteers always needed! Thanks!
Click on the title to get information about the book and to buy it from Amazon.com! These make great gifts for your favorite soap fan!
Amazon.com is pleased to have The TV MegaSite in the family of Amazon.com associates. We've agreed to ship books and provide customer service for orders we receive through special links on The TV Megasite. Amazon.com associates list selected books in an editorial context that helps you choose the right books. We encourage you to visit The TV Megasite often to see what new books they've selected for you. Thank you for shopping with an Amazon.com associate.
Sincerely, Jeff Bezos President Amazon.com P.S. We guarantee you the same high level of customer service you would receive at Amazon.com. If you have a question about an order you've placed, please don't hesitate to contact us.
2017 Michael Easton & Roger Howarth desk calendar for $21, the wall calendar for $30, or both for $48. The proceeds, after paying for the calendar and shipping, will be donated to the American Cancer Society. Send your payment via Paypal to TedPayne@msn.com. Get more info here!
Guiding Light: The Complete Family Album (Hardcover)
by Julie Poll, Caelie M. Haines (Contributor)




Guiding Light: A 50th Anniversary Celebration
by Christopher Schemering




Taking Soaps Seriously: The World of Guiding Light (Hardcover)
by Michael James Intintoli

I'm Just Sayin'!: Three Deaths, Seven Husbands, and a Clone! My Life as a Daytime Diva [Hardcover]
by Kim Zimmer (Echo, OLTL; ex-Reva, GL) and Laura Morton
Guiding Light: Jonathan's Story (Hardcover)
by Julia London and Alina Adams




Lorelei's Guiding Light: An Intimate Diary (Hardcover)
by Beth Chamberlin, Lorelei Hills




Roger Thorpe ~ The Scandal Years




Soap Dishes: The Cookbook
GH's Steve Burton (Jason) & Derk Cheetwood (Max), Co-Creators
Contains many recipes from 35 soap stars, including GL's Ricky Paull Goldin (Gus), Gina Tognoni (Dinah), Laura Wright (Cassie), Rebecca Budig (Michelle), Vincent Irizarry (Lujack), and Rick Hearst (Alan-Michael).

Loukoumi's Good Deeds
(Hardcover Book & CD Narrated by Jennifer Aniston and John Aniston)
by Nick Katsoris

GL's Frank Dicopoulos is Dean the Dog!

Loukoumi's Celebrity Cookbook
Featuring Favorite Childhood Recipes from over 50 celebrities [Hardcover]

The Illustrated Soap Opera Companion: Captured Memories from Search for Tomorrow, Love of Life, The Guiding Light, Days of Our Lives, One Life to Live
by Richard Meyers
Also check out our stores for Various Soaps, All My Children, Another World, As the World Turns, Bold & the Beautiful, Days of Our Lives, General Hospital, One Life to Live, Passions, Port Charles, The Young and the Restless, and primetime!
Search Ebay for Guiding Light collectibles

Jordi Vilasuso (Griffin) is trying to raise funds to create a web series that takes a celebrity, a charity they support, and one of their biggest fans in order to create a PERFECT DAY! Donate Funds
---
Buy Soap Magazines
Go here for great news & scoops, photos and in-depth articles!
Soap Opera Digest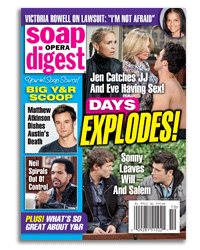 ---
Our Main Store Page