ATWT News, Scoops, Spoilers and information



Soap vet Nicolas Coster (ex-Eduardo) passed away 6/27 at age 89. He was also in soaps Young Dr. Malone, Our Private World, Somerset, Dallas, Another World, One Life to Live, Santa Barbara, As the World Turns and The Bay as well as many movies and TV shows. His role as Lionel in Santa Barbara is what he was most known for. He was still working until the end, recently guest-starring on "The Rookie" on ABC.

Elizabeth Hubbard (Lucinda) passed away 4/8/23.

Former ATWT actress Lopes stars in new movie

OLDER NEWS:

Teri Garber (Iris)'s sister Bobbi sells jewelry!

Julianne Moore's beauty advice to her daughter: 'Don't destroy your eyebrows'

The Bold and the Beautiful taps As the World Turns vet Cassandra Creech for new role

FebWriter has many great old ATWT clips.

Click here to view the 2-minute tribute to ATWT that aired at the Daytime Emmy Awards Ceremony in 2010.

According to Soap Opera Digest, June 13 issue: Marnie Schulenburg (ex-Alison) passed away from breast cancer at age 37.

Brian Gaskill (B.J.) was in a play in NYC and caught COVID. We wish him a speedy recovery!

Help fund Season 3 Part 2 of "The It Girls on the Stoop" starring veteran soap actresses Hillary B. Smith (ex-Margo) and Crystal Chappell (ex-Danielle, Bold and Beautiful, ex-Olivia, Guiding Light; ex-Carly, Days of Our Lives)! See past seasons here

Congratulations to Cady McClain (ex-Rosanna, who played Jennifer this past year on Days of Our Lives) for winning a Daytime Emmy for Outstanding Guest Performer in a Drama Series!

Martha Byrne Interview

John Reilly (ex-Danny, 74-76) has passed away. More

Ben Jörgensen (ex-Chris) died 10/7...one of his former colleagues thinks that he was bipolar and committed suicide, but that hasn't been confirmed officialy. He also went by the name "Ben Monk" on stage. He is not the same Ben Jorgensen married to B&B actress Katrina Bowden.

Spencer Grammer, who played Lucy, was attacked! M

ore



A

BC will air a special, "Story of the Soaps," May 19.



A

TWT Reunion



Soap vet Roscoe Born (Detective Adamski, 2001) passed away at the age of 69.

Meredith Hagner (ex-Liberty) just married Wyatt Russell (star of "Lodge 49" on AMC and son to Kurt Russell and Goldie Hawn).

Jon Lindstrom (Craig, now on GH) was nominated for a Daytime Emmy for Outstanding Lead Actor in a Drama Series.
Maura West (Carly, now on GH) was nominated for a Daytime Emmy for Outstanding Lead Actress in a Drama Series.
Don't miss the Daytime Emmys, streaming online Sunday, May 5, at 8 p.m. ET.
Everything you need to know about this year's Daytime Emmys!

Trent Dawson (Henry) wrote and directed a play that he's now trying to turn into a movie. Go here to learn more and to donate to help complete it!

"The Bay: The series" was nominated for a Daytime Emmy for Outstanding Digital Daytime Drama Series. Mary Beth Evans (ex-Sierra) is one of the producers. She's also nominated for Outstanding Lead Actress in a Digital Daytime Drama Series for her work on "The Bay: The Series".
Kelley Menighan Hensley (Emily) was nominated for Outstanding Lead Actress in a Digital Daytime Drama Series for her work on "Tainted Dreams".
Michael Lowry (ex-Les) was nominated for a Daytime Emmy for Outstanding Lead Actor in a Digital Daytime Drama Series for his role in "Tainted Dreams."
"Venice The Series" was nominated for a Daytime Emmy for Outstanding Digital Daytime Drama Series. Cady McClain (ex-Rosanna) is nominated as director.
Full List of Daytime Emmy Nominations
Click here for the winners!

Amanda Seyfried (ex-Lucy) and fiancé Thomas Sadoski are expecting their first child.

Julianne Moore (ex-Sabrina/Frankie) and other celebrities star in this campaign ad.
Please vote for Jordana Brewster (ex-Nikki) for Favorite Actress in a New TV Series at http://vote.peopleschoice.com/.

Thomas Larkin Malloy (ex-Travis Montgomery, AMC; ex-Kyle, GL; ex-Sky, Edge of Night; Dr. Weston, ATWT; ex-Clay, Loving) passed away on September 29, 2016, after a heart attack at 62.
Gloria DeHaven (ex-Emma, AMC; ex-Sara, ATWT; ex-Bess, Ryan's Hope) passed away on July 30, 2016, in Las Vegas, NV, at 91.
See Brian Gaskill (ex-B.J.)'s Donald Trump imitation!
Tom Degnan (ex-Joey, OLTL; ex-Adam, ATWT) married actress Erin Cummings (ex-Ann, B&B) on Saturday, July 2, 2016, at the Basilica of the Sacred Heart at the University of Notre Dame.
Jensen Buchanan (ex-Elise, Y&R; ex-Marley/Vicky, AW & ATWT; ex-Sarah, OLTL; ex-Melissa, GH & PC) was arrested for driving under the influence on the morning of May 18, 2016, when her black 2016 Mercedes drifted across a double yellow line and slammed into a 2014 Ford C-Max at 6:20 a.m. in Buellton, near Santa Barbara. While her injuries were considered minor, the other driver was treated for "major injuries" at Cottage Hospital.
"Ladies of the Lake," the new digital series based on the novel by Days' Executive Producer Ken Corday, has announced its cast. Kyle Lowder (ex-Brady, Days; ex-Rick, B&B), Arianne Zucker (Nicole, Days), John-Paul Lavoisier (Philip, Days; ex-Rex, OLTL), Martha Madison (Belle, Days; ex-Elizabeth, GH; ex-Lola, Passions), Wally Kurth (Justin, Days; Ned, GH), Marie Wilson (Summer, Days; ex-Meg, ATWT; ex-Karen, PC & GH), Gordon Thomson (ex-Walter, Days; ex-Freeman, Passions; ex-AJ, Sunset Beach; ex-Adam, Dynasty), John Callahan (ex-Edmund, AMC; ex-Dr. Baker, Days; ex-Leo, GH), Patrika Darbo (ex-Nancy, Days), Lilly Melgar (ex-Lily, GH; ex-Claudia, B&B), Jessica Morris (ex-Jennifer, OLTL) & Jillian Clare (ex-Abby, Days) will appear in the new soap from Michael Caruso.
Siri Pinter is Mark Pinter's (ex-Brian) daughter by his first wife. She's married to NBC's Carson Daly and has a food blog at http://siriouslydelicious.blogspot.com.
Nathaniel Marston (ex-Eddie) was paralyzed in a crash Friday, October 30, 2015, after falling asleep at the wheel of his pick-up truck in Reno, Nevada. He was ejected through the windshield and crushed several vertebrae in his neck and back. Sadly, he passed away on November 11. His mother, Elizabeth Jackson, wrote on her Facebook page: "Had Nathaniel lived he would have required a ventilator and would never have been able to utter one more word and would have been sentenced to life as a quadriplegic -- a condition that Nate would have never have been able to tolerate." Visit his GoFundMe page here!
On Saturday, September 26, 2015, Brian Gaskill (ex-BJ, ATWT) and his girlfriend, Ambika Leigh were sitting at a red light in LA when a car in a high-speed chase crashed into them and totaled their Mercedes-Benz. They were not hurt. See the video here!
Randolph Mantooth (ex-Alex, Loving/The City; ex-Hal, ATWT, ex-Kirk, OLTL; ex-Richard, GH) has completed treatment for cancer in August, 2015.
Terri Conn (ex-Katie, ATWT; ex-Aubrey, OLTL) and husband Austin Peck (ex-Brad, ATWT; ex-Rick, OLTL; ex-Austin, Days) had their second daughter together named Morgan Theresa Peck, on July 18, 2015. She joins the couple's daughter, Keira (3), as well as Conn's daughter, Julia, and Peck's sons, AJ and Roman.
On February 22, 2015, Julianne Moore (ex-Frannie/Sabrina) won an Academy Award for Best Actress in a Leading Role in the movie "Still Alice." She also won a 2015 Golden Globe Award as Best Actress in a Drama for the same role.
---
Page updated 7/14/23
Our other pages for daytime news, scoops, and spoilers: AMC, B&B, Days, GH, GH: Night Shift, GL, Loving/The City, OLTL, PC, Passions, Y&R, and General Daytime.
Spoilers for Primetime shows: 24, C.S.I., Ghost Whisperer, Grey's Anatomy, Heroes, House, Law & Order, Lost, and Smallville!
Also, please check out our Primetime TV News Page, updated daily!
---
Buy Soap Magazines
Go here for great news & scoops, photos and in-depth articles!
Soap Opera Digest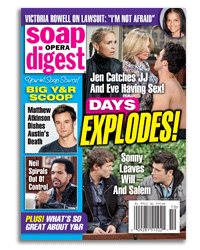 ---
This page is dedicated to Hilary, our beloved late volunteer, who used to update the scoop pages.
---