PLEASE CLICK TO DONATE TO OUR SITE!!!!
Passions Fan Clubs
We need more daytime recap/update writers, article writers, MS Frontpage and Web Expression users, graphics designers, and more, so please email us if you can help out! More volunteers always needed! Thanks!
---
Now is the time to join the Passions Fan Club!
Passions Fan Club Members will receive the following:
* An 8" x 10" Autographed Color Cast Photo
* A biography of each cast member which includes their birthday
* An Official Passions Fan Club Membership Card
* A subscription to our Fan Club Newsletter, published bi-annually
* Discounts at PASSIONS FAN CLUB EVENTS
* A SPECIAL SURPRISE GIFT
To join:
1. PRINT all information asked for below on an index card.
2. Do not use abbreviations for states or countries.
3. Attach payment to the card- Checks or money orders only payable to 'PASSIONS FAN CLUB' in the amount of $24.00 (In Canada: Money Orders in U.S. dollars only)
NAME:
AGE: (OPTIONAL)
ADDRESS:
CITY:
STATE:
ZIP CODE:
COUNTRY:
PHONE #:
BIRTHDAY:
FAVORITE CHARACTERS:
1.
2.
3.
IMPORTANT INFORMATION: The Passions studio can no longer accept regular mail. Please send your application or renewal by CERTIFIED or REGISTERED mail only to:
Passions Fan Club
c/o Peter
4024 Radford Avenue
Studio City, CA 91604
All Other Passions Stars Cast Member's
Name Passions
c/o NBC 4024 Radford Ave.
Studio City, CA 91604
To write NBC:
Viewer Relations
30 Rockefeller Plaza
New York, NY 10112
nbcshows@nbc.com
---
Galen Gering Fan Club
Join Galen Gering's Official Fan Club and receive: Galen's newest 8x10 color photo personally autographed to you, a newsletter and bio, an official fanclub note pad and laser engraved pen. In addition, the membership includes a password that will allow special access to secret website pages at http://www.galengering.com .
The cost for joining is $20 US, $23 Canada, and $25 International. Non-US payments must be made with a money order using US dollars, or check the exchange rate for accurate payment. Click here to fill out an online application form, print it out and send it along with check or money order to:
Galen Gering Fan Club
14044 Ventura Blvd. Ste 308
Sherman Oaks, CA 91423
Questions may be sent to: galengering@safesearching.com
---
Visit Donn Swaby's site at http://www.donnswaby.com . If you are snail mailing, send to:
Donn Swaby Fan Club
3940 Laurel Canyon Blvd., #684
Studio City, CA 91604.
So, all you Chad fans, get your applications in now!
---
Other Fan Club Pages: AMC, ATWT, AW, B&B, Days, GH, GL, OLTL, PC, and Y&R.
Back to the Main Passions Page
---
---
Buy Soap Magazines
Go here for great news & scoops, photos and in-depth articles!
Soap Opera Digest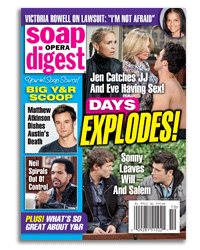 ---
---