PLEASE CLICK TO DONATE TO OUR SITE!!!!
This is just an unofficial fan page, we have no connection to "Passions" or NBC.
PLEASE CLICK TO DONATE TO OUR SITE!!!!
Passions Tape & DVD Trading
We need more daytime recap/update writers, article writers, MS Frontpage and Web Expression users, graphics designers, and more, so please email us if you can help out! More volunteers always needed! Thanks!
---
abajasds@comcast.net is looking for Passion episodes from the beginning

AmandaPup is looking for early episodes of "Passions" with Timmy, and all episodes of "Homefront". She has more than three dozen DVDs of edits of "One Life to Live" material from 1978 to 1988, most of which is centered on Viki, first with Joe [Marco's death and trial, Joe's illness and death] and then Clint. There are a few arcs of other stories, but the concentration in on Viki.

Erica is desperately looking for tapes or DVDs of Passions, especially the Bollywood episode, and the musical episode of sitcom The Hughleys. She has various shows on tape or DVD to trade.

Katrina is looking for episodes from 2006 and 2007.

Nicholas is looking for tapes of old Passions episodes, from 1999-July of 2001, especially the very first episodes.

Rick is looking for the Passions episode that aired 6/16/05.

Shirley is looking for old episodes of Passions (from the beginning) taped either from NBC or Scifi.

Sylvie is looking for the episode where Simone and Rae first kissed.

Tiffany is looking for complete episodes from Oct. 99 to Apr. 2001 and has all the remaining episodes to trade.

Back to the Main Passions Page
---
---
Buy Soap Magazines
Go here for great news & scoops, photos and in-depth articles!
Soap Opera Digest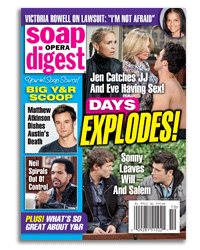 ---
---