PLEASE CLICK TO DONATE TO OUR SITE!!!!
This is just an unofficial fan page, we have no connection to "Guiding Light" or CBS.
PLEASE CLICK TO DONATE TO OUR SITE!!!!
Guiding Light Tapes & DVD Trading
We need more daytime recap/update writers, article writers, MS Frontpage and Web Expression users, graphics designers, and more, so please email us if you can help out! More volunteers always needed! Thanks!
Cami has a few copies of a Christmas special with Ron Raines (Alan) singing.
See sample: Ron Raines - Introduction, & The Christmas Song


AMST27@aol.com is looking for Guiding Light episodes from 1980 to 1984: from 1983, the Annabelle Simms storyline (about Lake Elizabeth and its secrets). The character married the cop named Tony Readon in 1984; from 1984, she is also looking for the introduction of Alexandra Spaulding and Susan Piper storylines (that included the Adventure in Barbados); the romance storyline between Vanessa Chamberlain and Billy Lewis which started in 1983 up to 1984; and from 1980 to 1984 the storylines of Nola Readon and Quinton Chamberlain.


Annie is currently looking for Guiding Light Episodes from 1982 to 1986. In particular she is looking for story lines concerning the "Four Musketeers" (Phillip Spaulding, Beth Raines, Rick Bauer, Mindy Lewis).


Brenda

is looking for any shows 2002-2006.

Brian is looking for any and all Days of Our Lives episodes with Lawrence Alamain, Guiding Light episodes with Phillip Spaulding (played by Grant Alexander), Another World episodes with Jake McKinnon, and One Life to Live episodes with the first Todd Manning (played by Roger Howarth). He has these to trade: Another World 1989 (episode where Vicky gave birth); Days of Our Lives 1992 (this was a primetime episode that aired just before the soap opera awards that night); and "Roger Thorpe-The Scandal years" (This is a 1994 video hosted by Michael Zaslow and has tons of Roger footage/scenes).


Carol is looking for edits of the Danny, Michelle, Jesse and Drew storyline from Guiding Light from October 1998 to December 2000.


Cheryl is desperately looking for old footage of GL episodes from 1979 to 1981 with Eve Stapleton and Chet/Stalker stories.


Denise is looking for Nola movie fantasies and other episodes with Quinton on Guiding Light in 1981-82.


Dolly is desperately trying to find old Guiding Light tapes from 1983 of the storyline where Phillip learns the truth about his parents and the the follow up episodes after he's told the truth, in particular when Justin and Samantha leave for Arizona.


Ilene is looking for any/all Guiding Light episodes from 1981 to 1985; especially interested in anything for the following characters: Annabelle Simms, Tony Reardon, Quinton McCord-Charmberlain and Nola Reardon - other characters would be appreciated. She would also like the episodes in 1987 (not sure exact dates) where Harley gives birth to Susan/Daisy and then puts her up for adoption; episodes in 1988-1989 featuring Harley/Alan-Michael; both weeks that Harley & Mallet were in DC (Mar/Apr 1992 where we first see Jenna Bradshaw and the Jan 1993 visit to the war memorial); Harley/Mallet at Cross Creek; Alan-Michael and Eleni's
wedding prep/ceremony/reception Feb 1992. She has several episodes on DVD to trade. Contact her for dates.


Jenny is looking for the 6/13/05 episode. She needs the whole episode, without the CBS breaking news coverage.


Jess is looking for copies of GL with Danny and Michelle.


Joe is looking for an episode from the mid 80's where Allen revealed himself at a party with some kind of mask. The part was being played by Chris Brenau at the time. It was a classic episode.


John

is looking for December 2000 episodes that feature the Lemay house fire.

Mark is looking for the Guiding Light episodes that aired from 5/17/06 to 5/19/06. Right after everyone learned that Phillip is still alive.


Nicholas is desperately searching for any videos of the Young and the Restless featuring Jamie Lynn Bauer (old appearances please), episodes of General Hospital featuring Valerie Starrett as Diana Taylor, episodes of Santa Barbara with Wanda de Jesus as Santanna Andrade, episodes of As the World Turns and Another World featuring actress Vicky Dawson, episodes of Another World with Vana Tribbey, 1970s episodes of Guiding Light featuring Maureen Garrett, episodes of Emmerdale with Malandra Burrows as Kathy, and any episodes of Showtime's A New Day in Eden. He is also searching for any issues of the magazine Soap Opera Serials.


Pam is looking for tapes or DVD's of the Susan Piper storyline from June 25th, 1984 to November 10th, 1984 played by the late actress Carrie Nye.

Paul is looking for GL tapes from 1970's thru 1990's. He has a pretty extensive collection of soap material available for trade.

Robert has many old soap DVD's from the 60's through 80's, including GL!

Sal is looking for a specific episode in July 1988. In the episode, "Roxy" (Reva) was committed to the hospital. Sal is a real-life nurse who played an ambulance driver in that episode.


Su is looking for DVD's, tapes, clips, and screencaps of the Steve (played by Evan Farmer) from 98-99.


Van is looking for complete Guiding Light episodes from 2004 onward, and especially for complete Jonathan episodes, but will accept JAMMY edits.

Veronica is interested in episodes with Roger Thorpe when he first arrived on the show; the episode of Beth when she met Phillip; Diane Ballard blackmailing everybody; Reva and Josh in the eighties; and the Kelly and Morgan storyline.
---
Buy Soap Magazines
Go here for great news & scoops, photos and in-depth articles!
Soap Opera Digest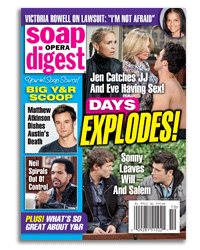 ---