Fight hunger and malnutrition.
Donate to Action Against Hunger today!
Daytime Soap Opera Magazines
Page updated 4/21/15
We need more proofreaders, transcribers, interviewers, episode guide recap writers, article writers, MS FrontPage and/or Web Expression users, graphics designers, and more, so please email us if you can help out! More volunteers always needed! Thanks!
---
Buy Soap Magazines
Go here for great news & scoops, photos and in-depth articles!
Soap Opera Digest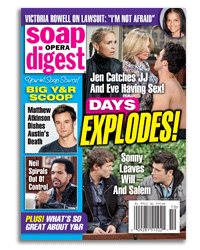 ---
---