PLEASE CLICK TO DONATE TO OUR SITE!!!!
| | |
| --- | --- |
| | This site is not affiliated with Passions, NBC, or any other soaps. We're just fans like you! We love to hear from you about our pages or the soaps, but please don't email us as if we know the actors or writers (because we don't!). Thanks! |
Visit our busy Days and Passions forum!
---
Stay tuned here for news of Passions!
Passions ended its run on DirecTV August 7th, 2008.
---
New! Vote for your favorite daytime and primetime actors in this weekly poll - it includes Ben Masters, Eric Martsolf and many others! See the results on their Twitter feed.
Juliet Mills (Tabitha) interview 2/1/10!
You can watch the final episodes of Passions on Youtube.
Last episode
Part 1: http://www.youtube.com/watch?v=84qUc16mqiM
Part 2: http://www.youtube.com/watch?v=gcLXJUyBzvQ
Part 3: http://www.youtube.com/watch?v=4sBoZzB0jq0
Part 4: http://www.youtube.com/watch?v=kdHrTqpMcgM
Part 5: http://www.youtube.com/watch?v=xsRl1E0b26s
(Posted 8/11 - if these links don't work, they may have taken the videos down)
Canada's Super Channel begins re-airing the entire series from the beginning on Monday to Friday from 2:00 to 4:00 p.m. ET starting August 12th.
Congratulations to Passions for its 4 Daytime Emmy Nominations: Achievements in Hairstyling, Makeup, Costume Design, and Live & Direct to Tape Sound Mixing. To see all the winners, please visit the Academy's website.
Passions Video Clip! Sept. 18th episode
Sign this petition to put Passions back on NBC!
---
Some features on our Passions site:
Please sign this petition to bring back Passions reruns to SCiFi!
If you liked or loved Passions, check out all the great stuff we have on the show! Many articles, summaries, Best Lines, and much more! Use the dropdown menu above to check it all out!
Subscribe to the Newsletter:
Don't forget to sign up for our NBC soap scoops newsletter to get the latest news about Days and Passions, and their stars past and present!
Help Wanted:
If you would like to volunteer to write scoops, fan fiction, or anything for our soap pages, or to write updates (at least two-three days a week) for some of our other soaps. please email us
---
---
Buy Soap Magazines
Go here for great news & scoops, photos and in-depth articles!
Soap Opera Digest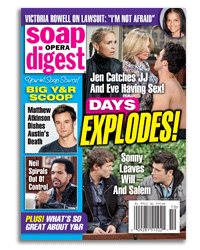 ---
Subscription:
How to Email and subscribe to Soap Opera Digest!
Petition to keep Josh Ryan Evan's memory alive at http://www.ipetitions.com/campaigns/wheres_Josh/