Soap vet Nicolas Coster (ex-Robert) passed away 6/27 at age 89. He was also in soaps Young Dr. Malone, Our Private World, Somerset, Dallas, Another World, One Life to Live, Santa Barbara, As the World Turns and The Bay as well as many movies and TV shows. His role as Lionel in Santa Barbara is what he was most known for. He was still working until the end, recently guest-starring on "The Rookie" on ABC.
OLD NEWS:
It's been a sad week for AW fans...Robyn Griggs (ex-Maggie) has been battling cancer. She's entering hospice now. It was posted today on her FB page. (She passed away August 2022)
Paul Michael Valley (Ryan) has lung cancer. They caught it early, so the prognosis is good. He's scheduled for surgery today, 8/11.
Anne Heche (Vicky/Marley) was in a terrible accident Update: She is brain-dead and not recovering. They're keeping her alive so that she can donate her heart and other organs. More Info
Ray Liotta (ex-Joey) passed away in his sleep...
Micki Grant (ex-Peggy) passed away 8/21. She was credited as being the first black contract player on daytime. She played Peggy for 7 years, 1965-1972. She was nominated for three Tonys for her work on Broadway, where she was the first black director.
Richard Burgi (ex-Chad, now on Y&R) is featured in an interview in the June 21st episode of Soap Opera Digest.
From the Jan 11 issue of SOD: Amy Carlson is featured in an article, talking about what she's doing now.

From the Feb. 1 issue of SOD: Julian McMahon (ex-Ian) is featured in an article.
In the 7/6 issue of Soap Opera Digest, Judi Evans (Paulina) talks about the recent misfortunes in an interview.
Judi Evans (Paulina) is in the hospital for COVID-19 She was in the hospital after falling off her horse and having many broken bones. Then they found a blood clot in her lungs, and that is from the COVID-19, which she was exposed to in the hospital. She's been hospitalized for weeks. We send her out prayers and good wishes for recovery.
Judi Evans (Paulina) suffered a bad fall off a horse
ABC will air a special, "Story of the Soaps," May 19.
In the July 8 issue of Soap Opera Digest, Linda Dano (Felicia) is featured in a short interview.
Luke Perry (ex-Kenny) passed away March 3 after suffering a stroke.
Interview with Alicia Willis (ex-Allie)!
Ricky Paull Goldin (ex-Jake, AMC; ex-Jesse, B&B; ex-Gus, GL; ex-Gary, Y&R; ex-Dean, AW) and Gretta Monahan welcomed another boy named Rio on June 12, 2017, to join big brother Kai.
Ruben Santiago-Hudson (ex-Billy) is nominated for a Tony Award for Best Direction of a Play for "Jitney." The Tony Awards air on Sunday, June 11, 2017 on CBS.
Agnes Nixon, creator of AMC & OLTL, died on September 27, 2016 at 93 in Rosemont, PA of Parkinson's Disease. She also wrote for "Another World," "Guiding Light," & "Search for Tomorrow."
Jensen Buchanan (ex-Elise, Y&R; ex-Marley/Vicky, AW & ATWT; ex-Sarah, OLTL; ex-Melissa, GH & PC) was arrested for driving under the influence on the morning of May 18, 2016, when her black 2016 Mercedes drifted across a double yellow line and slammed into a 2014 Ford C-Max at 6:20 a.m. in Buellton, near Santa Barbara. While her injuries were considered minor, the other driver was treated for "major injuries" at Cottage Hospital.
David Canary (ex-Adam/Stuart; ex-Steve, AW) passed away on Monday, November 16, 2015, at the age of 77, in Wilton, CT. Donations are welcome at this Alzheimer Asso. Memorial Fund.
On April 20, 2015, Linda Dano (ex-Felicia) launched a new web site at http://www.lindadano.com/ and a new eBay store with memorabilia, fashion, and fashion for home.
Stephen Schnetzer (Cass) and Alice Barrett (Frankie) reunited on the show "The Following" April 13th, 2015. We have three photos here!
Watch older AW episodes from 1981 & 1991!
Watch AW Video Clips on YouTube!
Are you a big fan of AW? Email us if you want to help out our site!
Go to our Another World Appearances Page for where and when your favorite AW actors may be appearing!
Our other pages for daytime news, scoops, and spoilers: AMC, ATWT, B&B, Days, GH, GH: Night Shift, GL, Loving/The City, OLTL, Passions, PC, Y&R, and General Daytime.
---
Buy Soap Magazines
Go here for great news & scoops, photos and in-depth articles!
Soap Opera Digest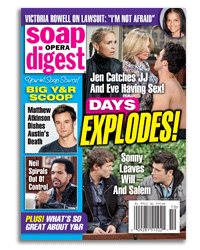 ---
Page updated 8/12/22
---