B&B News and Information! Scoops, & Spoilers Below
Rena Sofer Celebrates Her 50th Birthday With an Inspirational Message to Fans (and an Awesome Party!)
Spoilers: Will Taylor Snap Again?
OLDER NEWS:
Spoilers: Will Taylor's Crimes Be Exposed?
Soap fans, make sure you subscribe to Jacob Young's (Rick) new talk show, "Daytime After Dark" on YouTube! Review
No B&B Thursday and Friday due to football and Thanksgiving!
B&B Thursday 9/27/18 was pre-empted due to the supreme court hearings. It aired on Friday.
B&B will air new episodes all week (no pre-emption due to Labor Day).
Karla Mosley (Maya) is taking time off because she's about to give birth. More
B&B will air a new episode Wednesday. Happy USA Independence Day!! More Info
B&B will have a new episode Monday. Happy Memorial Day! More info
B&B won Daytime Emmys for its lighting direction, technical team, sound mixing, music direction/composition, costume design, makeup and stunt coordination. Rome Flynn (ex-Zende) won for Outstanding Younger Actor in a Drama Series! Patrika Darbo (Shirley) won for her role on "The Bay" as Best Digital Guest Performer.
March 22 was the 31st anniversary of the show's premiere!
45th Annual Daytime Emmy Awards Drama Performer Pre-Nominations Announced!
Daytime soap schedule during the holidays... Monday, December 25: Bold & Beautiful will air a re-run of last year's Dec. 23 episode.
Friday, December 29: B&B will be pre-empted due to sports.
Monday, January 1: B&B will air a re-run of their 30th anniversary from March.
Labor Day schedule for Monday, September 4: B&B will air a new episode.
CBS has renewed their full daytime lineup for the 2017-18 season with Y&R receiving a three-year pickup.
B&B stars attended the 57th Monte Carlo TV Festival in Monaco on June 18, 2017. Posing in the photo below: Darin Brooks (Wyatt Spencer), Courtney Hope (Sally Spectra), Reign Edwards (Nicole Avant Forrester), Heather Tom (Katie Logan), Don Diamont (Bill Spencer), Katherine Kelly Lang (Brooke Logan Spencer), Rome Flynn (Zende Forrester), Jacqueline MacInnes Wood (Steffy Forrester), & Pierson Fodé (Thomas Forrester).
Ricky Paull Goldin (ex-Jake, AMC; ex-Jesse, B&B; ex-Gus, GL; ex-Gary, Y&R; ex-Dean, AW) and Gretta Monahan welcomed another boy named Rio on June 12, 2017, to join big brother Kai (at right).
Jennifer Finnigan (ex-Bridget, B&B) and her husband of 10 years, actor Jonathan Silverman, are expecting their first child.
Jeff Trachta (ex-Thorne) is "The Singing Trump" on America's Got Talent. Watch his impersonation on 5/30 here. And he made it through to the next round!
Lawrence Saint-Victor (Carter) is bringing back his web series Wed-Locked. Please be a part of his Seed and Spark crowd funding campaign. Please check it out, tell him what you think and support the campaign. If we get 500 followers we get a DOPE production package from Seed and Spark. If you dig diversity and love to laugh, this is the show for you. Join our family!! Find Lawrence on Facebook!
At the 44th Annual Daytime Emmy Awards show on Sunday, April 30, 2017, the following winners were announced:
Writing Team: Y&R
Directing Team & Drama Series: GH
Supporting Actress: Kate Mansi (Abigail, Days)
Supporting Actor: Steve Burton (Dylan, Y&R)
Younger Actress: Lexi Ainsworth (Kristina, GH)
Younger Actor: Bryan Craig (ex-Morgan, GH)
Lead Actress: Gina Tognoni (Phyllis, Y&R)
Lead Actor: Scott Clifton (Liam, B&B)
At the Creative Arts Emmy Awards show on Friday, April 28, 2017, at the Pasadena Civic Auditorium in Pasadena, California, the following winners were announced:
Casting Director: Marnie Saitta, Days
Art & Lighting Direction, Set Decoration, Editing: Y&R
Technical Team, Costume Design, & Makeup: B&B
Sound Mixing & Music Direction: Days of Our Lives
Original Song: Days' "When Time Was On Our Side"
Hairstyling: GH
Stunt Coordinator: Terry James, Days
The 44th Annual Daytime Emmy Awards show, hosted by Mario Lopez & Sheryl Underwood, was live-streamed at Facebook Live & Twitter-Periscope Producer at 8 p.m. ET / 5 p.m. PT on Sunday, April 30, 2017. Click here for the list of nominees.
Carolyn Hennesy (Diane, GH) hosted the red-carpet pre-show from 5:30 - 7:30 ET / 2:30 - 4:30 PT on both days as well as 2 additional Facebook Live appearances from the NATAS Emmy Gifting Suites for the nominees on Saturday, April 29 at 4 & 7 p.m. ET / 1 & 4 p.m. PT.
Eileen Davidson's book "Dial Emmy for Murder" will become a movie!
On April 1, 2017, B&B won the 2017 GLAAD Media Award for Outstanding Daily Drama! It will air on Logo on April 6 at 10 PM ET/PT, after the world broadcast premiere of "Strike A Pose." Additional awards will be presented at the GLAAD Media Awards event at the New York Hilton Midtown in New York on Saturday, May 6.
M

ore Information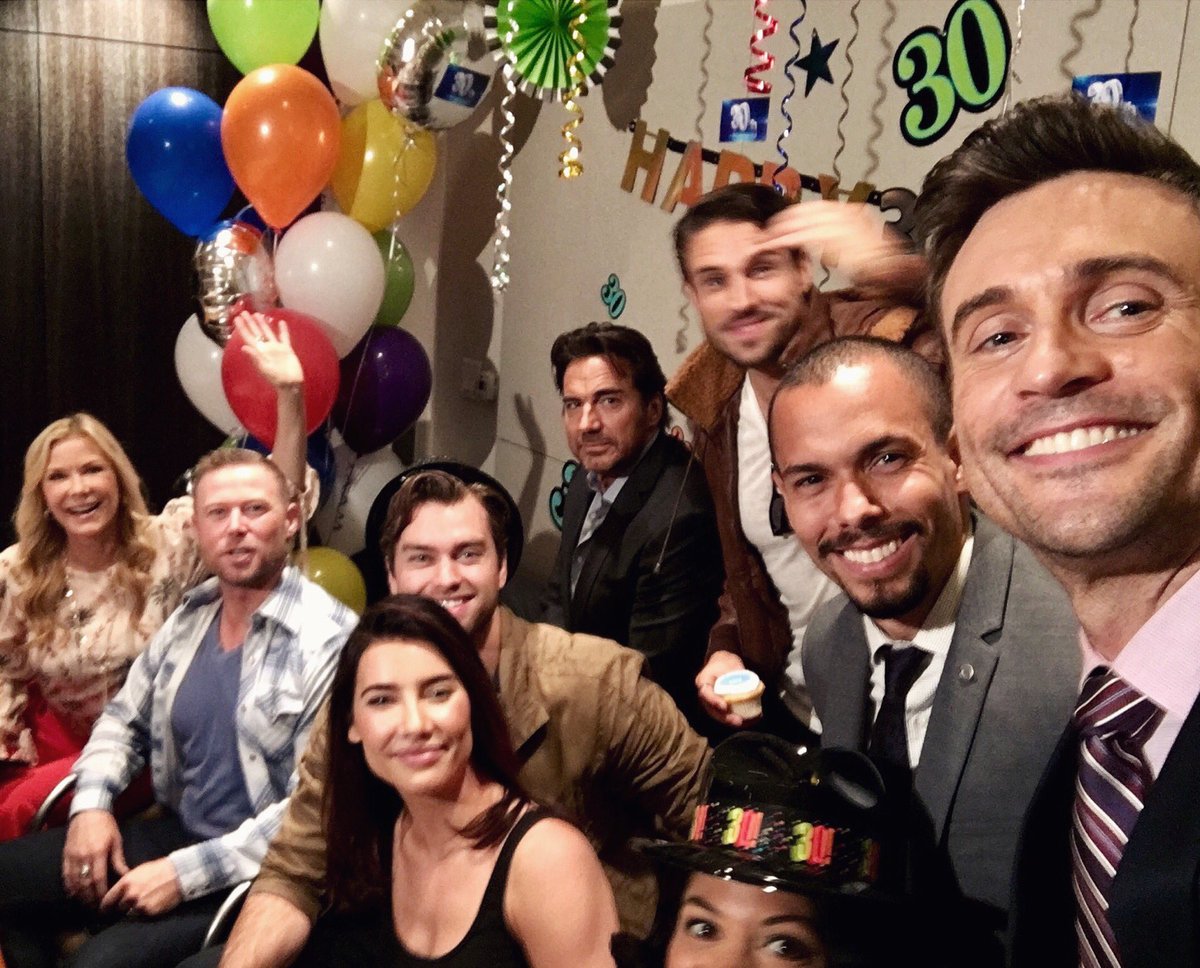 On March 23, 2017, B&B celebrated its 30th anniversary.
See how the cast celebrated
.
B&B is the sole nominee for the Outstanding Daily Drama category of the 28th Annual GLAAD (Gay and Lesbian Alliance Against Defamation) Media Awards, which honor media that is inclusive and fair in its representation of the LGBT+ community. The award show will take place Los Angeles on Saturday, April 1 and New York on Saturday, May 6. For more information on the awards and nominees in other categories, click here.
To celebrate B&B's 30th anniversary in March, Australian national air carrier Qantas took cast members to Australia from February 12-17 to film multiple episodes involving Scott Clifton (Liam), Don Diamont (Bill), Thorsten Kaye (Ridge), Katherine Kelly Lang (Brooke), John McCook (Eric), Rena Sofer (Quinn), Jacqueline MacInnes Wood (Steffy), & Ashleigh Brewer (Ivy).
The pre-nom results were announced on January 25 with 10 in each category moving forward to Blue Ribbon voting for which actors can submit 20 minutes from up to 4 episodes. The final nominations will be announced on Wednesday, March 22. The Creative Arts Emmy Awards show will be on April 28 while the 44th Annual Daytime Emmy Awards to be held on Sunday, April 30, 2017 both at the Pasadena Civic Auditorium in Pasadena, California.
Joseph Peter Mascolo (Stefano DiMera, Days; ex-Massimo Marone, B&B; ex-Nicholas Van Buren, GH) died at 87 on December 8, 2016, in Lake Arrowhead, CA, after battling Alzheimer's disease for many years.
On Sunday, November 27, 2016, the cast of "The Bold and the Beautiful" kicked off their upcoming 30th anniversary by participating in the 85th Annual Hollywood Christmas Parade, which will be broadcast at a later date on The CW, The Hallmark Channel, & American Forces Network. On their special bus were Marci Miller (Abigail), Martha Madison (Belle), Deidre Hall (Marlena), Camila Banus (Gabi), Scott Clifton (Liam), Karla Mosley (Maya), Jacqueline MacInnes Wood (Steffy), John McCook (Eric), Winsor Harmon (Thorne), Katherine Kelly Lang (Brooke), Anthony Turpel (R.J.), Alley Mills (Pam), Felisha Cooper (Sasha), Darin Brooks (Wyatt), Kelly Kruger (Eva), Jennifer Gareis (Donna), & Linsey Godfrey (Caroline).
B&B & Y&R will air new episodes on Memorial Day Monday, May 29.
Enter to win a Pretty Girl Makeup bundle with 2 lip glosses, 1 mascara, 1 bronzer, and 2 lipsticks by tweeting SOD's Christina Flach your favorite spring trends using #prettygirlspring by April 3, 2017. The winner will be selected at random by April 11, 2017.
Anthony Addabbo (ex-Rush/Jonny, B&B; ex-Jim, GL; ex-Dimitri, AMC) passed away on October 18, 2016, at the age of 56. He is survived by his wife Elli Pattino and his son Brandon Everest.
See Brian Gaskill (ex-Ozzy)'s Donald Trump imitation!
Heather Tom (Katie) directed the short film "Serenity" in July 2016 in LA.
Scott Clifton (Liam, B&B) sings an original song by Song Writer / Supervising Producer Casey Kasprzyk on the July 28 episode of B&B. Check out a clip here!
On June 17, 2016, B&B received the International TV Audience Award in the "Telenovela/Soap Opera" category at the Monte Carlo Television Festival for the 11th straight year as the world's most watched soap opera. B&B Executive Producer & Head Writer Bradley P. Bell & cast members Darin Brooks (Wyatt), Scott Clifton (Liam), Katherine Kelly Lang (Brooke), John McCook (Eric), Rena Sofer (Quinn), & Jacqueline MacInnes Wood (Steffy) accepted the "Golden Nymph" award at the Grimaldi Forum.
Tom Degnan (ex-Joey, OLTL; ex-Adam, ATWT) married actress Erin Cummings (ex-Ann, B&B) on Saturday, July 2, 2016, at the Basilica of the Sacred Heart at the University of Notre Dame.
Heather Tom (Katie) has directed 5 episodes of B&B, airing in January, March, May, & June this year.
Adam Gregory (ex-Thomas, B&B) and his wife, Sheridan Nicole, welcomed their second child, Hendrix, on June 16, 2016! The couple, who wed in February of 2010, had their first child, Adam Kannon Gregory II, on February 7, 2013.
Watch full episodes of B&B daily at CBS.com, Daily Motion, Fulltvshows.org, XFINITY, & TV.com.
Ashley Jones (Parker, GH; Bridget, B&B) gave birth to a boy named Hayden Joel on Tuesday, May 24, 2016, with husband Joel Henricks.
Scott Clifton (Liam) and wife Nicole had a son named Ford Robert Clifton on Friday, May 6, 2016, at 7:02 p.m.
See the 43rd Annual Daytime Emmy Awards Here! Click here for the list of nominees and winners.
CBS announced on April 27, 2016 that B&B has been renewed for two more years.
Agnes Bruckner (ex-Bridget), 30, and boyfriend Alefaio Brewer had their first child, son Sebastian Lopeti Brewer on Wednesday, March 30, 2016.
"Ladies of the Lake," the new digital series based on the novel by Days' Executive Producer Ken Corday, has announced its cast. Kyle Lowder (ex-Brady, Days; ex-Rick, B&B), Arianne Zucker (Nicole, Days), John-Paul Lavoisier (Philip, Days; ex-Rex, OLTL), Martha Madison (Belle, Days; ex-Elizabeth, GH; ex-Lola, Passions), Wally Kurth (Justin, Days; Ned, GH), Marie Wilson (Summer, Days; ex-Meg, ATWT; ex-Karen, PC & GH), Gordon Thomson (ex-Walter, Days; ex-Freeman, Passions; ex-AJ, Sunset Beach; ex-Adam, Dynasty), John Callahan (ex-Edmund, AMC; ex-Dr. Baker, Days; ex-Leo, GH), Patrika Darbo (ex-Nancy, Days), Lilly Melgar (ex-Lily, GH; ex-Claudia, B&B), Jessica Morris (ex-Jennifer, OLTL) & Jillian Clare (ex-Abby, Days) will appear in the new soap from Michael Caruso.
Jacob Young (Rick, B&B; ex-JR, AMC; ex-Lucky, GH) and wife Christen welcomed their third child, a girl named Grace Elizabeth, on March 20, 2016 who joined Luke Wayne, 7, and Molly, 2. They now live in a small town in northern Utah, from which Jake commutes to work in LA.
Peter Brown (ex-Dr. Greg Peters, Days; ex-Blake Hayes, B&B; ex-Robert Laurence, Y&R; ex-Roger Forbes, Loving; ex-Charles Sanders III, OLTL) passed away at 80 on March 21, 2016 in Phoenix, Arizona. He is survived by his wife Kerstin and two sons, Matthew & Joshua.
Ashley Tesoro (ex-Kimberly) and husband Anthony welcomed a son, Anthony John, on December 24, 2015. He joins big sister Gabriella, 2.
B&B is the only daytime drama nominated this year for the 27th Annual GLAAD Media Awards for the inclusion of the transgender community in its storytelling of Maya Avant (Karla Mosley) previously born as a man named "Myron." The awards will be handed out on Saturday April 2, 2016 in Los Angeles, CA.
CBS is posting B&B Bonus Scenes which haven't aired in the US. Go to their website and scroll down to the Bonus Scenes section toward the bottom.
Adrienne Frantz (ex-Amber, B&B/Y&R) and her husband, Scott Bailey (ex-Sandy, GL) became first-time parents with the arrival of their daughter, Amélie Irene Bailey, on December 1, 2015. Two weeks before the baby was born, Adrienne went to the hospital with a cracked rib caused by her "ninja warrior baby."
Winsor Harmon (Thorne) tweeted today: "I want to thank everyone for 17 Beautiful years playing Thorne I love you all Thank U for the amazing run B&B you'll forever B a part of me." 11/18/15 They took him off the new show opening, but apparently he's still a recurring cast member, according to Soap Opera Digest
"Maybe Someday," a film produced by B&B's producer/director Cynthia J. Popp and B&B casting director Christy Dooley, & featuring performances by Alley Mills (Pam) and Kim Matula (ex-Hope), was accepted into the Carmel International Film Festival, which runs from Wednesday, October 21, through Sunday, October 25. The movie is about the travails of a twenty-something slacker who gets his life back on track with help from his future daughter. For more information, visit CarmelFilmFest.com.
Katherine Kelly Lang (Brooke, B&B) & Tracey Bregman (Lauren, Y&R) each designed a Rhonda Shear Ahh Bra which they are auctioning to benefit breast cancer research. Go to Rhondashear.com until Friday, October 30, to bid.
On Saturday, September 26, 2015, Brian Gaskill (ex-Oscar, B&B) & his girlfriend, Ambika Leigh, were sitting at a red light in LA when a car in a high-speed chase crashed into them and totaled their Mercedes-Benz. They were not hurt. See the video here!
Constantine Maroulis (ex-Constantine Parros, B&B) was arrested for allegedly kicking the mother of his child in the groin on Wednesday, August 12, 2015. Angel Reed called 911 from their home in Wyckoff, NJ, claiming he threw her down and kicked her, but he says he acted in self-defense after being attacked first when he announced he was leaving her. In fact, he was injured on his right thigh when she hurled something at him. Read more here!
Pop TV airs "The Bold and the Beautiful" at 6:30 p.m. ET and "The Young and the Restless" at 7 p.m. ET. Starting on Monday, August 24, 2015, "Days of Our Lives" joins the lineup at 8 p.m. ET.
Linsey Godfrey (Caroline, B&B) and her fiance Robert Adamson (Noah, Y&R) announced their separation on August 3. They have a 1-year-old daughter, Aleda.
The Bold and the Beautiful Fan Community is online at www.boldandbeautiful.com. This free and revamped group includes a weekly "Ask Cathy" column where fan club director Cathy Tomas will answer the most asked question of the week, as well as "B&B's Fan of the Month" starting in August!
B&B has disbanded its official fan club. "The Official The Bold and The Beautiful Fan Page" is now on Facebook, and all the latest news can be found on Twitter. Also, at www.boldandbeautiful.com fans can find live streaming of special events and info. that will keep you informed daily of what's going on behind the scenes, sneak peeks at things to come, locations and dates of public appearances as well as how to independently network with your favorite actors from B&B.
For an autographed headshot, you may write directly to the specific actor
c/o "The Bold and the Beautiful"
7800 Beverly Blvd.
Los Angeles, CA 90036
---
B&B Scoops and Spoilers
By Mandy
SOD 12/17/18
Taylor And Reese Kiss!
After yet another confrontation with Brooke, Taylor vents to her new confidant, Zoe's dad, Dr. Reese Buckingham - and things take an unexpected turn. As Taylor laments the animosity she is facing, she finds a sympathetic ear in her new friend. Even after Taylor bends Reese's ear about Brooke, he remains in her corner. The two then share a kiss.

*Early Editions*
Liam chooses a side when Hope gives him an ultimatum about the holidays.
Reese demands that Brooke make a grand apology to Taylor.

*Ratings for 11/12: 2.4

Maile Brady returns on 12/12 as Tiffany, Emma's BFF.

Caryn West appears on 12/10 as Dr. Lisa Burr.

*Hot Plots Preview - "Wally" Says The L Word*
During a yoga session, Sally and Wyatt discuss their relationship and "I love you's" are exchanged.

*1st Look*
Liam makes his point to Hope.

Steffy becomes anxious, believing that everyone in her life is against her mother on 12/11.
Brooke is alarmed to find Taylor alone with Kelly - and to learn about her foe's new living arrangement on 12/13.
Liam attempts to referee an argument between Steffy and Hope on 12/14.

*What Will Happen*
Steffy and Liam argue over Taylor's presence.
Zoe and Xander's intimate moment is interrupted.
Brooke and Hope clash over telling Katie and Donna about Taylor.
SOD 12/10/18
Brooke Learns The Truth About Bill's Shooting!
A concerned Liam talks with his father about whether or not they should consider Taylor a threat to Liam's children. Once Liam's concerns are quelled, at least temporarily, Brooke arrives and reveals that she knows Taylor is the one who shot him. Bill notes that he is just honoring his word to Steffy, as he did with Brooke by not calling the authorities on Ridge and Judge McMullen. Bill then shares that he has given up on the other woman in his life - "Sky".

*Early Editions*
Steffy and Liam fight over Taylor's stability around baby Kelly.
Zoe questions Reese as to why he needs a fresh start in Los Angeles.

*Ratings for 11/5: 2.4

Maile Brady returns on 12/12 as Tiffany, Emma's BFF.

*Hot Plots Preview – Pam Enlists Donna's Help*
Determined to get back at Quinn, Pam enlists Donna's help to oust Quinn from Eric's life. Pam is not only encouraging Donna to try and rekindle the flame, she's doing everything in her power to make it happen.

*1st Look*
Brooke and Taylor face off.

Hope gives Brooke an earful on 12/3, while Liam talks to Bill about Taylor.
Taylor hits it off with Reese when they meet at Steffy's party for her staffers on 12/6.

*What Will Happen:
Liam vents about Taylor.
Pam manipulates Quinn.
Brooke and Ridge disagree about their respective exes.

Kiara Barnes (Zoe) is featured in the Take Five interview this week!
SOD 12/3/18
Taylor Is Back!
Taylor resurfaces and stops in to see Bill. Taylor grows even more unnerved when she learns that after Bill's recent fall, Detective Sanchez reopened the shooting case. After her powwow with Bill, Taylor has an encounter with Hope - and Liam walks in on them. As Liam defends his wife, Taylor's confrontation with Hope escalates. That's when Brooke steps up to intercede on her daughter's behalf.

*Early Editions*
Brooke is left stunned by the revelation that Taylor is responsible for Bill's shooting.
Donna and Pam discuss Pam's obsessive need to have Donna replace Quinn in Eric's life.

*Ratings for 10/29: 2.5

Hunter Tylo returns on 11/26 as Taylor Hayes.

*Hot Plots Preview – Zoe's Dad Comes To Town*
Zoe is surprised when her father, Dr. Reese Buckingham, comes to town. The good doctor is in for a shock when he learns that, as a Forrester Creations model, his "little girl" is making a living in her underwear.

*1st Look*
Ridge shares something amusing with Quinn and Eric.
Steffy and Liam go over Forrester's marking plan.

Brooke and Liam discuss Bill's change of character on 11/26.
Liam takes Taylor to task for her treatment of Hope on 11/28.
Hope is shocked by what Liam divulges to her about Taylor on 11/29.

*What Will Happen:
Taylor accuses Brooke of bullying Steffy.
Zoe's life is turned upside down by a surprise visitor.
Hope attempts to protect Brooke the only way she knows how.
SOD 11/26/18
Ridge Fights For His Marriage!
After Bill declines to call the police on him for a second time, Ridge is certain that his enemy's newfound benevolence is an attempt to win back Brooke. Regardless of Bill's motives, Ridge stands his ground. Unfortunately for Ridge, his wife doesn't see things the same way he does. However, with the Thanksgiving holiday upon them, Ridge chooses to be thankful for his marriage and is willing to fight for it.

*Early Editions*
Detective Sanchez and Justin raise concerns that Bill doesn't seem to want to solve his attempted murder.
Taylor worries to Steffy that Bill might change his mind about protecting her.

*Ratings for 10/22: 2.4

Tiffany Coyne will appear on 11/20 as Sharon.

*Hot Plots Preview – Hope Helps Steffy*
With so much to be happy about, Hope is looking forward to another Thanksgiving. However, Hope catches Steffy confessing to Liam that the holiday will be hard for her because it's Kelly's first Thanksgiving and she thought they'd be celebrating it as husband and wife. The family gathers at the mansion, and Hope's tradition of saying something nice to the person on their right before dinner continues.

*1st Look*
Pam and Charlie get the party started.
Steffy helps Kelly celebrate her first Thanksgiving.
LET'S MAKE A DEAL's Tiffany Coyne shares a scene with Katie.

Bill informs Wyatt and Liam about his recent decision regarding their legacy on 11/19.
Katie meets with Bill to discuss Will on 11/20.
Quinn keeps a watchful eye on Eric when Donna stops by the mansion on 11/21.

*What Will Happen:
Steffy has a heartfelt holiday confession to make.
Ridge suspects that Bill's benevolence will come with a big catch.
Hope's Thanksgiving tradition lives on.
SOD 11/19/18
Pam Plots Against Quinn!
A fed-up Pam enlists Donna's help to bring down the current Mrs. Eric Forrester. Pam first reaches out to Donna to make amends. Knowing that it will annoy Quinn, Pam suggests to Eric that he rehire Donna at Forrester Creations. Pam is aware that Donna still has feelings for Eric, and hopes to use that to her advantage. As for Donna, she's happy to try to rekindle things with Eric.

*Early Editions*
Liam, Wyatt and Bill share an emotional moment.
Eric makes his stance about their feud abundantly clear to Pam and Quinn.
The Forresters, Logans, Spencers, Spectras and Avants gather together to celebrate Thanksgiving.

*Ratings for 10/15: 2.4

Wayne Brady debuts on 11/30 as Dr. Buckingham, Zoe's father.

Joe Lando returns on 11/12 as Judge McMullen.

*Hot Plots Preview – Bill Sets Up Ridge*
Bill is determined to find out the true connection between Judge McMullen and Ridge. In an attempt to smoke out the truth, Bill decides to set up Ridge.

*1st Look*
Justin plays "I spy."
Katie pow-wows with Brooke and Thorne.

Brooke, Ridge, Thorne and Katie are in for a big shock on 11/14.
Liam, Will and Wyatt spend the day together on 11/15.
Bill shares his regret over the past with Brooke and makes her a promise about his future on 11/16.

*What Will Happen:
Quinn and Pam's conflict reaches new heights.
Brooke makes an emotional plea to Bill.
Ridge has a stark discussion with Wyatt, Liam, Thorne and Katie.

Nia Sioux (Emma) is featured in the Take Five interview this week!
SOD 11/12/18
Bill Gets A Clue!
At Bill's behest, Justin looks into Judge McMullen's background, and returns with some interesting information. Justin informs his boss that he discovered that Ridge and the judge are old school chums, which immediately raises a red flag with Bill. Bill takes his suspicions to Brooke and grills her about the possibility of Ridge rigging the custody hearing against him. When pressed by Bill, Brooke doesn't spill what she knows about Ridge and Judge McMullen. However, that doesn't deter him from his quest to get to the bottom of things. Bill then opts to hire a professional to help him accomplish his goal. With the help of Ken in IT, Bill feels like it's only a matter of time until his hunch pays off.

*Early Editions*
Justin and Bill set a trap for Ridge and Judge McMullen.
Pam and Donna have déjà vu when they wind up together at the Forrester reception desk.

*Ratings for 10/8: 2.4

Obba Babatunde and Anna Maria Horsford appear on 11/8 as Julius and Vivienne Avant.

Patrika Darbo appears on 11/8 as Shirley Spectra.

Todd McKee appears on 11/8 as Jake Maclaine.

Danny Woodburn returns on 11/9 as Kevin the IT guy.

*Hot Plots Preview – Quinn And Donna Spar*
Donna's return has prompted some walks down memory lane with Eric. Quinn immediately picks up on the fact that Eric's former wife would be happy to resurrect those feelings from the past and isn't happy, to say the least.

*1st Look*
Brooke and Ridge are at odds.
Sally and Steffy strut their stuff.
Zoe and Wyatt are hard at work.

Emma spies Xander and Zoe flirting from a distance while preparing for the upcoming fashion show on 11/7.
Steffy shines as she models the showstopper in the first official Intimates fashion show on 11/8.
Emma takes a leap in a new direction when Xander asks her to move forward in their relationship on 11/9.

*What Will Happen:
Brooke is uncomfortable when Bill questions her about Ridge.
Brooke finds herself torn between Bill and Ridge.
Ridge beseeches Brooke to avoid Bill.
SOD 11/5/18
Bill Wakes Up - To Brooke!
After lingering in a coma, Bill finally wakes up. The moment when Bill recognizes Brooke is a tender one. Though still weak from his injuries, Bill insists on telling Brooke how he feels about her. Bill asks Brooke to remove his treasured sword necklace from around his neck. Brooke is moved by his genuine gesture. The opportunity for Bill to put his money where his mouth is materializes almost immediately, when Detective Sanchez arrives to question him about the fight with Ridge.

*Early Editions*
Justin lets Bill know that he's been researching Judge McMullen and might be on to something.
Quinn confides in Wyatt that she has a bad feeling that something or someone is out to ruin her relationship with Eric.

*Ratings for 10/1: 2.4

Jennifer Gareis returns on 10/30 as Donna Logan, Katie and Brooke's sister.

Sam Myerson appears on 11/2 as Leo, a Forrester buyer.

*Hot Plots Preview – Donna Gives Eric An Eyeful*
Eric has had enough of mediating between Pam and Quinn. Eric goes over to Thorne's, which is Katie's, and unbeknownst to him, Donna is there clad in Forrester lingerie.

*1st Look*
Quinn prepares to greet the trick-or-treaters.
Ridge does some crafts at the office.

Pam reflects on her relationships with her late sister, Stephanie, and their late mother, Ann, on 10/31.
A tense situation between Bill and Ridge escalates into threats on 11/1.
Quinn feels like the odd person out when the Forresters and the Logans gather for dinner on 11/2.

*November Preview*
Now that he's got a new lease on life, Bill charges forward to repair the relationships he once caused to break. Bill assures Brooke that his fresh new perspective has to do with her and encourages her to give him another chance. However, when Bill finds out that Ridge might have been involved in his custody case with Katie, all bets are off. We will all be reminded of how ruthless Bill can be. Ridge pleads with Brooke not to let his misdeeds come between them, as he tries to get her to understand why he did what he thought was necessary. Brooke's guilt about knowing how Will was ripped away from Bill starts to get to her. Will Brooke tell Bill the truth, or will she forewarn Ridge that Bill is on to him? Either way, Brooke's in a heartbreaking situation.
Newly married but harboring a secret that could shatter their family, Katie and Thorne set about to do the right thing in regards to Bill's custody agreement with Will. They worry that their secret could be revealed and change their lives forever.
Pam is furious that Quinn insulted Stephanie, so she enlists help from the one person who could topple Quinn from her throne: Eric's ex-wife Donna. Pam persuades Eric to hire Donna back as the co-receptionist at Forrester Creations. However, this won't go over well with Quinn.
Steffy's Intimates line is a huge success!
Hope still plans to resurrect the Hope For The Future line, but she's focusing on her newest endeavor- becoming a mother. Liam and Hope prepare for their child's arrival, while Hope continues reaching out to Brooke for advice.
Zoe and Xander model one of the hottest lines in Forrester history, while Emma is learning the business side of the fashion trade.
The Logans, Forresters, Spencers, Spectras and Avants gather to celebrate Thanksgiving and reflect on what they're grateful for. In a show of unity, Hope and Steffy announce they've put together a seating chart.

*What Will Happen:
Detective Sanchez gets an earful from Bill.
Eric and Donna find themselves in an unexpected yet familiar situation.
Steffy offers a sneak peek at the Intimates collection.
---
Don't forget to sign up for our CBS Soap scoops newsletter to get the latest news about the shows!
Our other pages for news, scoops, and spoilers: AMC, ATWT, AW, Days, GH, GH: Night Shift, GL, Loving/The City, OLTL, PC, Passions, Y&R, General Daytime, 24, Battlestar Galactica, Heroes, Jericho, Lost, Smallville, and Star Trek.
This page is dedicated to Hilary, our beloved late volunteer, who used to update the scoop pages.
Page updated 12/10/18
---