B&B News and Information! Scoops, & Spoilers Below

NEWS

Bid on a visit to the B&B set in LA until Wednesday, April 26, 2017, at 3:50 p.m. ET to benefit The Humane Society of the US.

The Daytime Emmy nominations were announced on Wednesday, March 22, 2017. Click here for the list of nominees. The Creative Arts Emmy Awards show will be on Friday, April 28, at the Pasadena Civic Auditorium in Pasadena, California. The 44th Annual Daytime Emmy Awards show, hosted by Mario Lopez & Sheryl Underwood, will be live-streamed at Facebook Live & Twitter-Periscope Producer at 8 p.m. ET / 5 p.m. PT on Sunday, April 30, 2017.

Carolyn Hennesy (Diane, GH) will host the red-carpet pre-show from 5:30 - 7:30 ET / 2:30 - 4:30 PT on both days as well as 2 additional Facebook Live appearances from the NATAS Emmy Gifting Suites for the nominees on Saturday, April 29 at 4 & 7 p.m. ET / 1 & 4 p.m. PT.

Eileen Davidson's book "Dial Emmy for Murder" will become a movie!

On April 1, 2017, B&B won the 2017 GLAAD Media Award for Outstanding Daily Drama! It will air on Logo on April 6 at 10 PM ET/PT, after the world broadcast premiere of "Strike A Pose." Additional awards will be presented at the GLAAD Media Awards event at the New York Hilton Midtown in New York on Saturday, May 6. M

ore Information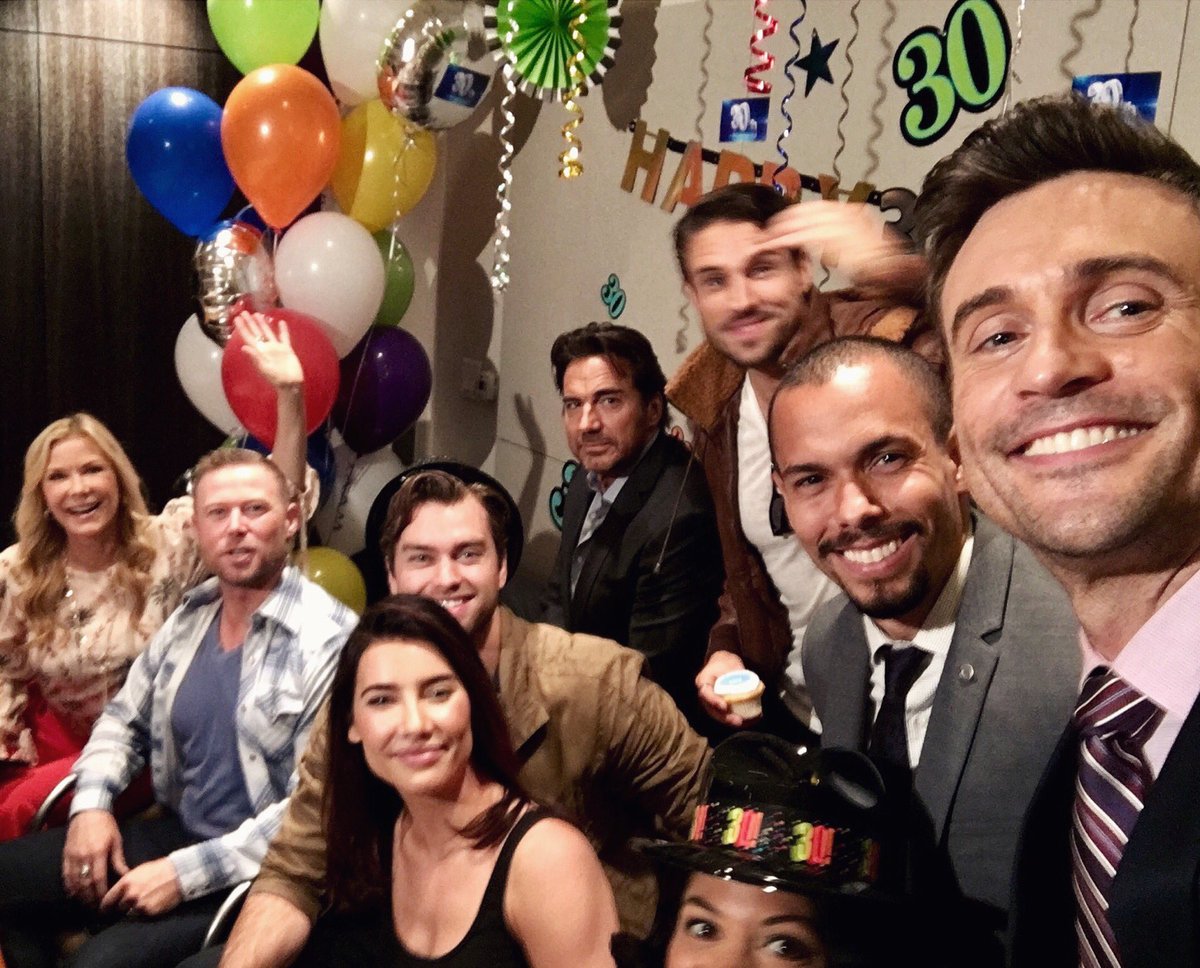 On March 23, 2017, B&B celebrated its 30th anniversary. See how the cast celebrated.

Ricky Paull Goldin (ex-Jake; ex-Jesse, B&B; ex-Gus, GL; ex-Gary, Y&R; ex-Dean, AW) and Gretta Monahan are having another boy on June 15, 2017, to join big brother Kai.

B&B is the sole nominee for the Outstanding Daily Drama category of the 28th Annual GLAAD (Gay and Lesbian Alliance Against Defamation) Media Awards, which honor media that is inclusive and fair in its representation of the LGBT+ community. The award show will take place Los Angeles on Saturday, April 1 and New York on Saturday, May 6. For more information on the awards and nominees in other categories, click here.

To celebrate B&B's 30th anniversary in March, Australian national air carrier Qantas took cast members to Australia from February 12-17 to film multiple episodes involving Scott Clifton (Liam), Don Diamont (Bill), Thorsten Kaye (Ridge), Katherine Kelly Lang (Brooke), John McCook (Eric), Rena Sofer (Quinn), Jacqueline MacInnes Wood (Steffy), & Ashleigh Brewer (Ivy).

The pre-nom results were announced on January 25 with 10 in each category moving forward to Blue Ribbon voting for which actors can submit 20 minutes from up to 4 episodes. The final nominations will be announced on Wednesday, March 22. The Creative Arts Emmy Awards show will be on April 28 while the 44th Annual Daytime Emmy Awards to be held on Sunday, April 30, 2017 both at the Pasadena Civic Auditorium in Pasadena, California.

Joseph Peter Mascolo (Stefano DiMera, Days; ex-Massimo Marone, B&B; ex-Nicholas Van Buren, GH) died at 87 on December 8, 2016, in Lake Arrowhead, CA, after battling Alzheimer's disease for many years.
On Sunday, November 27, 2016, the cast of "The Bold and the Beautiful" kicked off their upcoming 30th anniversary by participating in the 85th Annual Hollywood Christmas Parade, which will be broadcast at a later date on The CW, The Hallmark Channel, & American Forces Network. On their special bus were Marci Miller (Abigail), Martha Madison (Belle), Deidre Hall (Marlena), Camila Banus (Gabi), Scott Clifton (Liam), Karla Mosley (Maya), Jacqueline MacInnes Wood (Steffy), John McCook (Eric), Winsor Harmon (Thorne), Katherine Kelly Lang (Brooke), Anthony Turpel (R.J.), Alley Mills (Pam), Felisha Cooper (Sasha), Darin Brooks (Wyatt), Kelly Kruger (Eva), Jennifer Gareis (Donna), & Linsey Godfrey (Caroline).
OLDER NEWS:
Enter to win a Pretty Girl Makeup bundle with 2 lip glosses, 1 mascara, 1 bronzer, and 2 lipsticks by tweeting SOD's Christina Flach your favorite spring trends using #prettygirlspring by April 3, 2017. The winner will be selected at random by April 11, 2017.
Anthony Addabbo (ex-Rush/Jonny, B&B; ex-Jim, GL; ex-Dimitri, AMC) passed away on October 18, 2016, at the age of 56. He is survived by his wife Elli Pattino and his son Brandon Everest.
See Brian Gaskill (ex-Ozzy)'s Donald Trump imitation!
Heather Tom (Katie) directed the short film "Serenity" in July 2016 in LA.
Scott Clifton (Liam, B&B) sings an original song by Song Writer / Supervising Producer Casey Kasprzyk on the July 28 episode of B&B. Check out a clip here!
On June 17, 2016, B&B received the International TV Audience Award in the "Telenovela/Soap Opera" category at the Monte Carlo Television Festival for the 11th straight year as the world's most watched soap opera. B&B Executive Producer & Head Writer Bradley P. Bell & cast members Darin Brooks (Wyatt), Scott Clifton (Liam), Katherine Kelly Lang (Brooke), John McCook (Eric), Rena Sofer (Quinn), & Jacqueline MacInnes Wood (Steffy) accepted the "Golden Nymph" award at the Grimaldi Forum.
Tom Degnan (ex-Joey, OLTL; ex-Adam, ATWT) married actress Erin Cummings (ex-Ann, B&B) on Saturday, July 2, 2016, at the Basilica of the Sacred Heart at the University of Notre Dame.
Heather Tom (Katie) has directed 5 episodes of B&B, airing in January, March, May, & June this year.
Adam Gregory (ex-Thomas, B&B) and his wife, Sheridan Nicole, welcomed their second child, Hendrix, on June 16, 2016! The couple, who wed in February of 2010, had their first child, Adam Kannon Gregory II, on February 7, 2013.
Watch full episodes of B&B daily at CBS.com, Daily Motion, Fulltvshows.org, XFINITY, & TV.com.
Ashley Jones (Parker, GH; Bridget, B&B) gave birth to a boy named Hayden Joel on Tuesday, May 24, 2016, with husband Joel Henricks.
Scott Clifton (Liam) and wife Nicole had a son named Ford Robert Clifton on Friday, May 6, 2016, at 7:02 p.m.
See the 43rd Annual Daytime Emmy Awards Here! Click here for the list of nominees and winners.
CBS announced on April 27, 2016 that B&B has been renewed for two more years.
Agnes Bruckner (ex-Bridget), 30, and boyfriend Alefaio Brewer had their first child, son Sebastian Lopeti Brewer on Wednesday, March 30, 2016.
"Ladies of the Lake," the new digital series based on the novel by Days' Executive Producer Ken Corday, has announced its cast. Kyle Lowder (ex-Brady, Days; ex-Rick, B&B), Arianne Zucker (Nicole, Days), John-Paul Lavoisier (Philip, Days; ex-Rex, OLTL), Martha Madison (Belle, Days; ex-Elizabeth, GH; ex-Lola, Passions), Wally Kurth (Justin, Days; Ned, GH), Marie Wilson (Summer, Days; ex-Meg, ATWT; ex-Karen, PC & GH), Gordon Thomson (ex-Walter, Days; ex-Freeman, Passions; ex-AJ, Sunset Beach; ex-Adam, Dynasty), John Callahan (ex-Edmund, AMC; ex-Dr. Baker, Days; ex-Leo, GH), Patrika Darbo (ex-Nancy, Days), Lilly Melgar (ex-Lily, GH; ex-Claudia, B&B), Jessica Morris (ex-Jennifer, OLTL) & Jillian Clare (ex-Abby, Days) will appear in the new soap from Michael Caruso.
Jacob Young (Rick, B&B; ex-JR, AMC; ex-Lucky, GH) and wife Christen welcomed their third child, a girl named Grace Elizabeth, on March 20, 2016 who joined Luke Wayne, 7, and Molly, 2. They now live in a small town in northern Utah, from which Jake commutes to work in LA.
Peter Brown (ex-Dr. Greg Peters, Days; ex-Blake Hayes, B&B; ex-Robert Laurence, Y&R; ex-Roger Forbes, Loving; ex-Charles Sanders III, OLTL) passed away at 80 on March 21, 2016 in Phoenix, Arizona. He is survived by his wife Kerstin and two sons, Matthew & Joshua.
Ashley Tesoro (ex-Kimberly) and husband Anthony welcomed a son, Anthony John, on December 24, 2015. He joins big sister Gabriella, 2.
B&B is the only daytime drama nominated this year for the 27th Annual GLAAD Media Awards for the inclusion of the transgender community in its storytelling of Maya Avant (Karla Mosley) previously born as a man named "Myron." The awards will be handed out on Saturday April 2, 2016 in Los Angeles, CA.
CBS is posting B&B Bonus Scenes which haven't aired in the US. Go to their website and scroll down to the Bonus Scenes section toward the bottom.
Adrienne Frantz (ex-Amber, B&B/Y&R) and her husband, Scott Bailey (ex-Sandy, GL) became first-time parents with the arrival of their daughter, Amélie Irene Bailey, on December 1, 2015. Two weeks before the baby was born, Adrienne went to the hospital with a cracked rib caused by her "ninja warrior baby."
Winsor Harmon (Thorne) tweeted today: "I want to thank everyone for 17 Beautiful years playing Thorne I love you all Thank U for the amazing run B&B you'll forever B a part of me." 11/18/15 They took him off the new show opening, but apparently he's still a recurring cast member, according to Soap Opera Digest
"Maybe Someday," a film produced by B&B's producer/director Cynthia J. Popp and B&B casting director Christy Dooley, & featuring performances by Alley Mills (Pam) and Kim Matula (ex-Hope), was accepted into the Carmel International Film Festival, which runs from Wednesday, October 21, through Sunday, October 25. The movie is about the travails of a twenty-something slacker who gets his life back on track with help from his future daughter. For more information, visit CarmelFilmFest.com.
Katherine Kelly Lang (Brooke, B&B) & Tracey Bregman (Lauren, Y&R) each designed a Rhonda Shear Ahh Bra which they are auctioning to benefit breast cancer research. Go to Rhondashear.com until Friday, October 30, to bid.
On Saturday, September 26, 2015, Brian Gaskill (ex-Oscar, B&B) & his girlfriend, Ambika Leigh, were sitting at a red light in LA when a car in a high-speed chase crashed into them and totaled their Mercedes-Benz. They were not hurt. See the video here!
Constantine Maroulis (ex-Constantine Parros, B&B) was arrested for allegedly kicking the mother of his child in the groin on Wednesday, August 12, 2015. Angel Reed called 911 from their home in Wyckoff, NJ, claiming he threw her down and kicked her, but he says he acted in self-defense after being attacked first when he announced he was leaving her. In fact, he was injured on his right thigh when she hurled something at him. Read more here!
Pop TV airs "The Bold and the Beautiful" at 6:30 p.m. ET and "The Young and the Restless" at 7 p.m. ET. Starting on Monday, August 24, 2015, "Days of Our Lives" joins the lineup at 8 p.m. ET.
Linsey Godfrey (Caroline, B&B) and her fiance Robert Adamson (Noah, Y&R) announced their separation on August 3. They have a 1-year-old daughter, Aleda.
The Bold and the Beautiful Fan Community is online at www.boldandbeautiful.com. This free and revamped group includes a weekly "Ask Cathy" column where fan club director Cathy Tomas will answer the most asked question of the week, as well as "B&B's Fan of the Month" starting in August!
B&B has disbanded its official fan club. "The Official The Bold and The Beautiful Fan Page" is now on Facebook, and all the latest news can be found on Twitter. Also, at www.boldandbeautiful.com fans can find live streaming of special events and info. that will keep you informed daily of what's going on behind the scenes, sneak peeks at things to come, locations and dates of public appearances as well as how to independently network with your favorite actors from B&B.
For an autographed headshot, you may write directly to the specific actor
c/o "The Bold and the Beautiful"
7800 Beverly Blvd.
Los Angeles, CA 90036
---
B&B Scoops and Spoilers
By Mandy
SOD 5/1/17
Brooke And Bill Get Engaged!
Now that she's free of Ridge, Brooke turns back to Bill and they get engaged. Now that he and Brooke are together again, Bill is certain that it's time for their happily ever after.
*Early Editions*
An overly ambitious woman pays the ultimate price for her disloyalty.
Mixed emotions are expressed when word gets out about a reunited couple's engagement.
*Ratings for 3/27: 2.6
Dan Martin returns on 4/25 as Lt. Baker.
Kevin Scott Williams appears on 4/25 as The Manager.
*Hot Plots Preview - Forresters Take Legal Action*
Though RJ believes that Coco had nothing to do with stealing the designs from Forrester, she still finds herself caught in the middle of the feuding families. Coco has every right to worry, especially when the Forresters go after the Spectras for theft - and a reluctant RJ asks Coco to turn on her family. Though the Spectras are in the wrong, Coco doesn't know what to do.
*1st Look*
Eric goes back to the drawing board.
Lt. Baker puts the screws to Sally.
Ridge scrambles to replace the designs stolen by the Spectra group on 4/24. Steffy and Ridge exact revenge on the Spectras by calling Lt. Baker on 4/25. Thomas begins to have second thoughts when it comes to Sally on 4/28.
*What Will Happen*
A heartbroken Ridge dives into his work.
Coco is torn between two families.
Quinn and Katie have a difference of opinion.
RJ is put in an uncomfortable spot.
SOD 4/24/17
Coco Learns The Truth!
During the Spectra fashion show, Coco is horrified to realize that the designs coming down the runway are actually Forrester Creations knockoffs. Backstage, Sally is consumed with guilt about having duped her trusting little sister. To say the impressionable Coco is devastated would be an understatement. Coco is also worried about how this betrayal will affect her budding romance with RJ.
*Early Editions*
Brooke and Bill become engaged.
On the heels of the Spectra fiasco, Ridge and Eric frantically sketch in hopes of coming up with new designs.
*Ratings for 3/20: 2.5
*Hot Plots Preview - Forrester vs. Spectra Redux*
After learning that the Spectras poached their new designs, the Forrester staffers convene an emergency meeting - and Thomas feels the impact. After an extensive round of "I told you so!" from family members, the Forresters consult with Carter to discuss possible legal action against the Spectras for the theft. Thomas, however, is too hurt to be vindictive - at least for now.
*1st Look*
Brooke takes "Dollar Bill" to another level.
Quinn and Ridge get a taste of honey.
A furious Steffy lashes out at RJ and Thomas on 4/19. Brooke returns something of precious value to Bill on 4/20. Brooke surprises Bill with a token of her appreciation for his loyalty on 4/21.
*What Will Happen*
Katie makes an unannounced visit to see Quinn.
The Spectra fashion show is a tremendous success.
Ridge catches on to Katie's scheme to get back at Quinn.
SOD 4/17/17
Sally Dumps Thomas!
Knowing that it's only a matter of time before Thomas learns of Sally's corporate espionage, she launches a pre-emptive strike and breaks ties with her beau, leaving Thomas devastated. Thomas tries all sorts of things to make it work, but Sally isn't receptive. Thomas tries to figure out why she would take such extreme action. Despite being the instigator of a breakup, Courtney Hope shares that her Sally is an emotional mess. Thomas has a hard time rebounding from the turn of events.
*Early Editions*
Thomas experiences heartbreak and betrayal after the finale of the Spectra fashion show.
Coco learns a hard truth.
*Ratings for 3/13: 2.5
Mick Cain returns on 4/13 as CJ Garrison, the Spectra scion!
Casey James appears on 4/14 as a reporter at the Spectra fashion show!
*Hot Plots Preview - The Spectras Hit Pay Dirt*
Coco's spycam pays off when the Spectras get a sneak peek at Forrester Creations' newest designs. Shirley is doing this for her granddaughters and she's a good grandma. Coco may have a different opinion, however, once she discovers the ruse.
*1st Look*
Wyatt confers with Bill about Sally Spectra.
Bill takes action to once again sabotage the upcoming Spectra fashion show on 4/11. Shirley and Sally juggle planning the debut of their hot new line and keeping Coco away from the stolen Forrester designs on 4/13. The Spectra gang preps for their show on 4/14.
*What Will Happen*
Bill makes CJ a lucrative offer for the Spectra building.
RJ assures a concerned Coco that he has her back.
Bill shares his plans for the Spectra building with Wyatt.
---
Don't forget to sign up for our CBS Soap scoops newsletter to get the latest news about the shows!
Our other pages for news, scoops, and spoilers: AMC, ATWT, AW, Days, GH, GH: Night Shift, GL, Loving/The City, OLTL, PC, Passions, Y&R, General Daytime, 24, Battlestar Galactica, Heroes, Jericho, Lost, Smallville, and Star Trek.
This page is dedicated to Hilary, our beloved late volunteer, who used to update the scoop pages.
Page updated 4/24/17
---