B&B News and Information! Scoops, & Spoilers Below
B&B will have a new episode Monday. Happy Memorial Day! More info
B&B won Daytime Emmys for its lighting direction, technical team, sound mixing, music direction/composition, costume design, makeup and stunt coordination. Rome Flynn (ex-Zende) won for Outstanding Younger Actor in a Drama Series! Patrika Darbo (Shirley) won for her role on "The Bay" as Best Digital Guest Performer.
OLDER NEWS:
March 22 was the 31st anniversary of the show's premiere!
45th Annual Daytime Emmy Awards Drama Performer Pre-Nominations Announced!
Daytime soap schedule during the holidays... Monday, December 25: Bold & Beautiful will air a re-run of last year's Dec. 23 episode.
Friday, December 29: B&B will be pre-empted due to sports.
Monday, January 1: B&B will air a re-run of their 30th anniversary from March.
Labor Day schedule for Monday, September 4: B&B will air a new episode.
CBS has renewed their full daytime lineup for the 2017-18 season with Y&R receiving a three-year pickup.
B&B stars attended the 57th Monte Carlo TV Festival in Monaco on June 18, 2017. Posing in the photo below: Darin Brooks (Wyatt Spencer), Courtney Hope (Sally Spectra), Reign Edwards (Nicole Avant Forrester), Heather Tom (Katie Logan), Don Diamont (Bill Spencer), Katherine Kelly Lang (Brooke Logan Spencer), Rome Flynn (Zende Forrester), Jacqueline MacInnes Wood (Steffy Forrester), & Pierson Fodé (Thomas Forrester).
Ricky Paull Goldin (ex-Jake, AMC; ex-Jesse, B&B; ex-Gus, GL; ex-Gary, Y&R; ex-Dean, AW) and Gretta Monahan welcomed another boy named Rio on June 12, 2017, to join big brother Kai (at right).
Jennifer Finnigan (ex-Bridget, B&B) and her husband of 10 years, actor Jonathan Silverman, are expecting their first child.
Jeff Trachta (ex-Thorne) is "The Singing Trump" on America's Got Talent. Watch his impersonation on 5/30 here. And he made it through to the next round!
Lawrence Saint-Victor (Carter) is bringing back his web series Wed-Locked. Please be a part of his Seed and Spark crowd funding campaign. Please check it out, tell him what you think and support the campaign. If we get 500 followers we get a DOPE production package from Seed and Spark. If you dig diversity and love to laugh, this is the show for you. Join our family!! Find Lawrence on Facebook!
At the 44th Annual Daytime Emmy Awards show on Sunday, April 30, 2017, the following winners were announced:
Writing Team: Y&R
Directing Team & Drama Series: GH
Supporting Actress: Kate Mansi (Abigail, Days)
Supporting Actor: Steve Burton (Dylan, Y&R)
Younger Actress: Lexi Ainsworth (Kristina, GH)
Younger Actor: Bryan Craig (ex-Morgan, GH)
Lead Actress: Gina Tognoni (Phyllis, Y&R)
Lead Actor: Scott Clifton (Liam, B&B)
At the Creative Arts Emmy Awards show on Friday, April 28, 2017, at the Pasadena Civic Auditorium in Pasadena, California, the following winners were announced:
Casting Director: Marnie Saitta, Days
Art & Lighting Direction, Set Decoration, Editing: Y&R
Technical Team, Costume Design, & Makeup: B&B
Sound Mixing & Music Direction: Days of Our Lives
Original Song: Days' "When Time Was On Our Side"
Hairstyling: GH
Stunt Coordinator: Terry James, Days
The 44th Annual Daytime Emmy Awards show, hosted by Mario Lopez & Sheryl Underwood, was live-streamed at Facebook Live & Twitter-Periscope Producer at 8 p.m. ET / 5 p.m. PT on Sunday, April 30, 2017. Click here for the list of nominees.
Carolyn Hennesy (Diane, GH) hosted the red-carpet pre-show from 5:30 - 7:30 ET / 2:30 - 4:30 PT on both days as well as 2 additional Facebook Live appearances from the NATAS Emmy Gifting Suites for the nominees on Saturday, April 29 at 4 & 7 p.m. ET / 1 & 4 p.m. PT.
Eileen Davidson's book "Dial Emmy for Murder" will become a movie!
On April 1, 2017, B&B won the 2017 GLAAD Media Award for Outstanding Daily Drama! It will air on Logo on April 6 at 10 PM ET/PT, after the world broadcast premiere of "Strike A Pose." Additional awards will be presented at the GLAAD Media Awards event at the New York Hilton Midtown in New York on Saturday, May 6.
M

ore Information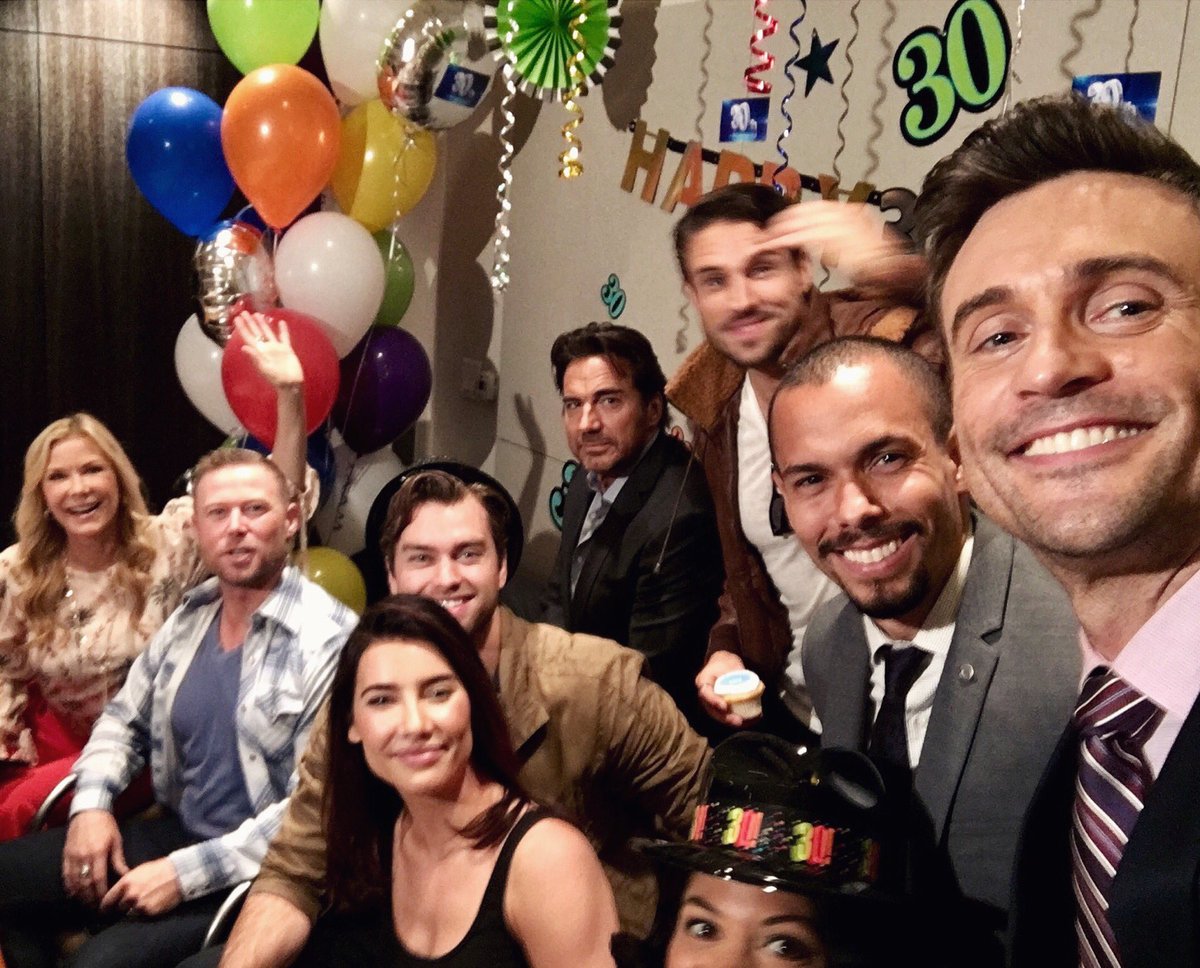 On March 23, 2017, B&B celebrated its 30th anniversary.
See how the cast celebrated
.
B&B is the sole nominee for the Outstanding Daily Drama category of the 28th Annual GLAAD (Gay and Lesbian Alliance Against Defamation) Media Awards, which honor media that is inclusive and fair in its representation of the LGBT+ community. The award show will take place Los Angeles on Saturday, April 1 and New York on Saturday, May 6. For more information on the awards and nominees in other categories, click here.
To celebrate B&B's 30th anniversary in March, Australian national air carrier Qantas took cast members to Australia from February 12-17 to film multiple episodes involving Scott Clifton (Liam), Don Diamont (Bill), Thorsten Kaye (Ridge), Katherine Kelly Lang (Brooke), John McCook (Eric), Rena Sofer (Quinn), Jacqueline MacInnes Wood (Steffy), & Ashleigh Brewer (Ivy).
The pre-nom results were announced on January 25 with 10 in each category moving forward to Blue Ribbon voting for which actors can submit 20 minutes from up to 4 episodes. The final nominations will be announced on Wednesday, March 22. The Creative Arts Emmy Awards show will be on April 28 while the 44th Annual Daytime Emmy Awards to be held on Sunday, April 30, 2017 both at the Pasadena Civic Auditorium in Pasadena, California.
Joseph Peter Mascolo (Stefano DiMera, Days; ex-Massimo Marone, B&B; ex-Nicholas Van Buren, GH) died at 87 on December 8, 2016, in Lake Arrowhead, CA, after battling Alzheimer's disease for many years.
On Sunday, November 27, 2016, the cast of "The Bold and the Beautiful" kicked off their upcoming 30th anniversary by participating in the 85th Annual Hollywood Christmas Parade, which will be broadcast at a later date on The CW, The Hallmark Channel, & American Forces Network. On their special bus were Marci Miller (Abigail), Martha Madison (Belle), Deidre Hall (Marlena), Camila Banus (Gabi), Scott Clifton (Liam), Karla Mosley (Maya), Jacqueline MacInnes Wood (Steffy), John McCook (Eric), Winsor Harmon (Thorne), Katherine Kelly Lang (Brooke), Anthony Turpel (R.J.), Alley Mills (Pam), Felisha Cooper (Sasha), Darin Brooks (Wyatt), Kelly Kruger (Eva), Jennifer Gareis (Donna), & Linsey Godfrey (Caroline).
B&B & Y&R will air new episodes on Memorial Day Monday, May 29.
Enter to win a Pretty Girl Makeup bundle with 2 lip glosses, 1 mascara, 1 bronzer, and 2 lipsticks by tweeting SOD's Christina Flach your favorite spring trends using #prettygirlspring by April 3, 2017. The winner will be selected at random by April 11, 2017.
Anthony Addabbo (ex-Rush/Jonny, B&B; ex-Jim, GL; ex-Dimitri, AMC) passed away on October 18, 2016, at the age of 56. He is survived by his wife Elli Pattino and his son Brandon Everest.
See Brian Gaskill (ex-Ozzy)'s Donald Trump imitation!
Heather Tom (Katie) directed the short film "Serenity" in July 2016 in LA.
Scott Clifton (Liam, B&B) sings an original song by Song Writer / Supervising Producer Casey Kasprzyk on the July 28 episode of B&B. Check out a clip here!
On June 17, 2016, B&B received the International TV Audience Award in the "Telenovela/Soap Opera" category at the Monte Carlo Television Festival for the 11th straight year as the world's most watched soap opera. B&B Executive Producer & Head Writer Bradley P. Bell & cast members Darin Brooks (Wyatt), Scott Clifton (Liam), Katherine Kelly Lang (Brooke), John McCook (Eric), Rena Sofer (Quinn), & Jacqueline MacInnes Wood (Steffy) accepted the "Golden Nymph" award at the Grimaldi Forum.
Tom Degnan (ex-Joey, OLTL; ex-Adam, ATWT) married actress Erin Cummings (ex-Ann, B&B) on Saturday, July 2, 2016, at the Basilica of the Sacred Heart at the University of Notre Dame.
Heather Tom (Katie) has directed 5 episodes of B&B, airing in January, March, May, & June this year.
Adam Gregory (ex-Thomas, B&B) and his wife, Sheridan Nicole, welcomed their second child, Hendrix, on June 16, 2016! The couple, who wed in February of 2010, had their first child, Adam Kannon Gregory II, on February 7, 2013.
Watch full episodes of B&B daily at CBS.com, Daily Motion, Fulltvshows.org, XFINITY, & TV.com.
Ashley Jones (Parker, GH; Bridget, B&B) gave birth to a boy named Hayden Joel on Tuesday, May 24, 2016, with husband Joel Henricks.
Scott Clifton (Liam) and wife Nicole had a son named Ford Robert Clifton on Friday, May 6, 2016, at 7:02 p.m.
See the 43rd Annual Daytime Emmy Awards Here! Click here for the list of nominees and winners.
CBS announced on April 27, 2016 that B&B has been renewed for two more years.
Agnes Bruckner (ex-Bridget), 30, and boyfriend Alefaio Brewer had their first child, son Sebastian Lopeti Brewer on Wednesday, March 30, 2016.
"Ladies of the Lake," the new digital series based on the novel by Days' Executive Producer Ken Corday, has announced its cast. Kyle Lowder (ex-Brady, Days; ex-Rick, B&B), Arianne Zucker (Nicole, Days), John-Paul Lavoisier (Philip, Days; ex-Rex, OLTL), Martha Madison (Belle, Days; ex-Elizabeth, GH; ex-Lola, Passions), Wally Kurth (Justin, Days; Ned, GH), Marie Wilson (Summer, Days; ex-Meg, ATWT; ex-Karen, PC & GH), Gordon Thomson (ex-Walter, Days; ex-Freeman, Passions; ex-AJ, Sunset Beach; ex-Adam, Dynasty), John Callahan (ex-Edmund, AMC; ex-Dr. Baker, Days; ex-Leo, GH), Patrika Darbo (ex-Nancy, Days), Lilly Melgar (ex-Lily, GH; ex-Claudia, B&B), Jessica Morris (ex-Jennifer, OLTL) & Jillian Clare (ex-Abby, Days) will appear in the new soap from Michael Caruso.
Jacob Young (Rick, B&B; ex-JR, AMC; ex-Lucky, GH) and wife Christen welcomed their third child, a girl named Grace Elizabeth, on March 20, 2016 who joined Luke Wayne, 7, and Molly, 2. They now live in a small town in northern Utah, from which Jake commutes to work in LA.
Peter Brown (ex-Dr. Greg Peters, Days; ex-Blake Hayes, B&B; ex-Robert Laurence, Y&R; ex-Roger Forbes, Loving; ex-Charles Sanders III, OLTL) passed away at 80 on March 21, 2016 in Phoenix, Arizona. He is survived by his wife Kerstin and two sons, Matthew & Joshua.
Ashley Tesoro (ex-Kimberly) and husband Anthony welcomed a son, Anthony John, on December 24, 2015. He joins big sister Gabriella, 2.
B&B is the only daytime drama nominated this year for the 27th Annual GLAAD Media Awards for the inclusion of the transgender community in its storytelling of Maya Avant (Karla Mosley) previously born as a man named "Myron." The awards will be handed out on Saturday April 2, 2016 in Los Angeles, CA.
CBS is posting B&B Bonus Scenes which haven't aired in the US. Go to their website and scroll down to the Bonus Scenes section toward the bottom.
Adrienne Frantz (ex-Amber, B&B/Y&R) and her husband, Scott Bailey (ex-Sandy, GL) became first-time parents with the arrival of their daughter, Amélie Irene Bailey, on December 1, 2015. Two weeks before the baby was born, Adrienne went to the hospital with a cracked rib caused by her "ninja warrior baby."
Winsor Harmon (Thorne) tweeted today: "I want to thank everyone for 17 Beautiful years playing Thorne I love you all Thank U for the amazing run B&B you'll forever B a part of me." 11/18/15 They took him off the new show opening, but apparently he's still a recurring cast member, according to Soap Opera Digest
"Maybe Someday," a film produced by B&B's producer/director Cynthia J. Popp and B&B casting director Christy Dooley, & featuring performances by Alley Mills (Pam) and Kim Matula (ex-Hope), was accepted into the Carmel International Film Festival, which runs from Wednesday, October 21, through Sunday, October 25. The movie is about the travails of a twenty-something slacker who gets his life back on track with help from his future daughter. For more information, visit CarmelFilmFest.com.
Katherine Kelly Lang (Brooke, B&B) & Tracey Bregman (Lauren, Y&R) each designed a Rhonda Shear Ahh Bra which they are auctioning to benefit breast cancer research. Go to Rhondashear.com until Friday, October 30, to bid.
On Saturday, September 26, 2015, Brian Gaskill (ex-Oscar, B&B) & his girlfriend, Ambika Leigh, were sitting at a red light in LA when a car in a high-speed chase crashed into them and totaled their Mercedes-Benz. They were not hurt. See the video here!
Constantine Maroulis (ex-Constantine Parros, B&B) was arrested for allegedly kicking the mother of his child in the groin on Wednesday, August 12, 2015. Angel Reed called 911 from their home in Wyckoff, NJ, claiming he threw her down and kicked her, but he says he acted in self-defense after being attacked first when he announced he was leaving her. In fact, he was injured on his right thigh when she hurled something at him. Read more here!
Pop TV airs "The Bold and the Beautiful" at 6:30 p.m. ET and "The Young and the Restless" at 7 p.m. ET. Starting on Monday, August 24, 2015, "Days of Our Lives" joins the lineup at 8 p.m. ET.
Linsey Godfrey (Caroline, B&B) and her fiance Robert Adamson (Noah, Y&R) announced their separation on August 3. They have a 1-year-old daughter, Aleda.
The Bold and the Beautiful Fan Community is online at www.boldandbeautiful.com. This free and revamped group includes a weekly "Ask Cathy" column where fan club director Cathy Tomas will answer the most asked question of the week, as well as "B&B's Fan of the Month" starting in August!
B&B has disbanded its official fan club. "The Official The Bold and The Beautiful Fan Page" is now on Facebook, and all the latest news can be found on Twitter. Also, at www.boldandbeautiful.com fans can find live streaming of special events and info. that will keep you informed daily of what's going on behind the scenes, sneak peeks at things to come, locations and dates of public appearances as well as how to independently network with your favorite actors from B&B.
For an autographed headshot, you may write directly to the specific actor
c/o "The Bold and the Beautiful"
7800 Beverly Blvd.
Los Angeles, CA 90036
---
B&B Scoops and Spoilers
By Mandy
SOD 6/18/18
Liam Moves Forward With Steffy!
Steffy and Liam plan a future together with baby Kelly. Steffy is overjoyed to have Liam back home, and now that all of Bill's lies have been exposed, Liam feels that he's making the right decision. Steffy's idea to name the baby after his late mother was a gesture that made a huge difference. Of course, Liam's choice to stay with Steffy is not without consequence, as he now must officially break his engagement to Hope.

*Early Editions*
Emma shows Hope the dance she choreographed for the Hope for the Future preview.
Both newly single, Sally and Wyatt make a connection.

*Ratings for 5/14: 2.5

Adain Bradley debuts on 6/12 as Alexander "Xander" Avant, Julius's nephew.

Keith Carlos debuts on 6/15 as Danny, the new bartender at Bikini Bar.

Courtney Hope returns on 6/15 as Sally Spectra.

Sheryl Underwood returns on 6/11 as enthusiastic Spencer Publications employee, Emmy.

*Hot Plots Preview – Emma Is A Barber*
Forrester intern Emma shows up at Spencer Publications - and not for espionage purposes; she's there to speak to her uncle, Justin. However, Emma doesn't want people to know that Justin is her uncle right now because she doesn't want to risk her dream job at Forrester. Emma manages to keep her family ties under wraps; however, there is one member of the Forrester team who quickly becomes suspicious: Maya.

*1st Look*
Sally goes gunning for Wyatt.
Julius, Maya and Vivienne welcome newcomer Xander into the Avant fold.

Katie and Wyatt share a bittersweet moment while discussing the future of their relationship on 6/12.
Thorne raises Katie's spirits by spending time with her and Will on 6/13.
Sally Spectra makes a shocking revelation to Wyatt when they run into each other at Bikini Bar.

*What Will Happen:
Hope and Steffy's feud leaves Brooke and Ridge at odds.
Liam has a heart-to-heart with Brooke.
Steffy and Hope seek closure to their conundrum.
SOD 6/11/18
Steffy Gives Birth!
After Steffy falls while ordering Bill out of her home, she manages to contact Liam and blurts out that she's gone into premature labor. Happily the couple's daughter is born without incident, and baby, Kelly, named after Liam's late mother, appears to be happy and healthy. That moment is soon interrupted, however, when Steffy confesses that it was her confrontation with Bill that prompted her early labor. Liam flips out, but Steffy diffuses the blowup. The turn of events brings the duo closer!

*Early Editions*
Maya's cousin from across the pond, Xander, arrives at Forrester Creations ready to work and with a secret to keep.
A frustrated Brooke lashes out at Ridge when he continues on about Hope moving on in her life.

Ratings for 5/7: 2.4

*Hot Plots Preview - Liam Leaves Hope In Limbo*
Liam rushes to Steffy's side for the birth of their daughter, while Hope tries to maintain her composure as she waits to see what's next. As the enormity of this life-changing event sinks in, Liam realizes what he has to do.

*1st Look*
Steffy happily reunites with Liam.
Ridge and Eric visit Steffy and baby Kelly.
Thorne catches up with Brooke.

Quinn pleads Wyatt's case to Brooke, who blames him for Hope's current dilemma on 6/6.
Brooke remains hopeful that Hope and Liam will overcome their obstacles on 6/7.
Ridge confides in Thorne about the difficulty he's facing with Brooke over their daughters' feud and admits that it's affecting their marriage on 6/8.

*What Will Happen*
Eric hopes that the baby's birth will reunite Steffy and Liam.
Wyatt faces the consequences of his actions.
Hope feels rudderless as she desperately waits to hear back from Liam.
SOD 6/4/18
Wyatt Interrupts Liam And Hope's Wedding!
Wyatt is unable to hold his peace as Liam and Hope exchange vows, so he interrupts the wedding and pulls Liam aside, where he reveals to his brother that Bill lied about romancing Steffy. The bride is understandably taken aback. Though it's an awkward situation, the couple is thankful that Wyatt came forward. After hearing the news, Liam and Hope decide not to rush into marriage.

*Early Editions*
Liam rushes to Steffy's side as she goes into early labor and delivers their child prematurely.
Steffy confides to a furious Liam that an unwanted visit by Bill is what caused her fall.

*Ratings for 4/30: 2.4

Jennifer Gareis returns on 5/28 as Donna Logan, who returns to town for Liam and Hope's wedding.

Robin Givens is back on 6/1 as Dr. Phillips, Steffy's ob/gyn.

Wendy Wang appears on 6/1 as Dr. Phillips' nurse.

*Hot Plots Preview – Wyatt Blasts Bill*
After Wyatt reveals that Bill manipulated Hope and Liam's nuptials, he confronts his father. Wyatt hightails it to Bill's office, where he lays into his dad for putting him in the middle.

*1st Look*
Justin has a heated chat with bestie Bill.
Liam is by Steffy's side.

Hope and Steffy square off when Steffy states that Hope would never have been with Liam if not for Bill's lies on 5/30.
Steffy trips and falls after slamming the door shut on an uninvited Bill on 5/31.
Steffy grows frantic when her fall induces premature labor on 6/1.

*Summer Preview*
Bill is determined to win Steffy over. Now that he finds out the depth of his father's treachery, where does it leave Liam? Will crisis with the baby bring Liam and Steffy together or tear them apart?
Wyatt and Katie will take a good, hard look at what their future portends - and Thorne will figure into it prominently. Thorne realizes Katie is the one for him and will be pursuing her.
If push comes to shove, Brooke will support Hope and Ridge will support Steffy, causing friction between Brooke and Ridge.
Quinn and Eric will be put to the test. Quinn will get more involved in Wyatt's situation.
There will be new, young love blossoming within the halls of Forrester Creations between intern Emma and newbie Alexander Avant.
A new addition to the cast this summer is sure to raise some eyebrows!

*What Will Happen:
Justin refuses to do Bill's bidding.
Brooke urges Hope to marry Liam as soon as possible.
Wyatt blasts Bill, who quickly retaliates.
Liam stands up to his father.
---
Don't forget to sign up for our CBS Soap scoops newsletter to get the latest news about the shows!
Our other pages for news, scoops, and spoilers: AMC, ATWT, AW, Days, GH, GH: Night Shift, GL, Loving/The City, OLTL, PC, Passions, Y&R, General Daytime, 24, Battlestar Galactica, Heroes, Jericho, Lost, Smallville, and Star Trek.
This page is dedicated to Hilary, our beloved late volunteer, who used to update the scoop pages.
Page updated 6/11/18
---