B&B News and Information! Scoops, & Spoilers Below
NEWS
Labor Day schedule for Monday, September 4: B&B will air a new episode.
CBS has renewed their full daytime lineup for the 2017-18 season with Y&R receiving a three-year pickup.
B&B stars attended the 57th Monte Carlo TV Festival in Monaco on June 18, 2017. Posing in the photo below: Darin Brooks (Wyatt Spencer), Courtney Hope (Sally Spectra), Reign Edwards (Nicole Avant Forrester), Heather Tom (Katie Logan), Don Diamont (Bill Spencer), Katherine Kelly Lang (Brooke Logan Spencer), Rome Flynn (Zende Forrester), Jacqueline MacInnes Wood (Steffy Forrester), & Pierson Fodé (Thomas Forrester).
Ricky Paull Goldin (ex-Jake, AMC; ex-Jesse, B&B; ex-Gus, GL; ex-Gary, Y&R; ex-Dean, AW) and Gretta Monahan welcomed another boy named Rio on June 12, 2017, to join big brother Kai (at right).

Jennifer Finnigan (ex-Bridget, B&B) and her husband of 10 years, actor Jonathan Silverman, are expecting their first child.

Jeff Trachta (ex-Thorne) is "The Singing Trump" on America's Got Talent. Watch his impersonation on 5/30 here. And he made it through to the next round!

Lawrence Saint-Victor (Carter) is bringing back his web series Wed-Locked. Please be a part of his Seed and Spark crowd funding campaign. Please check it out, tell him what you think and support the campaign. If we get 500 followers we get a DOPE production package from Seed and Spark. If you dig diversity and love to laugh, this is the show for you. Join our family!! Find Lawrence on Facebook!

At the 44th Annual Daytime Emmy Awards show on Sunday, April 30, 2017, the following winners were announced:
Writing Team: Y&R
Directing Team & Drama Series: GH
Supporting Actress: Kate Mansi (Abigail, Days)
Supporting Actor: Steve Burton (Dylan, Y&R)
Younger Actress: Lexi Ainsworth (Kristina, GH)
Younger Actor: Bryan Craig (ex-Morgan, GH)
Lead Actress: Gina Tognoni (Phyllis, Y&R)
Lead Actor: Scott Clifton (Liam, B&B)

At the Creative Arts Emmy Awards show on Friday, April 28, 2017, at the Pasadena Civic Auditorium in Pasadena, California, the following winners were announced:
Casting Director: Marnie Saitta, Days
Art & Lighting Direction, Set Decoration, Editing: Y&R
Technical Team, Costume Design, & Makeup: B&B
Sound Mixing & Music Direction: Days of Our Lives
Original Song: Days' "When Time Was On Our Side"
Hairstyling: GH
Stunt Coordinator: Terry James, Days

The 44th Annual Daytime Emmy Awards show, hosted by Mario Lopez & Sheryl Underwood, was live-streamed at Facebook Live & Twitter-Periscope Producer at 8 p.m. ET / 5 p.m. PT on Sunday, April 30, 2017. Click here for the list of nominees.

Carolyn Hennesy (Diane, GH) hosted the red-carpet pre-show from 5:30 - 7:30 ET / 2:30 - 4:30 PT on both days as well as 2 additional Facebook Live appearances from the NATAS Emmy Gifting Suites for the nominees on Saturday, April 29 at 4 & 7 p.m. ET / 1 & 4 p.m. PT.

Eileen Davidson's book "Dial Emmy for Murder" will become a movie!

On April 1, 2017, B&B won the 2017 GLAAD Media Award for Outstanding Daily Drama! It will air on Logo on April 6 at 10 PM ET/PT, after the world broadcast premiere of "Strike A Pose." Additional awards will be presented at the GLAAD Media Awards event at the New York Hilton Midtown in New York on Saturday, May 6. M

ore Information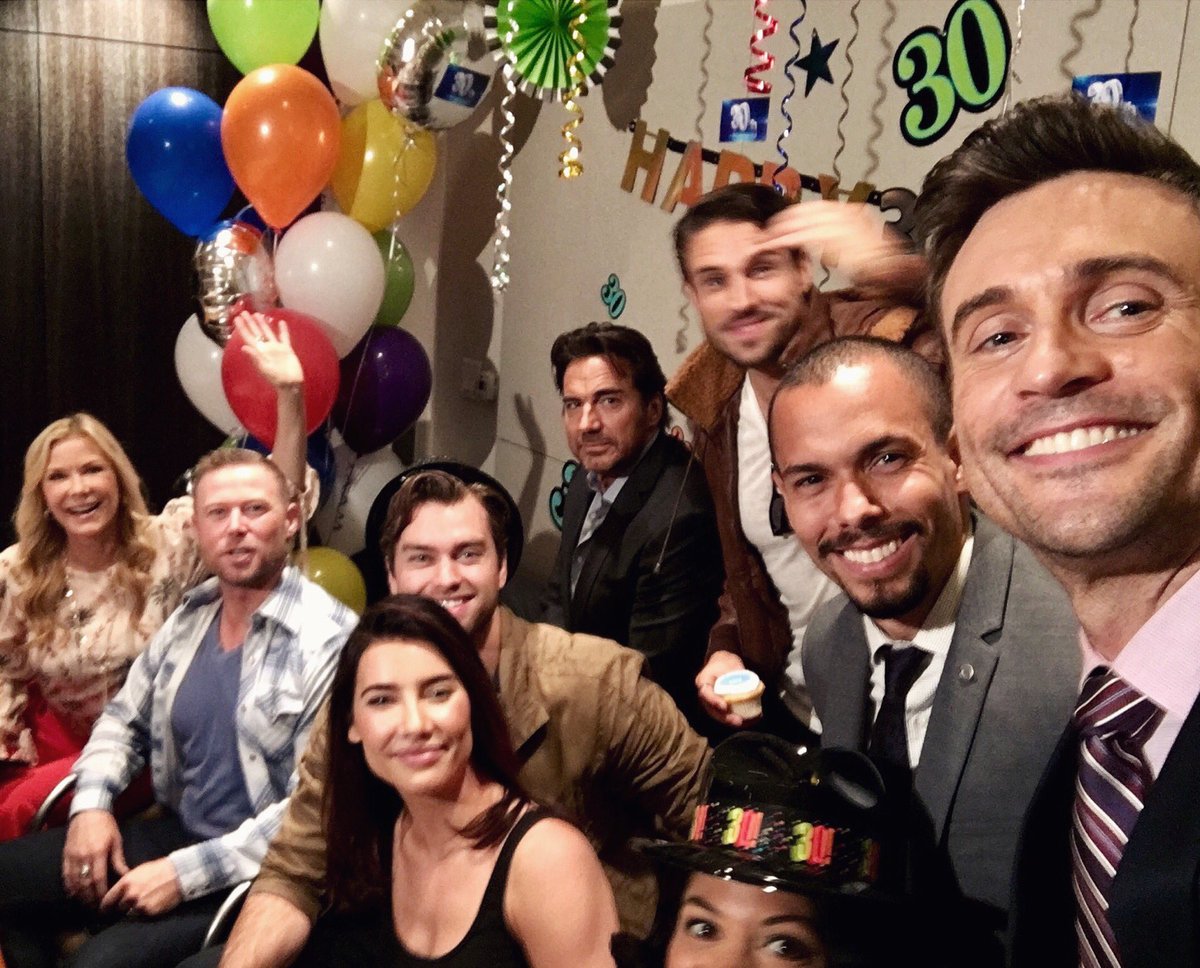 On March 23, 2017, B&B celebrated its 30th anniversary. See how the cast celebrated.

B&B is the sole nominee for the Outstanding Daily Drama category of the 28th Annual GLAAD (Gay and Lesbian Alliance Against Defamation) Media Awards, which honor media that is inclusive and fair in its representation of the LGBT+ community. The award show will take place Los Angeles on Saturday, April 1 and New York on Saturday, May 6. For more information on the awards and nominees in other categories, click here.

To celebrate B&B's 30th anniversary in March, Australian national air carrier Qantas took cast members to Australia from February 12-17 to film multiple episodes involving Scott Clifton (Liam), Don Diamont (Bill), Thorsten Kaye (Ridge), Katherine Kelly Lang (Brooke), John McCook (Eric), Rena Sofer (Quinn), Jacqueline MacInnes Wood (Steffy), & Ashleigh Brewer (Ivy).

The pre-nom results were announced on January 25 with 10 in each category moving forward to Blue Ribbon voting for which actors can submit 20 minutes from up to 4 episodes. The final nominations will be announced on Wednesday, March 22. The Creative Arts Emmy Awards show will be on April 28 while the 44th Annual Daytime Emmy Awards to be held on Sunday, April 30, 2017 both at the Pasadena Civic Auditorium in Pasadena, California.

Joseph Peter Mascolo (Stefano DiMera, Days; ex-Massimo Marone, B&B; ex-Nicholas Van Buren, GH) died at 87 on December 8, 2016, in Lake Arrowhead, CA, after battling Alzheimer's disease for many years.
On Sunday, November 27, 2016, the cast of "The Bold and the Beautiful" kicked off their upcoming 30th anniversary by participating in the 85th Annual Hollywood Christmas Parade, which will be broadcast at a later date on The CW, The Hallmark Channel, & American Forces Network. On their special bus were Marci Miller (Abigail), Martha Madison (Belle), Deidre Hall (Marlena), Camila Banus (Gabi), Scott Clifton (Liam), Karla Mosley (Maya), Jacqueline MacInnes Wood (Steffy), John McCook (Eric), Winsor Harmon (Thorne), Katherine Kelly Lang (Brooke), Anthony Turpel (R.J.), Alley Mills (Pam), Felisha Cooper (Sasha), Darin Brooks (Wyatt), Kelly Kruger (Eva), Jennifer Gareis (Donna), & Linsey Godfrey (Caroline).
B&B & Y&R will air new episodes on Memorial Day Monday, May 29.
Enter to win a Pretty Girl Makeup bundle with 2 lip glosses, 1 mascara, 1 bronzer, and 2 lipsticks by tweeting SOD's Christina Flach your favorite spring trends using #prettygirlspring by April 3, 2017. The winner will be selected at random by April 11, 2017.
Anthony Addabbo (ex-Rush/Jonny, B&B; ex-Jim, GL; ex-Dimitri, AMC) passed away on October 18, 2016, at the age of 56. He is survived by his wife Elli Pattino and his son Brandon Everest.
See Brian Gaskill (ex-Ozzy)'s Donald Trump imitation!
Heather Tom (Katie) directed the short film "Serenity" in July 2016 in LA.
Scott Clifton (Liam, B&B) sings an original song by Song Writer / Supervising Producer Casey Kasprzyk on the July 28 episode of B&B. Check out a clip here!
On June 17, 2016, B&B received the International TV Audience Award in the "Telenovela/Soap Opera" category at the Monte Carlo Television Festival for the 11th straight year as the world's most watched soap opera. B&B Executive Producer & Head Writer Bradley P. Bell & cast members Darin Brooks (Wyatt), Scott Clifton (Liam), Katherine Kelly Lang (Brooke), John McCook (Eric), Rena Sofer (Quinn), & Jacqueline MacInnes Wood (Steffy) accepted the "Golden Nymph" award at the Grimaldi Forum.
Tom Degnan (ex-Joey, OLTL; ex-Adam, ATWT) married actress Erin Cummings (ex-Ann, B&B) on Saturday, July 2, 2016, at the Basilica of the Sacred Heart at the University of Notre Dame.
Heather Tom (Katie) has directed 5 episodes of B&B, airing in January, March, May, & June this year.
Adam Gregory (ex-Thomas, B&B) and his wife, Sheridan Nicole, welcomed their second child, Hendrix, on June 16, 2016! The couple, who wed in February of 2010, had their first child, Adam Kannon Gregory II, on February 7, 2013.
Watch full episodes of B&B daily at CBS.com, Daily Motion, Fulltvshows.org, XFINITY, & TV.com.
Ashley Jones (Parker, GH; Bridget, B&B) gave birth to a boy named Hayden Joel on Tuesday, May 24, 2016, with husband Joel Henricks.
Scott Clifton (Liam) and wife Nicole had a son named Ford Robert Clifton on Friday, May 6, 2016, at 7:02 p.m.
See the 43rd Annual Daytime Emmy Awards Here! Click here for the list of nominees and winners.
CBS announced on April 27, 2016 that B&B has been renewed for two more years.
Agnes Bruckner (ex-Bridget), 30, and boyfriend Alefaio Brewer had their first child, son Sebastian Lopeti Brewer on Wednesday, March 30, 2016.
"Ladies of the Lake," the new digital series based on the novel by Days' Executive Producer Ken Corday, has announced its cast. Kyle Lowder (ex-Brady, Days; ex-Rick, B&B), Arianne Zucker (Nicole, Days), John-Paul Lavoisier (Philip, Days; ex-Rex, OLTL), Martha Madison (Belle, Days; ex-Elizabeth, GH; ex-Lola, Passions), Wally Kurth (Justin, Days; Ned, GH), Marie Wilson (Summer, Days; ex-Meg, ATWT; ex-Karen, PC & GH), Gordon Thomson (ex-Walter, Days; ex-Freeman, Passions; ex-AJ, Sunset Beach; ex-Adam, Dynasty), John Callahan (ex-Edmund, AMC; ex-Dr. Baker, Days; ex-Leo, GH), Patrika Darbo (ex-Nancy, Days), Lilly Melgar (ex-Lily, GH; ex-Claudia, B&B), Jessica Morris (ex-Jennifer, OLTL) & Jillian Clare (ex-Abby, Days) will appear in the new soap from Michael Caruso.
Jacob Young (Rick, B&B; ex-JR, AMC; ex-Lucky, GH) and wife Christen welcomed their third child, a girl named Grace Elizabeth, on March 20, 2016 who joined Luke Wayne, 7, and Molly, 2. They now live in a small town in northern Utah, from which Jake commutes to work in LA.
Peter Brown (ex-Dr. Greg Peters, Days; ex-Blake Hayes, B&B; ex-Robert Laurence, Y&R; ex-Roger Forbes, Loving; ex-Charles Sanders III, OLTL) passed away at 80 on March 21, 2016 in Phoenix, Arizona. He is survived by his wife Kerstin and two sons, Matthew & Joshua.
Ashley Tesoro (ex-Kimberly) and husband Anthony welcomed a son, Anthony John, on December 24, 2015. He joins big sister Gabriella, 2.
B&B is the only daytime drama nominated this year for the 27th Annual GLAAD Media Awards for the inclusion of the transgender community in its storytelling of Maya Avant (Karla Mosley) previously born as a man named "Myron." The awards will be handed out on Saturday April 2, 2016 in Los Angeles, CA.
CBS is posting B&B Bonus Scenes which haven't aired in the US. Go to their website and scroll down to the Bonus Scenes section toward the bottom.
Adrienne Frantz (ex-Amber, B&B/Y&R) and her husband, Scott Bailey (ex-Sandy, GL) became first-time parents with the arrival of their daughter, Amélie Irene Bailey, on December 1, 2015. Two weeks before the baby was born, Adrienne went to the hospital with a cracked rib caused by her "ninja warrior baby."
Winsor Harmon (Thorne) tweeted today: "I want to thank everyone for 17 Beautiful years playing Thorne I love you all Thank U for the amazing run B&B you'll forever B a part of me." 11/18/15 They took him off the new show opening, but apparently he's still a recurring cast member, according to Soap Opera Digest
"Maybe Someday," a film produced by B&B's producer/director Cynthia J. Popp and B&B casting director Christy Dooley, & featuring performances by Alley Mills (Pam) and Kim Matula (ex-Hope), was accepted into the Carmel International Film Festival, which runs from Wednesday, October 21, through Sunday, October 25. The movie is about the travails of a twenty-something slacker who gets his life back on track with help from his future daughter. For more information, visit CarmelFilmFest.com.
Katherine Kelly Lang (Brooke, B&B) & Tracey Bregman (Lauren, Y&R) each designed a Rhonda Shear Ahh Bra which they are auctioning to benefit breast cancer research. Go to Rhondashear.com until Friday, October 30, to bid.
On Saturday, September 26, 2015, Brian Gaskill (ex-Oscar, B&B) & his girlfriend, Ambika Leigh, were sitting at a red light in LA when a car in a high-speed chase crashed into them and totaled their Mercedes-Benz. They were not hurt. See the video here!
Constantine Maroulis (ex-Constantine Parros, B&B) was arrested for allegedly kicking the mother of his child in the groin on Wednesday, August 12, 2015. Angel Reed called 911 from their home in Wyckoff, NJ, claiming he threw her down and kicked her, but he says he acted in self-defense after being attacked first when he announced he was leaving her. In fact, he was injured on his right thigh when she hurled something at him. Read more here!
Pop TV airs "The Bold and the Beautiful" at 6:30 p.m. ET and "The Young and the Restless" at 7 p.m. ET. Starting on Monday, August 24, 2015, "Days of Our Lives" joins the lineup at 8 p.m. ET.
Linsey Godfrey (Caroline, B&B) and her fiance Robert Adamson (Noah, Y&R) announced their separation on August 3. They have a 1-year-old daughter, Aleda.
The Bold and the Beautiful Fan Community is online at www.boldandbeautiful.com. This free and revamped group includes a weekly "Ask Cathy" column where fan club director Cathy Tomas will answer the most asked question of the week, as well as "B&B's Fan of the Month" starting in August!
B&B has disbanded its official fan club. "The Official The Bold and The Beautiful Fan Page" is now on Facebook, and all the latest news can be found on Twitter. Also, at www.boldandbeautiful.com fans can find live streaming of special events and info. that will keep you informed daily of what's going on behind the scenes, sneak peeks at things to come, locations and dates of public appearances as well as how to independently network with your favorite actors from B&B.
For an autographed headshot, you may write directly to the specific actor
c/o "The Bold and the Beautiful"
7800 Beverly Blvd.
Los Angeles, CA 90036
---
B&B Scoops and Spoilers
By Mandy
SOD 9/25/17
Ridge Makes His Move!
Ridge picks up on the tension between newlyweds Bill and Brooke, and takes the opportunity to let Brooke know that he still cares for her. Though Ridge is laying his heart on the line, he isn't pressuring Brooke to make a decision right away. Brooke points out that giving Ridge another chance would be difficult with Quinn still hovering around. Ridge is prepared to give Brooke time, and hopes that a reunion could be in the works.

*Early Editions*
Eric and Ridge take a significant step towards healing their estranged relationship.
As the new CEO, Liam makes drastic changes at Spencer Publications.

*Ratings for 8/21: 2.5

Jessica Graf will appear on 10/2 as Jody, an Il Giardino hostess.

*Hot Plots Preview - Wyatt Confronts Liam*
Wyatt sees red after Liam deposes Bill as the new CEO of Spencer Publications. Wyatt confronts Liam because he is convinced that something fishy is going on. Wyatt's conversation with his brother leaves him even more frustrated because nobody is telling him anything. Liam humors Wyatt, which angers him even more. Wyatt is determined to get to the truth.

*1st Look*
Quinn and Sheila are at it again.
Liam ponders the mysteries of Spencer Tower.

Steffy makes a shocking request of Brooke on 9/20.
Ridge jumps at the opportunity to provoke Bill about his escalating marital troubles on 9/21.
Bill makes a desperate plea to Brooke to forgive him for his misdeeds on 9/22.

*What Will Happen*
Liam makes major changes at the company.
Steffy threatens Sally.
Eric is caught between a warring Sheila and Quinn.
Wyatt investigates the changes at Spencer.
SOD 9/18/17
Bill Punches Liam!
After Liam threatens to take over Bill's company, things take a dark turn for father and son. Liam recorded his father claiming responsibility for the fire at Spectra and Liam threatens to turn him in to the authorities. An argument ensues. Feeling both betrayed and frustrated by his own flesh and blood, Bill cold-cocks Liam.

*Early Editions*
Brooke's world is turned upside-down when she learns the truth about Bill's despicable deeds.
Sheila summons Charlie to help her "eliminate" Quinn from Eric's life.

*Ratings for 8/14: 2.5

Kym Douglas appears on 9/26 as Sharon.

Rome Flynn will last air on 9/11 as Zende Dominguez.

Pierson Fode will last air on 9/14 as Thomas Forrester.

*Hot Plots Preview - Thomas Breaks Up With Sally!*
Still reeling from the catastrophic fire that gutted the Spectra Building, Sally gets a phone call that rocks her world. Things get worse for Sally when Thomas calls to say that he plans on staying in New York permanently.

*1st Look*
Bill shares some shocking information with Brooke.
Darlita, Saul and Coco check out Spectra's charred remains.

Steffy unknowingly interrupts Katie's secret liaison with Wyatt when she arrives unannounced on 9/11.
Brooke is faced with a puzzling development on 9/12.
Steffy intercedes between a feuding Bill and Liam on 9/15.

What Will Happen:
Bill has some astonishing news for Brooke.
Sally makes a surprising announcement to the Spectra gang.
Ridge shares a nostalgic moment with Brooke.

Danube Hermosillo (Darlita) is featured in the Take Five interview this week!
SOD 9/11/17
Sheila Targets Quinn And Ridge!
Sheila hatches a new plot to get closer to Eric, and sets her sights on his son and wife. Sheila is more determined than ever to get Quinn out of Eric's life. Sheila feels that she will be able to achieve her goal without a fuss.

*Early Editions*
Steffy becomes concerned that Liam is on a path to ruin his relationship with Bill forever.
Katie and Wyatt discuss the pros and cons of going public with their relationship.

*Ratings for 8/7: 2.5

Rome Flynn (Zende Dominguez) has decided not to renew his contract.

*Hot Plots Preview - CJ Makes A Decision*
Still reeling from the devastating fire that swept through the Spectra building on the eve of their crucial make-it-or-break-it showing, CJ is faced with his toughest decision yet. While it's not lost on CJ that Bill benefits greatly from Spectra's misfortune, he is still unaware that Bill is pulling the strings behind the scenes.

*1st Look*
Rick checks in with Ridge and Steffy at Forrester.

Maya grows insecure when she witnesses the closeness between Lizzy and Nicole on 9/6.
Maya gets Rick on board to ensure that there's more distance between Nicole and Lizzy on 9/7.
Nicole questions Maya about her idea for having Zende promoted on 9/8.

*Fall Preview*
The tragedy at Spectra on the eve of Sally's solo debut leaves the company's future up in smoke. Sally regains hope when Thomas returns to LA, but is he back for good? Or is he too caught up in Bill's lie to leave Caroline and his young son?
Liam faces that his father may be capable of more evil than he ever imagined and will be forced to choose whether to "live by the sword or die by the sword" in the Spencer family.
Bill must maintain the facade of a man who has done no wrong to accomplish his goals: building "Sky". Bill will struggle to keep his secret from those he loves, including his inquisitive wife. When Brooke learns the truth, will she stand by her man or demand he face the consequences of his actions?
Maya's insecurities about Lizzy's attachment to Nicole prompt her into suggesting a staffing change at Forrester to Rick. The change will affect Nicole's proximity to Lizzy and allow Maya to be a mother without interference from her sister.
Finding herself on the receiving end of a closed door to the Forrester mansion, Sheila's desire to make Eric her own is fueled. Sheila summons Charlie, her unwilling cohort, to help her make Ridge and Quinn pawns in her scheme. Will they take the bait?
Wyatt and Katie's love affair intensifies, but they remain determined to keep their liaisons a secret. This proves to be easier said than done. Wyatt and Katie share their fears, joys, insecurities and plans for their future.

*What Will Happen*
Quinn is grateful when Ridge stands up for her.
Sally visits Steffy to announce her future plans.
Brooke stands by her man, though she knows something is weighing on him.
SOD 9/4/17
Bill's Drastic Plan To Grab Spectra!
After learning about the small electrical fire that broke out during the Spectra fashion preview, Bill devises a dastardly new scheme to get his hands on the Spectra building - and shortly after, a devastating blaze sweeps through the decaying downtown structure. Unfortunately, Bill's "opportunity" goes awry when Sally ends up hospitalized after the blaze. Luckily for Bill, Sally is going to be okay - but he may have a bigger problem headed his way when Liam decides to look into the fishy scenario.

*Early Editions*
Sheila sneaks into Forrester Creations and manipulates Charlie in helping her get what she desires.
Still unnerved by Lizzie's connection to Nicole, Maya makes an out-of-the-blue suggestion to Rick.

*Ratings for 7/31: 2.4

Don Most appears on 8/28 as Pete, a handyman.

*Hot Plots Preview - Quinn Busts Sheila*
When Quinn catches the "injured" Sheila up and about, her ruse is exposed and they go at it again. Despite Quinn's discovery, Sheila makes it clear that she's not going anywhere. The women then come to blows but this time, Eric interrupts before anyone is seriously hurt.

*1st Look*
Darlita and Shirley see their dreams go up in flames.

Ridge finds himself the unlikely referee between Quinn and Eric, who have differing opinions regarding Sheila on 8/31.
Thomas makes an unexpected appearance at a hospitalized Sally's bedside on 9/1.
Liam wrestles with his undesirable options of either blowing the whistle on Bill or living with the guilt of knowing what his father did and staying silent about it on 9/4.

*What Will Happen*
Liam discovers the full extent of Bill's treachery.
Sally beseeches Thomas to stay in LA and help rebuild Spectra.
Liam and Steffy struggle to keep the dirt they have on Bill from their families.

Jacqueline MacInnes Wood (Steffy) is featured in the Take Five interview this week!
SOD 8/28/17
James Colludes With Sheila!
James evaluates Sheila, but Eric doesn't know that there's more going on between doctor and patient than meets the eye. When James sits down to examine Sheila, they have a tense conversation. The prospect of lying to Eric doesn't sit well with James. Despite being squeezed, James still believes he can protect Eric and the Forresters.

*Early Editions*
All hell breaks loose between Sheila and Quinn in the Forrester Mansion.
"Dollar" Bill Spencer executes an unthinkable act in order to obtain the possession he most desires.

*Ratings for 7/24: 2.4

Marshel Adams returns on 8/21 as Beatrice, Sheila's portrait painter.

*Hot Plots Preview - Will Bill Catch Katie And Wyatt?*
Wyatt is thrilled when Katie invites him over for some love in the afternoon, and she surprises him by donning a sexy negligee. However, just as the couple get hot and heavy in the bedroom, they receive an unexpected visitor: Bill, who is downstairs.

*1st Look*
Liam shows off his firepower to Darlita and Shirley.
Brooke and Ivy take notes.
Katie gets an ill-timed visit from ex Bill.

Sally feels the heat during her first solo preview at Spectra on 8/23.
Bill tells Liam what he wants to hear, then orders Justin to take care of business on 8/24.
Bill initiates his devious plan that he believes will finally allow him to start construction on his dream skyscraper - at the expense of Spectra on 8/25.

*What Will Happen*
Ivy and Brooke demand answers from Steffy.
Bill fumes at Jarrett and Liam regarding their stance on Sally and her work.
Sally has a revealing conversation with Thomas.
SOD 8/21/17
Sheila Moves In!
After Eric forgives Quinn, Sheila storms into the mansion to give the current Mrs. Forrester a piece of her mind, and a battle ensues. When Eric arrives, he's shocked by what he sees. Eric then takes matters into his own hands and calls for a doctor, insisting that Sheila must stay at the house. Naturally, the Forresters and Quinn push back, but Eric's no dummy. Eric seeks out an old family friend for a second opinion. Enter Sheila's ex/former shrink, Dr. James Warwick!

*Early Editions*
Sheila blackmails James to get what she wants from Eric.
Bill puts a dastardly plan in place to get rid of Spectra once and for all.

*Ratings for 7/17: ​2.5

Ian Buchanan returns on 8/17 as James Warwick, Sheila's other ex-husband.

*Hot Plots Preview - Liam And Bill's Showdown*
Now that Liam knows about Bill's lie regarding Caroline's health, he calls out his father and threatens to expose him. Bill does not react well to Liam's impudence. Bill takes the stand-off one step further when he tells Liam that if he does not support his father, he will be disinherited.

*1st Look*
Sheila gets her head examined by James.
Liam and Sally have a powwow at Spectra.

Eric gives Sheila an ultimatum that forces her to take extreme measures in order to coax him into changing his mind on 8/17.
Eric enlists the aid of old friend James Warwick to help with his current situation regarding Sheila on 8/18.

*What Will Happen*
Eric wrestles with what to do about Sheila.
Steffy warns Bill that Liam may push back.
Wyatt and Katie take things to the next level.
Sally makes an emotional appeal to Liam.
SOD 8/14/17
Liam And Steffy Spar Over Bill's Plan!
It appears the honeymoon may be over for newlyweds Liam and Steffy, as they find themselves on opposite sides after learning of Bill's latest machinations. Liam smells a rat after stumbling upon the "news" of Caroline's ill health and immediately confronts his father. Once Bill admits the truth, Liam fills in Steffy. However, when Liam queries his wife about what they should do about the situation, he's shocked when Steffy replies that they need to stay out of it. Steffy's okay with the situation, but her husband is most certainly not.

*Early Editions*
Bill makes a backup plan for an important acquisition.
Abe is called to assist in a health-related matter.

*Ratings for 7/10: ​2.5

Aaron D. Spears returns on 8/9 as Justin Barber, Bill's right-hand man.

*Hot Plots Preview - Wyatt And Katie Heat Up*
Despite her reluctance about dating her former stepson, Katie finds it nearly impossible to stave off temptation when it comes to Wyatt. Wyatt wants to take things public, but Katie is still hesitant, so they decide to not worry about the future and call what they have a "just for now" thing. However, when the duo gets frisky at the office, their secret affair is almost discovered!

*1st Look*
Sheila and Quinn get physical.
Thomas bonds with son Douglas.

Sheila vows to be the next Forrester matriarch on 8/8.
Carter reveals the secret that Eric has been keeping about Quinn on 8/9.
Eric advises Sheila regarding her future plans to live in Los Angeles on 8/14.

*What Will Happen*
Steffy gloats to Sally about Spectra's current predicament.
Justin tells Bill that his latest scheme has gone too far.
Liam and Steffy squabble about family matters.
SOD 8/7/17
Eric To Quinn: I Want A Divorce!
After disowning Ridge, Eric mulls his future. After some serious reflection, Eric calls Quinn and says he's coming home. Quinn is elated, but Eric throws Quinn an unexpected curveball! Carter comes to the door with divorce papers for her! Quinn is understandably shocked and devastated.

Ratings for 7/3: 2.5

*Early Editions*
A secret about Quinn and Eric's marriage is revealed.
Sheila vows to achieve an ambitious goal.

Marshal Adams appears on 8/3 and 8/4 as Beatrice.

Camelia Somers returns on 8/3 as Charlotte, Thomas's favorite Forrester Creations intern.

*Hot Plots Preview - Katie And Wyatt Kiss*
The magic of Monte Carlo casts its spell on Katie and Wyatt. Wyatt decides it's time to act on his feelings for Katie and kisses her. However, rather than move forward, a reluctant Katie pushes Wyatt away. Katie is concerned about what others might think, but Wyatt doesn't care about what other people think.

*1st Look*
Zende and Nicole take a happy stroll in Monte Carlo.
The doctor is in for Rick and Maya.

Bill holds the results as the world awaits word on who won the Spectra vs. Forrester fashion challenge in Monte Carlo on 7/31.
Zende is hurt when Nicole decides to skip out on a party celebrating his successful design debut on 8/1.
Katie fills Wyatt in on her suspicions regarding Maya and Zende's odd behavior on 8/2.

What Will Happen:
Quinn is thrilled when Eric says he's coming home.
One call from Caroline changes Thomas's life.
Steffy demands to know what Ridge's intentions are toward Quinn.
---
Don't forget to sign up for our CBS Soap scoops newsletter to get the latest news about the shows!
Our other pages for news, scoops, and spoilers: AMC, ATWT, AW, Days, GH, GH: Night Shift, GL, Loving/The City, OLTL, PC, Passions, Y&R, General Daytime, 24, Battlestar Galactica, Heroes, Jericho, Lost, Smallville, and Star Trek.
This page is dedicated to Hilary, our beloved late volunteer, who used to update the scoop pages.
Page updated 9/18/17
---