PLEASE CLICK TO DONATE TO OUR SITE!!!!
This is just an unofficial fan page, we have no connection to "Sunset Beach" or NBC.
PLEASE CLICK TO DONATE TO OUR SITE!!!!
Sunset Beach Cast Birthdays
We need more daytime recap/update writers, article writers, MS Frontpage and Web Expression users, graphics designers, and more, so please email us if you can help out! More volunteers always needed! Thanks!
Do you see a birthday missing? email it to us: webmasters@tvmegasite.net with the name, show, and birth date
ACTOR REAL NAME

Timothy Adams
CHARACTER

Casey Mitchum

BIRTHDATE

August 4, 1967
Jennifer Banko
Tiffany Thorne (#2)
November 8, 1978
Peter Barton (I)
Eddie Connors
July 19,1956
Shawn Batten
Sara Cummings (#2)
August 14
Sam Behrens
Gregory Richards/Tobias Richards
July 24,1950
Sarah Buxton
Anna Claire "Annie" Douglas-Richards
March 23
Krissy Carlson
Amy Neilsen
August 10, 1979
Christina Chambers
Maria Torres-Evans
October 24
Hank Cheyne
Ricardo Torres
August 13
Eddie Cibrian
Cole Deschanel (#2)
June 18, 1973
Lisa Coles
Francesca Vargas
April 8
Margarita Cordova
Madame Carmen Torres
February 26
Russell Curry
Dr. Tyus Robinson
August 28
Vanessa Dorman
Caitlin Richards-Deschanel (#1)
February 27, 1979
Lesley-Anne Down
Olivia Richards
March 17, 1954
Adrienne Frantz
Tiffany Thorne (#1)
June 7, 1978
Priscilla Garita
Gabriela "Gabi" Martinez Torres
March 15, 1974
Jason George (II)
Michael Bourne
February 9, 1972
Dax Griffin
Tim Truman
March 22, 1975
Cristi Harris
Emily Davis
December 3
Ashley Hamilton
Cole Deschanel (A.K.A. Cole St. John) (#1)
September 30, 1974
Kam Heskin
Caitlin Richards-Deschanel (#2)
May 5, 1975
Kelly Hu
Dr. Rae Chang
February 13, 1967
Dominique Jennings
Virginia Harrison
October 30
Sean Kanan
Jude Cavanaugh
November 2, 1966
Nick Kiriazis
Father Antonio Torres
June 9
Laura Herring
Paula Stevens
March 3, 1964
Steven Vincent Leigh
Wei-Lee Yung
?
Tracy Lindsey
Tess Marin
June 22
John Martin (V)
Hank Cummings
July 21
David Matthiessen
Leo Deschanel
April 11, 1976
Kathleen Noone
Bette Katzenkazrahi
January 8
V.P. Oliver
Jimmy Harrison (#1)
October 8
Chase Parker
Benjy Evans
April 22, 1994
Sydney Penny
Meg Cummings (#2)
August 7, 71
Carol Potter
Jean Cummings
May 21, 1948
Clive Robertson (I)
Ben Evans/Derek Evans
December 17, 1965
Sherri Saum
Vanessa Hart Bourne
October 1
Randy Spelling
Sean Richards
October 9, 1978
Nick Stabile
Mark Wolper
March 4, 1971
Michael Strickland
Brad Niklaus
June 8
Gordon Thomson
Armando "A.J." Deschanel
March 3, 1945
Susan Ward (I)
Meg Cummings-Evans (#1)
April 15, 1976
Jeffery Wood
Jimmy Harrison (#2)
?
Lauren Woodland
Sara Cummings (#1)
(Note: Now on Y&R as Brittany Hodges)
?
Leigh Taylor-Young
Elaine Stevens
January 25, 1944
John Reilly (I)
Del Douglas
November 11, 1936
Lucinda Lewis
Ally
April 28
Barbara Luna
Sydney
March 2, 1939
Kelli McCarty
Alma Rodriguez
February 22
Barbara Mandrell
Alexandra Mitchum
December 25, 1948
Joyce Guy
Mrs. Moreau
?
Bonnie Hellman
Nurse Stacey Krakowski
?
J. Karen Thomas
Jada
?
Sandra Ferguson
Jade Sheridan
March 23, 1967
Elizabeth Alley
Melinda Fall
?
Constance Towers
Julianna Deschanel
(Note: Now Helena On General Hospital)
May 20, 1933
Andre Khabbazi
Officer Oscar Ruiz
January 15
Susan Seaforth Hayes
Patricia Steele
July 11, 1943
Darla Haun
Connie
November 10
Jessica Tuck
Diane Wood
February 19, 1963
Mariann Aalda
Lena Hart (#2)
?
Denise Alexander (I)
Sister Beatrice
November 11, 1939
Lillian Lehman
Lena Hart (#1)
February 12
Ana Auther
Dr. Luisa Estrada
?
Henry Gibson
Wayne Landry
September 21, 1935
Samantha Becker
Elizabeth
October 25, 1979
George Cheung
Mr. Chang
?
E.E. Bell
Morgue Attendant
December 27, 1955
George Palermo
Jake
March 16, 1967
Renée Graham
Claudette
?
Ann Gillespie
Shelley Thomas
?
Ali Landry
Kenzie
July 21, 1973
Brenda James
Kelly
?
Leeza Gibbons
Herself
March 26, 1957
Terry Davis (I)
Hillary Nichols
July 23, 1951
Jean Carol (I)
Florence Kennedy
April 13
Scott Layne
Hit Man
?
Margaret Scarborough
Tess Montgomery
?
Michael Fairman
Archbishop
February 25, 1934
David Andriole
Officer Spencer
?
Jim Storm
Charles Lakin
?
Thyme Lewis
Pete Valente
?
Brett Stimely
Joshua Sloane
?
Michael Sabatino
Phillip Vargas
June 25, 1955
Ramsay Midwood
Ralph Myers
?
Michael Melvin (I)
Captain Grogan
?
Billy Blanks
Himself, Gung-Ho Trainer
?
Brian Patrick Clarke
Congressman Robert "Bob" Blythe
?
Mushond Lee
Jamahl "JoJo Grimes" Muhammad
?
Don Amendolia
Albert Xavier "Big Al" Kennedy
?
Nunei Harrington
Ellen Blake
?
Kathryn Daley
Dr. Alison McRae
?
Mark Collier (III)
Bartender
?
Mark Davis (VII)
Russ
?
Gerard Christopher Dinome
Dr. Carl Brock
?
Tony Ayer
Mugger
?
Christopher Halsted
Gerard
?
Mark Burnham (I)
Claude (2/98)
?
David Chisum
Bret
?
Bernie Kopell
Captain Nelson
June 21, 1933
Cynthia Garrett
Cynthia, VH1 Host
?
Jim Hanks
Voice of Spike the dog
?
Joey Dedio
Voice of Baby Trey
?
Al Chaek
Voice of God
?
Carlos Bernard
Intern
October 12
Cris Borgnine
Police Patrolman
?
Katherine D'Armond
Nurse Helen
?
Giselle Fernandez
Reporter
May 15,1961
Lynn Hamilton
Selita Jones
?
Michael H. Moss
Hal (as Michael Moss)
?
Chris Olivero
Jake
?
Mark Ritter
Bernie Neilsen
?
Lise Simms
Nurse Kathy Baker
?
Victor Webster
Roger
February 7, 1973
Most of this Info from Internet Movie Database
Other Birthday Lists: All My Children, Another World, As the World Turns, Bold & Beautiful, The City/Loving, Days of Our Lives, General Hospital, GH: Night Shift, Guiding Light, One Life to Live, Passions, Port Charles, Young & the Restless, 24, 30 Rock, Alias, Almost Human, American Gothic, Angel, Arrow, Babylon 5, Battlestar Galactica, Beauty & The Beast, Being Human, Big Bang Theory, Blackadder, Bones, Boston Legal, Buffy the Vampire Slayer, Castle, Charmed, Covert Affairs, CSI, Curb Your Enthusiasm, Dawson's Creek, Drew Carey Show, Earth 2, Eerie Indiana, Fawlty Towers, Ghost Whisperer, Gotham, Grey's Anatomy, Grosse Pointe, Haven, Herman's Head, Heroes, Hi Honey I'm Home, Hollywood Heights, Howard Stern Show, House, Jericho, Larry Sanders Show, Law & Order, Lois and Clark, Lost, Mad About You, Mork & Mindy, The O.C., Pacific Palisades, Police Squad!, Red Dwarf, Remington Steele, Savannah, Sledgehammer, Smallville, Space: 1999, Star Trek, True Blood, TV Nation and Vampire Diaries.
Back to the Main Sunset Beach Page
---
---
Buy Soap Magazines
Go here for great news & scoops, photos and in-depth articles!
Soap Opera Digest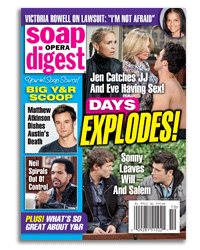 ---
---