PLEASE CLICK TO DONATE TO OUR SITE!!!!
Passions Rumors and Predictions
We need more daytime recap/update writers, article writers, MS Frontpage and Web Expression users, graphics designers, and more, so please email us if you can help out! More volunteers always needed! Thanks!
---
By Michele and Cheryl 11/20/07
Little Ethan will be a match for Jonathan.

Fancy or Sheridan will be pregnant.

Esme's stalker will be Viki.

Noah and Fancy will get closer after they kiss.

Tabitha and Endora will reunite again, but this time it won't be briefly.

Alistair will move Marty away again.

Beth will end up being "Chance."
By Michele and Cheryl 9/8/07
Grace will come between Sam and Ivy.

Sheridan and Luis will grow closer while they are looking for Marty.

Fancy will be pregnant just as Sheridan and Luis get closer.

Alistair will force Theresa not to tell Ethan about little Ethan.

Pretty will tell Fancy what Alistair did to her.
By Michele and Cheryl 4/8/07
Theresa will be pregnant and not know who the father is.

Alistair will return to Harmony.

Sheridan will help Luis escape from prison.

Gwen will come back to Harmony with a new man.

Luis and Sheridan will be reunited with Marty.

The blackmailer will be why Evian will reunite.
By Ally 4/4/07
I think since the show is all but kaput anyway, they'll punch out all the boundaries and all the rules and go for broke. I would not be surprised if the he/she is some grotesquely morphed combination of blown up Al and blown up Beth. When else can they do something so (YUCK) bizarre. I also think they will wait until the last freaking moment to allow Theresa and Ethan their happily ever after.
2003 Predictions | 2004 Predictions | 2005 Predictions | 2006 Predictions
Back to the Main Passions Page
---
---
Buy Soap Magazines
Go here for great news & scoops, photos and in-depth articles!
Soap Opera Digest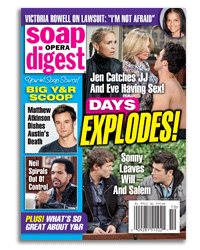 ---
---