PLEASE CLICK TO DONATE TO OUR SITE!!!!
This is just an unofficial fan page, we have no connection to "Passions" or NBC.
PLEASE CLICK TO DONATE TO OUR SITE!!!!
Passions Cast List
We need more daytime recap/update writers, article writers, MS Frontpage and Web Expression users, graphics designers, and more, so please email us if you can help out! More volunteers always needed! Thanks!
---
Character

Actor

Norma Bates*
Marianne Muellerleile
Noah Bennett
Dylan Fergus
Jessica Bennett*
Danica Stewart
Sam Bennett
James Hyde
Christopher Boothe*
Adrian Wilson
James Boothe*
Seth Stern
Sheridan Crane Boothe
McKenzie Westmore
Vincent Clarkson* /
Valerie Davis*
Phillip Jeanmarie /
Daphnée Duplaix Samuel
Alistair Crane*
John Reilly
Ethan Crane (Little Ethan)*
Colton Shires*
Fancy Crane
Emily Harper
Julian Crane
Ben Masters
Kay Bennett Crane
Heidi Mueller
Pretty Crane
Melinda Sward
Gwen Hotchkiss
Liza Huber
Rebecca Hotchkiss Crane*
Andrea Evans
Theresa Lopez-Fitzgerald Crane
Lindsay Hartley
Endora Lenox*
Nicole Cox
Tabitha Lenox
Juliet Mills
Herbert (Spike) Lester*
Christopher Maleki
Father Lonigan*
Bruce French*
Luis Lopez-Fitzgerald
Galen Gering
Maria Lopez-Fitzgerald*
Abby and Emma McCoy
Marty Lopez-Fitzgerald*
Daniel Chalfa
Miguel Lopez-Fitzgerald
Blair Redford
Paloma Lopez-Fitzgerald
Hannia Guillen
Pilar Lopez-Fitzgerald
Eva Tamargo
Roberto*
Jean Paul San Pedro
Eve Russell
Tracey Ross
Simone Russell*
To Be Announced*
T.C. Russell*
Rodney Van Johnson
Esmé Vanderheusen
Erin Cardillo
Viki Vanderheusen*
Amy Castle
Edna Wallace*
Kathleen Noone*
Ethan Winthrop
Eric Martsolf
Ivy Winthrop
Kim Johnston-Ulrich
Jane Winthrop*
Camille and Kate Schwary
Jonathan Winthrop*
Jack Ecker and Nathan Ecker
*recurring **guest
If you know of any cast members who are not here, please let us know!
---
Most of this Info from Internet Movie Database
Back to the Main Passions Page
---
---
Buy Soap Magazines
Go here for great news & scoops, photos and in-depth articles!
Soap Opera Digest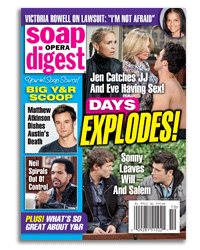 ---
---