PLEASE CLICK TO DONATE TO OUR SITE!!!!
This is just an unofficial fan page, we have no connection to "Sunset Beach" or NBC.
PLEASE CLICK TO DONATE TO OUR SITE!!!!
Sunset Beach Appearances
We need more daytime recap/update writers, article writers, MS Frontpage and Web Expression users, graphics designers, and more, so please email us if you can help out! More volunteers always needed! Thanks!
See what your favorite Sunset Beach actors are up to now!
---
Kelly Hu (Rae) guest-stars on "The Orville" 6/24 on HULU.
---
Eddie Cibrian (Cole) stars in a new Netflix series, "Country Comfort."
---
Sam Behrens (Gregory) is working on 2 new movies.
---
Aaron D. Spears (Officer Washington) appears in the new movie, "White People Money." He has a few others coming out as well.
---
Sherri Saum (Vanessa) has recurring roles on "Grey's Anatomy" on ABC and "Good Trouble" on Freeform.
---
Finola Hughes (Helena) stars as Anna Devane on "General Hospital" weekdays on ABC.
---
Lisa Guerrero (Francesca) is married to Minnesota Twins pitcher Scott Erickson. She is currently the Chief Investigative Correspondent for "Inside Edition," working on undercover stories and investigative reports. She stars in the movie "Superheroes: The Movie."
---
Jessica Tuck (Diane) stars in "For All Mankind" on AppleTV+.
---
Susan Seaforth Hayes

(Detective Patricia Steele) plays Julie on "Days of Our Lives" on NBC.
---
Lesley-Anne Down (Olivia) has 3 movies coming out.
---
Sean Kanan

(Jude) has a few movies coming out and is working on a new series.
---
Jack Wagner

(Jacques) appears in the series "When Calls the Heart" on the Hallmark Channel. He stars in the Hallmark movie "Sealed with a Kiss: Wedding March 6" which premieres August 14.
---
Tracy Melchior

(Tess) sometimes appears on "The Bold & Beautiful" as Kristen. She has a new film, "The Runner."
---
Carol Potter has completed the movie, "Donny's Bar Mitzvah."
---
Jason George (Michael) plays Dr. Ben Warren on "Grey's Anatomy" and in a spinoff series, "Station 19," both on ABC.
---
Randy Spelling (Sean) has completed the movie, "Cosmic Radio."
---
Victor Webster (Roger) appears in "Motherland: Fort Salem" on Freeform.
---
Adrienne Frantz (Tiffany) has 3 movies coming out.
---
LIVE APPEARANCES
---
2021
---
See many appearances for Finola Hughes (Helena) on our GH Appearances Page

!
---
---
Check out our other Daytime appearances pages for AMC TV, AMC Live, ATWT, AW, B&B, Days, Days Live, GH, GH Live, GL, Loving/The City, OLTL, Passions, PC, & Y&R.
Sign a petition to bring back the show!
Check out all our other TV appearances pages!
Look at all of the great shows we cover!
Back to the Main Sunset Beach Page
---
---
Buy Soap Magazines
Go here for great news & scoops, photos and in-depth articles!
Soap Opera Digest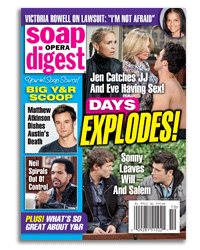 ---
---