PLEASE CLICK TO DONATE TO OUR SITE!!!!
One Life to Live Best Lines
We need more daytime recap/update writers, article writers, MS FrontPage and Web Expression users, graphics designers, and more, so please email us if you can help out! More volunteers always needed! Thanks!
Watch Full OLTL Episodes Online at Hulu.com.
Our favorite quotes from each day!
OLTL's first season on TOLN ended on Monday, August 19. It is not known when it will resume.
Beginning on Monday, July 15, the first 40 episodes of the online OLTL air at 1:30 p.m. ET, Monday - Thursday, on OWN, Oprah Winfrey's cable channel.
---
Set in Llanview, Pennsylvania, OLTL premiered on July 15, 1968, on ABC. It last aired on ABC on January 13, 2012. Prospect Park aired 40 new episodes online at Hulu.com from April 29, 2013 to August 19, 2013.
Check out our Daily OLTL Transcripts! | Daily Short Recaps | OLTL Updates
Other Favorite Quotes and Best Lines
We do value any comments, suggestions, etc., so e-mail us any time. Please come back soon.
---
Buy Soap Magazines
Go here for great news & scoops, photos and in-depth articles!
Soap Opera Digest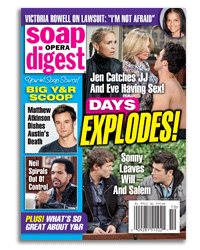 ---