PLEASE CLICK TO DONATE TO OUR SITE!!!!
One Life to Live Fan Events
We need more daytime recap/update writers, article writers, MS Frontpage and Web Expression users, graphics designers, and more, so please email us if you can help out! More volunteers always needed! Thanks!
Nikky's pics of Kristen Alderson after her off-Broadway show, "The Marvelouse Wonderettes."
Check out our photos of some past OLTL stars, now on GH, at the 2017 GH Fan Club Weekend! Includes James DePaiva, Michael Easton and more.
Check it out - Photos by Norma (including Some OLTL stars)!
2007 ABC Super Soap Weekend pics!
Check out Ron's Pics! Tons of daytime and primetime photos!
Super Soap Weekend 2003 by Karyl Description and Pictures!
2003-2006 Soap Soap pics from Sarah
More OLTL SSW Pics 2003 From Joy
Our Other Fan Events pages: General Hospital, All My Children, The Young and the Restless, As The World Turns, and Daytime Event Pictures.
---
Buy Soap Magazines
Go here for great news & scoops, photos and in-depth articles!
Soap Opera Digest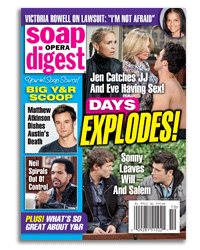 ---