PLEASE CLICK TO DONATE TO OUR SITE!!!!
This is just an unofficial fan page, we have no connection to "One Life to Live" or ABC.
PLEASE CLICK TO DONATE TO OUR SITE!!!!
One Life to Live Autographs
We need more daytime recap/update writers, article writers, MS Frontpage and Web Expression users, graphics designers, and more, so please email us if you can help out! More volunteers always needed! Thanks!
---
Do you have an autograph of any OLTL stars that you would like to share with other fans? Email us! You will be credited for your photo if we put it on our pages. Here are OLTL autographs that we've obtained through the years. With this page we hope to encourage other fans to write to their favorite actor or actress.
To send POSTCARDS or LETTERS to your favorite ABC stars or request autographed photos, please write to the production company for the show. Please send all requests for photographs and signatures directly to the production company. All letters are inspected so they will take longer than sending postcards or emails.
Connecticut Film Center
One Life to Live Prospect Park
ATTN: actor's name/OLTL
300 Stillwater Avenue
Stamford, CT 06902
---
From Sean Johnson:
Danielle Harris (ex-Samantha)
From Carol
From Danielle
From Megan
From Suzanne
From Amanda
From Marieke
From Cheryl (she got these in the mail)
From Nikki
From Annmarie
From Nikki
Check out our other autographed pictures for ATWT, AW, AMC, B&B, City/Loving, Days, GH, GL, PC, Passions, Sunset Beach, Y&R, and primetime
---
Buy Soap Magazines
Go here for great news & scoops, photos and in-depth articles!
Soap Opera Digest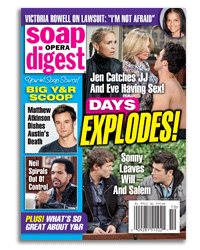 ---