| | |
| --- | --- |
| | This site is not affiliated with TOLN, ABC, One Life to Live, or any soaps. We're just fans like you! We love to hear from you about our pages or the soaps, but please don't email us as if we know the actors or writers (because we don't!). Thanks! |
Visit our popular ABC Soaps Forum!
---
Stay tuned here for news of One Life to Live
Set in Llanview, Pennsylvania, OLTL premiered on July 15, 1968, on ABC.
OLTL last aired on ABC on January 13, 2012 after 43-1/2 years on the air.
Prospect Park aired 40 new episodes online at Hulu.com from April 29, 2013 to August 19, 2013.
You can watch the online versions of AMC and OLTL on iTunes/Apple!
Great exclusive Photos from 2015 San Diego Comic-Con of Brandon Routh (ex-Seth) for his new show "Legends of Tomorrow" on the CW!
Check out new OLTL fan fiction!
Vote for your favorite daytime and primetime actors in this weekly poll - it includes Roger Howarth, Michael Easton, Kristen Alderson and many others! See the results on their Twitter feed.
Petition to save AMC and OLTL!
Get all the latest up-to-date cast news, comings and goings, on the OLTL Cast Page.
Watch One Life to Live Video Clips on YouTube!
Don't forget to sign up for our ABC Soaps scoops newsletters to get the latest news about OLTL and other shows!
If you would like to volunteer to run this section, or write OLTL puzzles, fan fiction, top ten lists, opinion articles, or other content for our site. please email us We are looking for people to write Please email us!
---
---
Buy Soap Magazines
Go here for great news & scoops, photos and in-depth articles!
Soap Opera Digest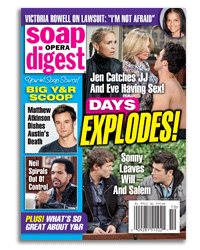 ---
How to Email and subscribe to Soap Opera Digest!
Robin Strasser (Dorian) has a hotline you can call to hear a message from her! 212-414-5300