PLEASE CLICK TO DONATE TO OUR SITE!!!!
This is just an unofficial fan page, we have no connection to "Passions" or NBC.
PLEASE CLICK TO DONATE TO OUR SITE!!!!
Passions Archived Updates
We need more daytime recap/update writers, article writers, MS Frontpage and Web Expression users, graphics designers, and more, so please email us if you can help out! More volunteers always needed! Thanks!
---
Please don't email us if we're late with updates. However, we do value any other comments, suggestions, etc. We do this for fun so please don't bug us about not being that timely! Please come back soon….
If we're missing updates or you are impatient, you can get them at The NBC Passions Page, TV Guide Online, Soapcentral, SoapNet, or Soapdom.
Interested in helping us out with the soaps? Please email us if you would like to be a volunteer updater. We desperately need some more people to write a few days a week for various soaps. Also we're looking for people to write fan fiction. Thanks!
Provided by Drew

Daytime manager: Gisele
---
Older Updates
1999 | 2000 | 2001 | 2002 | 2003 | 2004 | 2005 | 2006 | 2007 | 2008
---
Our other updates: All My Children, As The World Turns, Bold and the Beautiful, Days of Our Lives, General Hospital, Guiding Light, One Life to Live, Port Charles, and Young and the Restless.
Daily Passions Transcripts | Daily short recaps | Passions Best Lines
Back to the Main Passions Page
---
---
Buy Soap Magazines
Go here for great news & scoops, photos and in-depth articles!
Soap Opera Digest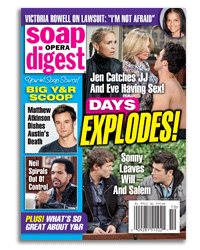 ---
---