PLEASE CLICK TO DONATE TO OUR SITE!!!!
This is just an unofficial fan page, we have no connection to "Passions" or NBC.
PLEASE CLICK TO DONATE TO OUR SITE!!!!
Passions Countdowns
We need more daytime recap/update writers, article writers, MS Frontpage and Web Expression users, graphics designers, and more, so please email us if you can help out! More volunteers always needed! Thanks!
---
Countdowns by Michele and Cheryl
This is a weekly countdown. We will be keeping track of how many times things happened during each episode. Anyone who watches Passions knows that the characters have a tendency to do things over and over again so we wanted to try and count them up.
2002 | 2003 | 2004 | 2005 | 2006 | 2007
Back to the Main Passions Page
---
---
Buy Soap Magazines
Go here for great news & scoops, photos and in-depth articles!
Soap Opera Digest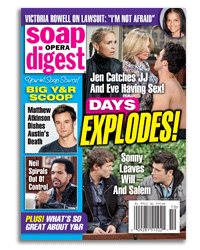 ---
---