PLEASE CLICK TO DONATE TO OUR SITE!!!!
This is just an unofficial fan page, we have no connection to "Passions" or NBC.
PLEASE CLICK TO DONATE TO OUR SITE!!!!
Passions Contact Info!
We need more daytime recap/update writers, article writers, MS Frontpage and Web Expression users, graphics designers, and more, so please email us if you can help out! More volunteers always needed! Thanks!
---
Write to your favorite Passions actor or writer
actor's name - Passions
c/o NBC 4024 Radford Ave.
Studio City, CA 91604
To write NBC:
Viewer Relations
30 Rockefeller Plaza
New York, NY 10112
nbcshows@nbc.com
Since the show is now canceled, we don't know if they will forward your letters or emails to the actors or not.
FYI: Actors are very busy people. Some of them answer or send autographs, and some just don't. It could take weeks, months, or years for them to answer, or you may get no reply at all.
---
Other Daytime Address Pages: AMC, ATWT, B&B, Days, GH, GL, OLTL, PC,.& Y&R.
Back to the Main Passions Page
---
---
Buy Soap Magazines
Go here for great news & scoops, photos and in-depth articles!
Soap Opera Digest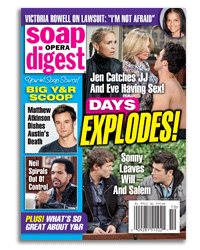 ---
---