PLEASE CLICK TO DONATE TO OUR SITE!!!!
This is just an unofficial fan page, we have no connection to "One Life to Live" or ABC.
PLEASE CLICK TO DONATE TO OUR SITE!!!!
One Life to Live Fan Fiction
"Mystery Man" Pt.3/4


Written by : Willy
Scene 1 : We focus on Dr. Maria Santos, knocking at the hotel room of #22. The person behind the door is none other than Dr. David Hayward.

"Maria, why are you at my hotel room so unexpectedly?!" He demands, curious.

"I need your help. My migraines have begun again. I keep having nightmarish visions of my ex-husband Edmund being alive... " she hints.

David sighs. "It's not a nightmare, he's alive. Go make yourself more presentable, and I will take you to go see him later this afternoon !" he reveals.

She's stunned, shocked, and then immediately embraces him as she vows to return later.

To Be Concluded.
Back to the Main OLTL Fan Fiction Page
---
Buy Soap Magazines
Go here for great news & scoops, photos and in-depth articles!
Soap Opera Digest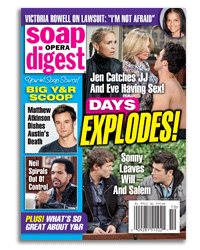 ---