PLEASE CLICK TO DONATE TO OUR SITE!!!!
One Life to Live Fan Fiction
The Thornharts Return
Chapter Three
By Alisa Blevins
Proofread by Iram
At the Waterfront Inn, several Cherryvale police officers were milling about the motel room that Marty Saybrooke/Thornhart had rented, writing reports and looking for clues as to where she might have disappeared. Bo Buchanan was in a corner of the room speaking to an officer about the case.
"I'd like to assist in the search if you don't mind, Constable Crain." Bo was saying. "I know it's out of my jurisdiction, but I am close to this case….Mrs. Thornhart and her husband and I go way back. They're like family to me." He finished.
The burly, middle-aged Constable replied. "I don't think there would be any harm in it Commissioner Buchanan. Besides, we could use the help." He replied with a friendly smile.
"Thanks. I appreciate it." Bo said, shaking the Constable's hand.
At that the Constable, and his officers began briefing Bo on how and where they would be searching for Marty.
Meanwhile, at an airport some 30 miles away, Patrick Thornhart stepped off of an airplane that had just arrived from Ireland. He retrieved the meager luggage he had hastily packed, and went to the airport car rental service. An hour later, Patrick was on the road, headed to the Waterfront Inn in Cherryvale, where Bo had told him he would be.
The weather had begun to turn cold and a bit rainy, and Patrick had to keep reminding himself to slow down and drive carefully. He would be of no use to Marty if he was injured in an automobile accident. The drive seemed to take forever, and Patrick tried to occupy his mind with happier thoughts; thoughts of when he and Marty first met; thoughts of the day their daughter had been born; thoughts of how lucky a man he was to have both Marty and Penny. As he thought of these wonderful things, Patrick relaxed a bit.
As he rounded a bend in the road, there was a stalled car in Patrick's pathway. Another car was coming from the other direction. Patrick tried to brake, but with the cold, rainy weather, the road was slick, and Patrick's rental car skidded of control. Narrowly missing the stalled car, Patrick's rental car left the roadway, dropped down the edge of a steep embankment, and landed on it's side. Patrick lay unconscious with blood trickling down his forehead where he had hit his head.
Some time passed, and as Patrick began to regain consciousness, his head throbbing from the blow he had received, he felt himself being removed from the vehicle. He then found himself lying on the damp ground, trying to focus on the face above him.
"Well, Irish…long time no see, eh?"
The voice was familiar. Patrick again tried to focus on the face. He looked up and recognition washed over him.
Waving a little wave, Todd Manning smiled with a hint of sardonic sarcasm on his face.
Patrick groaned and lay his head back on the ground.
Marty sat still tethered to her chair in the sparsely lit room she had been kept captive in. She had tried to loosen herself from her binds, but to no avail. They were far too tight. The circulation was leaving her hands. "What am I going to do?" She thought to herself. "There has to be a way out of here..there HAS to be."
Will Bo and the Cherryvale police be able to find Marty? Will Patrick make it to Cherryvale, after his accident, and now in the company of his mortal enemy, Todd Manning? Come back next week and find out!
Chapter 1 | Chapter 2 | Chapter 3 | Chapter 4 | Chapter 5 | Chapter 6 | Chapter 7 | Chapter 8 | Chapter 9
Back to the Main OLTL Fan Fiction Page
---
Buy Soap Magazines
Go here for great news & scoops, photos and in-depth articles!
Soap Opera Digest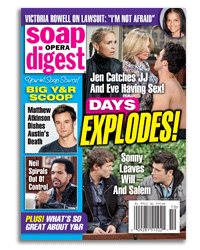 ---