PLEASE CLICK TO DONATE TO OUR SITE!!!!
One Life to Live Fan Fiction
The Thornharts Return
Chapter Eight
By Alisa Blevins
Proofread by Iram
Bo and Hank paced the floor of the small waiting room outside the emergency room of the Llanview Hospital, waiting for news about Nora.
"Hank, I can't believe this is happening! I mean…just a few days ago, my life was perfectly normal…and then…Marty shows up out of the blue…I find out that her daughter needs a kidney transplant, or she'll die….then Marty gets kidnapped….by Carlo Hesser, who up to this point, was thought to be dead….and now this…now Nora…" Bo began, and then couldn't continue on.
Hank approached his friend and put his hand on Bo's shoulder to comfort him. "Bo, I know you've had a lot happen lately, but you gotta be strong…for Nora." He said.
"You're right Hank..you're right." Bo said, trying to compose himself.
At that moment, Dr. Larry Wallock stepped into the room.
"Bo…Hank….." he started.
"Larry how is she? Is she ok?" Bo quickly asked before Larry could finish his sentence.
Larry laughed at Bo's excitement… "She's gonna be ok Bo….just a few cuts and bruises, but I want to keep her overnight for observation, to make sure she doesn't have a concution." Larry finished.
"Can I see her?" Bo asked.
"Sure, but only for a minute…she needs to get some rest" Larry replied, as he escorted Bo to Nora's bed in the emergency room, with Hank following quietly behind.
Hank stood outside the door, allowing Bo and Nora some privacy.
"I have a visitor for you Nora, if you're up to it." Larry announced.
Nora opened her eyes, and they lit up as they saw Bo standing there.
"Bo." She said.
"How ya doin' Red?" Bo asked with mock cheerfulness.
"Well, I've seen better days, but Larry says I'm gonna be ok Bo." Nora replied, as she attempted to smile.
"I'll leave you two alone now. Remember Bo, just a few minutes." Larry warned, as he left the room.
Bo smiled at the sight of Nora alive…barely able to keep the tears from his eyes.
"Bo…..what about…..what about Patrick and Marty? Did they get out ok?" Nora asked quietly.
Bo looked down at his fidgeting hands….then up at Nora. This time the tears were clearly visible as he struggled to speak. "Nora…..the firemen…they got the blaze out…and they searched everywhere. They only found the remains of a bomb…nothing more. They said no one could possibly have survived that blast from inside…..I'm sorry."
"Oh, Bo." Nora said, breaking into tears. The two embraced one another as Hank looked through the glass. "We really lost them this time Bo." Nora said as she held her husband tightly.
Meanwhile, a limousine traveling hundreds of miles away, and getting further and further away from Llanview cruised down the highway. It's windows were tinted black. The back passenger window slowly came down, and Carlo Hesser looked out with a smile.
"Ah…at long last. A world free of PATRICK THORNHART!" and with that Carlo laughed a sinister laugh, as he rolled the window up and the limousine continued to move out of sight.
What will happen to Penny Thornhart now that both her parents have suddenly been snatched from her young life? Will she survive her operation? And if so, who will take care of her then? Come back to this site next week to find out, in "A Penny For Your Thoughts".
Chapter 1 | Chapter 2 | Chapter 3 | Chapter 4 | Chapter 5 | Chapter 6 | Chapter 7 | Chapter 8 | Chapter 9
Back to the Main OLTL Fan Fiction Page
---
Buy Soap Magazines
Go here for great news & scoops, photos and in-depth articles!
Soap Opera Digest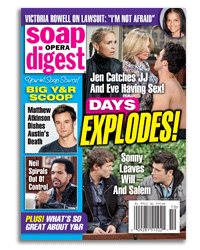 ---