PLEASE CLICK TO DONATE TO OUR SITE!!!!
This is just an unofficial fan page, we have no connection to "One Life to Live" or ABC.
PLEASE CLICK TO DONATE TO OUR SITE!!!!
One Life to Live Fan Fiction
"Mystery Man" Pt.2/4


Written by : Willy
Scene : Llanview Park
Its a beautiful afternoon, as we see Bo Buchanan sit on a bench oblivious to those around him.

Doctor Maria Santos from Pine Valley appears.

"Maria, i thought i wasn't supposed to meet with you till later this afternoon," states Bo.

She sits next to him, while her black hair waves back & forth amid the wind.

"Its about your brother, Clint is in the hospital, he was reporting shaky hands in public."she hints.
___________

Scene 2 : Natalie's Home
Detective Rex Balsom surprises his sister Natalie.

"Oh hey Rex, feel free to dig into the fridge for lunch.

I am waiting for something very important to arrive in the mail," she teases.

He gives a raised eye brow look.

"Natalie, what on earth are you hiding ?!"he demands

She assures him its nothing bad.

"Chill already,
its not what you think.

I applied to become a medical specialist from home.

Its been really slow over at the station."she states.

Rex hugs her.

"Its all going to work itself out.

She notices a picture fall out of his jean pockets.

He gets nervous, as she makes a puzzling expression that gives him pause..

"What is it?!" he demands.

"I know that guy, I seen him before a few days ago around here working on a few apartments."she reveals.

Rex immediately thanks her while calling Bo who isnt answering..

To Be Continued..
Back to the Main OLTL Fan Fiction Page
---
Buy Soap Magazines
Go here for great news & scoops, photos and in-depth articles!
Soap Opera Digest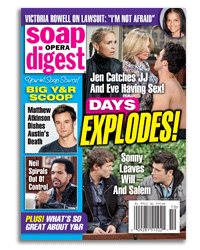 ---