PLEASE CLICK TO DONATE TO OUR SITE!!!!
One Life to Live Fan Fiction
The Thornharts Return
Chapter Five
By Alisa Blevins
Proofread by Iram
Bo Buchanan and Marty Saybrooke/Thornhart arrived at the Waterfront Inn shortly after Marty was rescued by Bo. The local police veritably swarmed Marty when they saw her and Bo walk through in. They took Marty to the Cherryvale Hospital to be evaluated, and Bo followed in his own car. Upon arrival, Marty immediately asked about Penny. Although she was assured that Penny was fine and resting in her room, Marty insisted on visiting her before allowing the doctors to check her. When the doctors finally relented, Marty entered Penny's room, as Bo quietly stayed at the door.
When Marty entered, Penny opened her eyes.
"Mommy! Where were you, Mommy? I missed you." Penny told Marty, with a slight pout.
Marty tried to hold back her tears at the sight of her daughter. "Mommy is here now honey, and I missed YOU. I would have been here sooner, but I was…held up on business" Marty fibbed as she brushed back her daughters honey-colored curls. "I'm so sorry I wasn't here sooner."
Penny's pout turned to a smile as she quickly forgave her mother. Her little arms went around Marty's neck, and hugged her tightly. Marty hugged her daughter back, and Penny giggled "Ow Mommy, that hurts."
Marty finally released her daughter and smiled down at her. "I'm sorry honey, it's just that I'm so glad to see you. I love you very much you know."
"I love you too, Mommy." Penny answered, as she lay back on her pillow. She then cuddled up to the teddy bear she had been holding, and drifted off to sleep as Marty smoothed her hair.
Bo had silently slipped away, and down the hall to speak with Constable Crain in the hospital waiting room.
"My officers found a rental car on Route 7 that had gone over a steep embankment. No one was found at the scene, however there were footprints left in the mud. Some blood too. It appears that whoever was involved in the accident, was taken by car by another person. We've checked all the local hospitals, however no one has had any accident victims come in. The wrecked vehicle was rented by a Shawn Ryan." Constable Crain told Bo, consulting his notes as he spoke. "Mr. Ryan arrived on the 503 from Ireland."
"Think this can be your man Commissioner?" Constable Crain asked Bo.
"Yeah, I think that's probably Patrick. He probably used an alias." Bo began rubbing his temples. "I don't want Mrs. Thornhart to know about this just yet; it'd be too upsetting, and she's been through enough already." Bo told the Constable. "She has no idea that Patrick was coming."
"Of course Commissioner." Constable Crain agreed.
Just then Marty came down the hall and approached Bo.
"How's Penny doing?" Bo asked Marty as he rose and put on a smile for her.
"She's doing fine." Marty replied smiling "She fell asleep holding her bear."
"Well, now that you know she's ok, let's get you in there and make sure that YOU'RE ok." Bo told Marty.
"I'm fine, really, Bo…" Marty started to protest, but seeing that Bo meant business, she simply sighed, and resigned, allowing Bo to lead her to the examining room.
Meanwhile, Todd Manning pulled his car into a small half circle drive behind a grand mansion, located in a rural area miles from Cherryvale and any other form of civilization. Todd exited his car, went around to the passengers side, opened the door, and slung the unconscious body of Patrick Thornhart, over his shoulder. With careful maneuvering, he managed to make it to the back door of the mansion, where he rang the bell. Seconds later a butler appeared at the door. Without words, the butler took one of Patrick's arms, and Todd took the other, and they half carried; half dragged Patrick's body to a room off of the kitchen through which they had entered. They placed Patrick on the bed in the room, and Todd then collapsed in a nearby chair, panting, as the butler attempted to make Patrick comfortable.
"Forget about him." Todd barked. "I need a drink! They must feed those Irish real good over there." Todd complained, rubbing his shoulder. At this the butler exited to do Todd's bidding.
Shortly afterwards, Carlo Hesser entered the room, and sat a chair adjacent from the one Todd was sitting in. "Well done Mr. Manning.." Carlo said with a smile, as he stared at the unconscious form of Patrick. "Rendering him unconscious wasn't necessary, but I'm glad you held up your end of the bargain." Carlo finished.
"Oh, that. That was just a bonus." Todd replied. "I tailed him from the airport, and the dumb guy went off an embankment. Guess he was in too big a hurry to get to his precious Marty." Todd said off-handedly.
"Ah yes, I understand from one of my men that Mrs. Thornhart was "saved" by Commissioner Buchanan, and rushed to the hospital." Carlo said with a devious grin.
The butler then entered the room; placed a tray with a decanter filled with liquor, and some glasses before Carlo and Todd; and left quietly.
Carlo poured drinks for himself and Todd, handed Todd his glass, and raised his in the air. "A toast! To revenge." Carlo grinned evilly, as Todd raised his glass, cocked his head sideways, and grinned back at Carlo.
"Yeah, ok..whatever; to revenge." Todd replied, as he and Carlo downed the alcohol.
Will Bo be able to keep the truth about Patrick's presence, and ultimate disappearance in America from Marty for long? What will he tell her? And now that Carlo has Patrick, what are his plans for him? Come back to this site next week to find out, in Part One of Carlo's Revenge.
Chapter 1 | Chapter 2 | Chapter 3 | Chapter 4 | Chapter 5 | Chapter 6 | Chapter 7 | Chapter 8 | Chapter 9
Back to the Main OLTL Fan Fiction Page
---
Buy Soap Magazines
Go here for great news & scoops, photos and in-depth articles!
Soap Opera Digest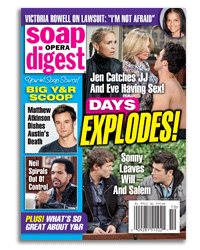 ---