PLEASE CLICK TO DONATE TO OUR SITE!!!!
One Life to Live Fan Fiction
The Thornharts Return
Chapter Nine
By Alisa Blevins
Proofread by Iram
A PENNY FOR YOUR THOUGHTS
Bo and Nora Buchanan sat in the waiting room, holding one another's hands nervously. Finally, after many hours of waiting, Dr. Larry Wolek emerged, clad in surgical garb.
"Larry, how is she? Did she make it through the surgery okay?" Nora questioned with urgency. "Nora, that is one strong little girl in there." Larry began. "Stronger than most children her age would have been after having undergone such an intricate surgery." Larry placed his hand tenderly on Nora's shoulder. " She's got a long road to travel in order to be sure if she'll take the kidney transplant completely, but under the circumstances, she's come through like a real trooper. The surgery went off without a hitch." He finished.
Nora let out a sigh and tears of relief welled in her eyes as she turned and held Bo tightly. Bo returned the hug with as much fervor.
"Thank you Larry. Thank you so much." Bo told the Dr., shaking his hand. Larry then turned to leave the couple alone.
For the next few months, Bo and Nora both accompanied Penny to and from the hospital for checkups and tests...they stayed with her when they could, and waited impatiently in the waiting room, when they couldn't be right with her. Penny was young enough that she was able to deal with the death of her parents much better than had she been older and able to remember them more. Months passed......then, one lovely spring day.....Nora and Bo Buchanan sat together on the park bench; Bo with his arm draped lovingly across Nora's shoulder. They both sat, smiling, and watched Penny Thornhart-Buchanan, who was now four years old; happily playing in a sand pile.
"Bo, she's so happy...and so am I. I can't believe we actually did it...we adopted Patrick and Marty's child." Nora said. "And I'll never regret it." "Neither will I, Nora..." Bo replied..."I just wish....I just wish it had never happened...to Patrick and Marty. I wish they hadn't had to die. But I know that they would have wanted us to adopt Penny...I know without any doubt that we did the right thing. And I'll never regret it either." Bo said as he smiled back at Nora.
"We've been so blessed, Bo." Nora said. At that, they hugged one another and got up to retrieve their adopted, and much loved child, and head for home to live.......happily ever after....or as happily ever after as one CAN live in Llanview, Pennsylvania.
~The End~
Chapter 1 | Chapter 2 | Chapter 3 | Chapter 4 | Chapter 5 | Chapter 6 | Chapter 7 | Chapter 8 | Chapter 9
Back to the Main OLTL Fan Fiction Page
---
Buy Soap Magazines
Go here for great news & scoops, photos and in-depth articles!
Soap Opera Digest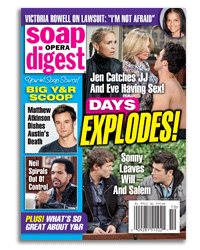 ---