PLEASE CLICK TO DONATE TO OUR SITE!!!!
This is just an unofficial fan page, we have no connection to "One Life to Live" or ABC.
PLEASE CLICK TO DONATE TO OUR SITE!!!!
One Life to Live Fan Fiction
Mystery Man
by Willy
Part 1
It's a beautiful summer afternoon as residents of Llanview, Pennsylvania, are getting ready for the Summer Festival.
Scene 1
Jessica Buchanan rushes to answer her door.
"Oh, my heavens, Joey Buchanan. (Channing Tatum) You are back home?! " asks Jessica excitedly.
Joey hugs his sister.
"I sure am. Let's get everything and hit the lake. What you say?" asks Joey.
"That sounds really fun, but I have a job I can't be late for. Why don't you tag along and meet my boss?" asks Jessica
Joey raises his eyebrow.
"I'm not even back in town for like a few nanoseconds & already playing matchmaker.
Sure, let's go then. We can grab lunch.
I missed you and, well, everybody!"
Scene 2
Private Investigator Rex Balsom is working with Bo Buchanan on a few places where a masked gunman could be hiding in town along with who he may be.
"We know the suspect has attacked three different women lately. He was last seen on this videotape given to me at home anonymously on my doorstep.
We need to catch this guy, Balsom!
It upsets me this crazy loon is running around hurting women in my town!" says Bo firmly.
Rex nods in agreement while eating his honey graham cracker & milk.
"I couldn't agree with you more, Boss. I am as determined as you are to get this guy. It doesn't sit well that he's masked either.
I had his last used vehicle tracked.
Look who it was bought by!" hints Rex.
Bo is seriously concerned.
"Grab your snacks, let's go find a culprit!" states Bo walking out the door.
Rex follows quickly behind.
To Be Continued..
Back to the Main OLTL Fan Fiction Page
---
Buy Soap Magazines
Go here for great news & scoops, photos and in-depth articles!
Soap Opera Digest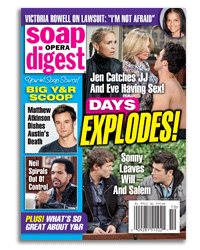 ---