PLEASE CLICK TO DONATE TO OUR SITE!!!!
One Life to Live Q&A
Getting to Know Melissa Archer (ex-Natalie)
By Laurie Bedigian
10/21/12
Former "One Life to Live" actress Melissa Archer (Natalie) appears alongside Tom Pelphrey, Christopher Lloyd, Wayne Knight, Robert Vaughn, Jerry Stiller and a host of others in the new film "Excuse Me for Living."
The morning after its premier, Archer spent a few moments chatting with me about her exciting new film. She also shared some memories and moments of her time spent in Llanview. And keep reading to learn who Archer's favorite redhead is.
Q: I read you're a big Lucille Ball fan – what's your favorite "I Love Lucy" episode?
A: Absolutely. It's so hard to pick – I go back and forth a lot. I still think my favorite is the "Vitameatavegamin" one. I also love the one where she bakes her own bread. (Laughs)
Q: What do you miss the most about "One Life to Live?"
A: I miss the people. I was around the same people for ten years…. It was kind of like a family.
Q: How emotional were the final days of filming for you?
A: At the time when we were ending, we were still under the impression that we were moving onto Prospect Park. So it was more of a "I'll see you in three weeks" kind of thing. It was kind of like a vacation. I think that's where a lot of our heads were…. So at the time, it didn't seem like something to be upset about.
Q: What about when you got the official word that the show was over – that must have been difficult?
A: It was a weird day. It wasn't what I expected to hear. After the meeting I went back to the studio…. I looked around at all the faces, and it was all these people I adored and that's what got me upset.
Q: Who would you say mentored you during your time on the show?
A: Erika Slezak (ex-Viki). She was my "go-to" person. Having her as an on-screen mom was awesome. Sometimes I felt like I could treat her like a mom off screen too. She was fantastic – a great person to go to for advice. She always welcomed me with open arms. It was fantastic to watch her and learn from her and have her be such a comfort.
Q: You're the female lead in "Excuse me for Living" opposite Tom Pelphrey – what was it like working with him?
A: He's fantastic. I adored every minute of it. We had so much fun together. It was a blast. He's a great person to work with.
Q: What was it like to work with comedic icons like Jerry Stiller, Wayne Knight, and Christopher Lloyd?
A: It was amazing. It was a very fun experience to work with them. I didn't actually get to work with Jerry – I didn't have any scenes with him. Robert Vaughn was amazing. He was so much fun to work with. And Christopher Lloyd! He's just so down to earth. They were all great. It was wonderful. How lucky I was.
Q: How was the premiere last night?
A: I had actually seen the film once before. I was so excited, I didn't even remember it. Last night there was an audience. I was so nervous … until after it was over and people were talking about it.
Thanks to Melissa Archer for spending some time with me. Her film, "Excuse me for Living" is in theaters now.
---
Read all of Laurie Bedigian's celebrity interviews:
Sean Kanan (Deacon, Y&R) 11/20/11
Greg Cipes (JT, GH) 9/5/11
Colin Egglesfield (ex Josh, AMC) 9/4/11
Brad Maule (Dr. Tony Jones, GH) 12/13/09
Tim Gibbs (ex-Kevin, OLTL) 11/7/09
Louise Shaffer (Rae Woodard, Ryan's Hope) 10/23/09
Tobias Truvillion (Vincent, OLTL) 8/14/09
Brian Gaskill (Rafe, Port Charles; ex-Bobby, AMC) 7/24/09
Catherine Hickland (Lindsay, OLTL) 4/12/09
Senta Moses (Winnifred, GH) 2/15/09
Blake Gibbons (Coleman, GH) 12/5/08
Brad Maule (Dr. Tony Jones, GH) 11/23/08
Graham Shiels (Cody, GH) 11/19/08
Bradford Anderson (Spinelli, GH) 4/5/08
Bradford Anderson (Spinelli, GH) 1/11/08
---
Back to the Main OLTL Q&A Page
---
Buy Soap Magazines
Go here for great news & scoops, photos and in-depth articles!
Soap Opera Digest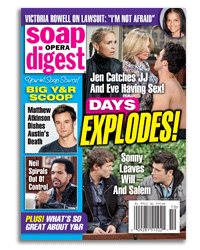 ---