PLEASE CLICK TO DONATE TO OUR SITE!!!!
One Life to Live Q&A
Catching Up with Tobias Truvillion (Vincent Jones)
By Laurie Bedigian
August 14, 2009
Recently I had the great pleasure of interviewing the multi-talented Tobias Truvillion. Tobias hails from Flushing, New York. He worked successfully as a model before becoming an actor. Tobias has numerous television and screen credits including "Law & Order: Criminal Intent," Law & Order: Special Victims Unit," "Third Watch," "Hitch," and "Delirious."
In 2001, Tobias won the AUDELCO Award (Audience Development Committee, Inc) for his role in the Off-Broadway musical "Sango." According to their official website, AUDELCO was "established and incorporated in 1973 by the late Vivian Robinson, to stimulate interest in, and support of performing arts in black communities." In 2008, Tobias was nominated for an NAACP Image Award for "Outstanding Actor in a Daytime Drama Series" for his role as Vincent Jones on "One Life To Live."
I enjoyed learning more about Tobias' background and his impressive career, before, during, and since his time on "One Life To Live." Here's what Tobias had to say.
Are you the only actor in the family? Where and when did your love of acting come from?
Well, recently my little sister expressed an interest in the art of acting, so I enrolled her in Tasha Smith Actor's Workshop (TSAW NYC). She really has a natural talent.
As for me, I went from a decent high school football player to a runway/billboard model. My path led me into acting when theater opportunities became available to me. My vision and love for acting wasn't completely clear to me until I connected with certain phenomenal key figures including my acting coach. It was the connection between those who have fostered my skills, and my passion to educate and entertain through the arts that helped me realize my love for acting.
I know you've done theater work – is that where your heart lies?
I love theater! I believe that's where most, if not all real actors' hearts lie. My first audition was for the theater. Then they threw a double whammy at me. After getting the job, they told me it was a musical. It was a bit of a challenge for me, but I stepped up to the plate and did my thing. I appreciated the experience. Dr. Teer Tunde Samuels, David Wright, and the National Black Theater will always have my heart.
You've studied dance as well? Is that something you've continued on with? Do you watch any of the dance shows on television like "Dancing With The Stars?"
(Laughs) Where did you hear that? I do my best but I'm not the number one contender for any of those dancing shows out there. When I did catch any of the shows, I did enjoy watching some of the NFL greats like Emmitt Smith or Lawrence Taylor. They represented for the athletes.
Was "One Life To Live" your first soap role? And was it at all intimidating to work on such a hugely popular soap with so many icons of daytime?
"One Life To Live" was my first contract role on network television. It has been a pleasure working with talents such as Kamar De Los Reyes (Antonio), Renee Goldsberry (Evangeline), Bob Woods (Bo), Phil Carey (Asa), David Fumero (Cristian), and certainly Tim Stickney (RJ) just to name a few.
Is there something you miss most about "One Life To Live?" Do you have a fond memory of your time there?
The FANS!!! There has been nothing more fulfilling to me than connecting with the fans. From charity events to just walking into the studio. There's nothing like reaching out to contribute or to make a difference. I'm still connecting with fans and supporting certain causes.
Do you think we'll be seeing Vincent again and is that something you would like to see happen?
Oh man, I hope so! I love him. I enjoy the creativity I can put into his character.
Tell me about working with Fantasia on her "Free Yourself" video.
Oh man she's the best!!! Now she can sing her brains out!!! I loved her from "American Idol."
In 2001, you won an AUDELCO Award for your role in the musical "Sango." That's a very prestigious award (http://www.audelco.net/) – can you share a little bit about that honor and tell us a little about the AUDELCO Awards?
I still kiss it sometimes. This is an award that has been bestowed upon such talented legends such as Ossie Davis, Sidney Poitier, and Denzel Washington. I have been humbled by the experience of being recognized for my work in the same light. This award for me is a direct reflection of the power of God and a sincere heart!
In 2008, you were nominated for an NAACP Image Award for "One Life To Live." I imagine that was a huge honor as well – can you tell us about it?
It was definitely an honor. I truly have been blessed with such keepsake moments. The NAACP represents such a powerful cause. With all of the talented folks in the business, I am grateful to have been one of the nominees.
Can you tell us about working on the movie, "Brooklyn's Finest," with Richard Gere, Don Cheadle, Ethan Hawke, and Wesley Snipes? That's quite an impressive cast. Did you work directly with any of them?
I enjoyed working on Antoine Fuqua's project. He's a great director. Yes, I spent some time conversing directly with Don and Wes on set.
Do you get nervous when you audition for a role?
If I don't, then I can't be good.
Is there a role or project that you consider your favorite or one you're most proud of?
All of my roles are a part of me. But I really enjoy being Vincent. The scope of his character has transitioned for the better. He has become more concerned and helpful, even caring. Heck, he seemed almost like me.
If you weren't in the entertainment business, what do you think you would be doing?
I'd be in the helping profession; teaching, coaching, counseling…
I read you coach football - do you coach kids? Did you play football as a kid?
When I can, I may assist teams or train individual kids. Football has been in my blood since I was a baby. My uncle played some professional football and I kind of shared his interests.
Is there a project you're working on now that you can share with us?
Currently in post production is the movie "The Tested." (http://www.thetestedthemovie.com/home.cfm) There have been some recent projects including national print and commercial roles. I recently guest starred in the "Law & Order: Criminal Intent" episode "All In." I've also been working on the production side of projects and am currently developing a script for a series. I'm all over the place.
Thanks so much to Tobias Truvillion for taking the time to do this interview. Tobias is an extremely talented man, and I know his fans wish him all the best on his future projects. I hope to bring you more from Tobias in the near future.
For more on Tobias, visit his MySpace at http://www.myspace.com/tobiastruvillion
To watch Tobias in Fantasia's "Free Yourself" video, please go to http://www.youtube.com/watch?v=pKSTD_6wzjI
Also please click the links below to learn more about some of the causes Tobias supports:
GO/GU America: http://imagerymedia.com/gogu/2009.html
"Go/GU America is a positive motivational movement to encourage people to be, feel, and do better with their lives through the slogan, "Get On!!!"
The American Cancer Society site at http://www.cancer.org/docroot/home/index.asp offers excellent support and information.
---
Read all of Laurie Bedigian's celebrity interviews:
Melissa Archer (ex-Natalie, OLTL) 10/21/12
Sean Kanan (Deacon, Y&R) 11/20/11
Greg Cipes (JT, GH) 9/5/11
Colin Egglesfield (ex Josh, AMC) 9/4/11
Brad Maule (Dr. Tony Jones, GH) 12/13/09
Tim Gibbs (ex-Kevin, OLTL) 11/7/09
Louise Shaffer (Rae Woodard, Ryan's Hope) 10/23/09
Tobias Truvillion (Vincent, OLTL) 8/14/09
Brian Gaskill (Rafe, Port Charles; ex-Bobby, AMC) 7/24/09
Catherine Hickland (Lindsay, OLTL) 4/12/09
Senta Moses (Winnifred, GH) 2/15/09
Blake Gibbons (Coleman, GH) 12/5/08
Brad Maule (Dr. Tony Jones, GH) 11/23/08
Graham Shiels (Cody, GH) 11/19/08
Bradford Anderson (Spinelli, GH) 4/5/08
Bradford Anderson (Spinelli, GH) 1/11/08
---
Back to the Main OLTL Q&A Page
---
Buy Soap Magazines
Go here for great news & scoops, photos and in-depth articles!
Soap Opera Digest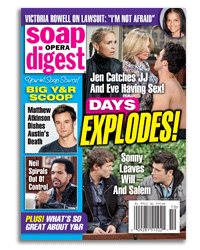 ---