PLEASE CLICK TO DONATE TO OUR SITE!!!!
One Life to Live Q&A
Catching Up with Tim Gibbs (ex-Kevin)
By Laurie Bedigian
November 7, 2009
Timothy Gibbs began acting when he was only 11. He has a number of film and television credits including some of our favorite daytime soaps. Tim appeared on "Santa Barbara" and "Another World" before moving on to "One Life To Live" in 1998 where he played Kevin Buchanan until 2001. From there, he moved on to other acting projects, including an appearance on "Sex And The City." In recent years, Tim has moved away from acting and made quite the career change. He was kind enough to talk with me recently. I think you'll find Tim quite funny and interesting. I know I did. Here's what he had to say:
You've been acting since you were fairly young. Are there other actors in the family? Did your parents encourage you to act?
I was eleven when I started acting. At the time, nobody in the family was acting, at least not professionally. My parents never discouraged us (their children) from trying anything that was not illegal or immoral. They only encouraged us. It's one of their great traits.
Were you involved in school and Community Theater as a child?
Nope. I was into sports. Theater never interested me much. The teamwork and technology elements that go into film and television production did intrigue me. I took a shine to those aspects straight away.
Do you remember much about your first professional acting job?
Sure. You never forget your first. It was a television commercial for Ghirardelli Chocolate Chip Cookie Mix. I had to say. "Mmmmmmmmmmm…"
I know you did several episodes of "Father Murphy" which was created and produced by Michael Landon. Tell me about working with Michael Landon – is there anything in particular that stands out about working with him?
Michael Landon was as near omnipotent as a mortal could be. He had a remarkably infectious laugh, ignited by an ever-present sense of humor. His big smile was an allegory for his genuine love of life and people. Working for Michael Landon remains the high point of my career.
What was it like working on an episode of "Sex And The City?" Does anything stand out about that experience?
"Sex and the City" was fun. AND FAST! They shot quickly. You're in and you're out!
I read you didn't watch "One Life To Live" before you were cast as Kevin. Was there any nervousness about auditioning for such a huge daytime soap opera?
I did not audition for OLTL. Jill Phelps (the EP at the time) left "Another World," where I was playing Gary Sinclair, and moved to "One Life To Live." She invited me over about six months later.
What do you miss most about your time on "One Life To Live?"
Drinking a scotch with Phil Carey (Asa) after work.
Tell me how you were chosen as the model for the second Max Payne video game – is it true they were actually looking for someone who looked like you? And there was no speaking involved – just them making use of your facial features?
It is true. They actually circulated my picture to casting directors and asked if they could "bring in guys that looked like him"… My agent called me and said, "Hey… I found something you can do… They want someone ugly." Right. No words. Just expressions.
So you were acting steady until around 2004? Then you sort of switched gears? Can you tell us about your construction business?
My business has grown and changed a lot over the years. JRH Davis now acts as a marketing and sales consulting firm for the architecture, design, and construction industries.
Has the economy hurt you at all – by that I mean, do you have less work lately?
Sure. There is less work today in comparison to 2007; however, our products and services are unique to the industries they serve. That has made all of the difference for us.
So you enjoy jumping out of planes? How long have you been skydiving and how and WHY did you start?
I LOVE IT!!!! It is a great sport! I achieved my skydiving license in early 2008. I started because I was looking for something new, a new challenge, a new way to feel alive.
Were you nervous the first time you jumped? If so, do you still get nervous?
Let me first say that I am new to the sport by comparison to those who instructed me and those that jump nearly daily. I have just over 200 solo jumps. Some friends of mine have over 11,000!
I was nervous, in part, the first time, of course, but to describe it purely as nervousness diminishes the state of being you are in on that first jump, and all the jumps that follow as far as I'm concerned. It's better described as a moment of higher consciousness. It's what some call an adrenaline rush. And that's an addicting feeling. Very.
Skydiving is a carefully coordinated frolic with scientific principles. Each jump is a test. A test of my ability to stay cool and focused under what some might call intense pressure. Sounds fun, huh?
Do you enjoy any other "thrill seeking" type activities like mountain climbing?
I'm big into surfing. I fly with my brother, David, when I can, in whatever helicopter he's piloting at the time (I do not have my license). And I go skiing nearly every winter. I also have my Advanced Open Water Scuba License.
Are you currently auditioning or do you have any acting projects in the works? I guess I'm curious if acting is still a passion of yours.
I still have an agent and manager. I do not pursue acting now the way I once did, but will, perhaps, get a second wind. Right now, I love being a businessman. I love all that goes into imagining, creating, and nurturing a new business. It's as addictive as skydiving.
I am writing a book at the moment - my first novel. The story is a big one. It's actually three stories that intersect, defining and commenting on one another as they unfold. The central story is set against the backdrop of The Black Hills (better known as the Mount Rushmore National Memorial). The Sioux Nation calls the hills Papa Sapa or The Six Grandfathers, a name the Cheyenne gave the hills before the Sioux drove them off the land. That central story is told from the Crustaceous period, when the hills were formed, through the Fort Laramie Treaty, when our government promised the hills to the Sioux forever, to our government's betrayal and retaking of the land (for mining purposes), to the carving of the four effigies, to, finally, 500,000 years in the future, when the hills are weathered back to resembling something of what they originally were.
The secondary story is that of two artists: Gutzon Borglum was the sculptor (and KKK member) who designed and signed his name to Mt. Rushmore. And the other artist, Thomas Moran (maybe -not certain yet), will be the opposite. One who operates from love of humanity and earth – rather than fear.
The third story is that of young man named Mitchell. He eventually visits the memorial for deeply personal reasons relating to his father's disappearance during WWII. It's a story of patriotism and the questions some of us may have about just what our reflection looks like in the mirror of that patriotism. What should we stand for? Protect? Endorse? Change? How are we to be Americans?
Tell me how life has changed for you going from a working actor to a business owner. Are you happy you've made the transition?
The most positive change is that I'm not so wrapped up in what I look like. And I'm not dealing with the overwhelming "bull" that can go along with a career in show business. I must tell you that at this moment, I am happier than I have ever been in my life. I'm very, very fortunate.
Thanks to Tim Gibbs for taking the time to talk with us. For more on Tim and his company, visit www.turn-buckle.com and www.gardeniagrowth.com. You can also follow Tim on Twitter at http://twitter.com/mistergibbs.
(Click on pictures for larger resolution ones)
---
Read all of Laurie Bedigian's celebrity interviews:
Melissa Archer (ex-Natalie, OLTL) 10/21/12
Sean Kanan (Deacon, Y&R) 11/20/11
Greg Cipes (JT, GH) 9/5/11
Colin Egglesfield (ex Josh, AMC) 9/4/11
Brad Maule (Dr. Tony Jones, GH) 12/13/09
Tim Gibbs (ex-Kevin, OLTL) 11/7/09
Louise Shaffer (Rae Woodard, Ryan's Hope) 10/23/09
Tobias Truvillion (Vincent, OLTL) 8/14/09
Brian Gaskill (Rafe, Port Charles; ex-Bobby, AMC) 7/24/09
Catherine Hickland (Lindsay, OLTL) 4/12/09
Senta Moses (Winnifred, GH) 2/15/09
Blake Gibbons (Coleman, GH) 12/5/08
Brad Maule (Dr. Tony Jones, GH) 11/23/08
Graham Shiels (Cody, GH) 11/19/08
Bradford Anderson (Spinelli, GH) 4/5/08
Bradford Anderson (Spinelli, GH) 1/11/08
---
Back to the Main OLTL Q&A Page
---
Buy Soap Magazines
Go here for great news & scoops, photos and in-depth articles!
Soap Opera Digest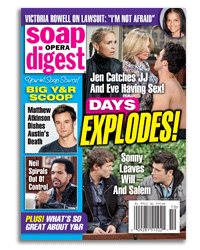 ---