PLEASE CLICK TO DONATE TO OUR SITE!!!!
Passions Winners & Losers
---
Winners & Losers by Michele and Cheryl
7/7/08 – 7/11/08
Winners:
Tabitha was willing to risk losing her powers to save everyone at the church. She wanted to do it for Endora. She really will do anything for her daughter.
Esme actually thought of other people besides herself. She went to Tabitha to ask her to help save everyone to keep them from dying. It was weird to see Esme think of others.
Losers:
Sheridan took too long to tell everyone what Vincent and Viki were planning to do. She was willing to let Fancy die just to get Luis. Luckily she didn't go through with it, but the damage was done. Vincent was able to threaten her and lock her in a closet before she could say anything.
Theresa walked right past her family when she saw them knocked out. She ran to Ethan and stayed with him. She didn't care that her family was poisoned. If that weren't enough, she was willing to poison herself because she lost Ethan. She didn't think about her children at all.
Back to the Main Passions Winners & Losers Page
Back to the Main Passions Page
---
---
Buy Soap Magazines
Go here for great news & scoops, photos and in-depth articles!
Soap Opera Digest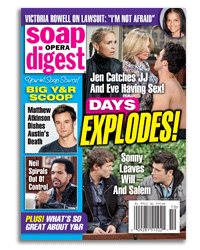 ---
---