PLEASE CLICK TO DONATE TO OUR SITE!!!!
Passions Winners & Losers
---
Winners & Losers by Michele and Cheryl
6/23/08 – 6/27/08
Winners:
Rebecca proved that she is one of the few people in Harmony who have a brain. She realized that Theresa was really alive based on what Theresa wrote in her letter about Ethan adopting little Ethan.
Gwen finally figured out that Theresa is Gertrude. Maybe Gwen is starting to get her brain back too.
Losers:
Pretty has really flipped out since she was willing to throw acid on Fancy.
Luis and Fancy just stood around trying to talk to Pretty when she freaked out instead of arresting her.
Back to the Main Passions Winners & Losers Page
Back to the Main Passions Page
---
---
Buy Soap Magazines
Go here for great news & scoops, photos and in-depth articles!
Soap Opera Digest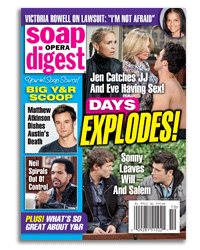 ---
---