PLEASE CLICK TO DONATE TO OUR SITE!!!!
Passions Winners & Losers
---
Winners & Losers by Michele and Cheryl
6/9/08 – 6/13/08
Winner:
Little Ethan was able to kill two birds with one stone. He got Ethan to think about Theresa while making Gwen look like a fool.
Losers:
Gwen keeps making it so easy for little Ethan to make her look bad. She played right into his hands by letting his scheme get to her.
Kay and Miguel were stupid enough to tell Juanita so much information. They didn't know her so they shouldn't have told her anything about themselves.
Back to the Main Passions Winners & Losers Page
Back to the Main Passions Page
---
---
Buy Soap Magazines
Go here for great news & scoops, photos and in-depth articles!
Soap Opera Digest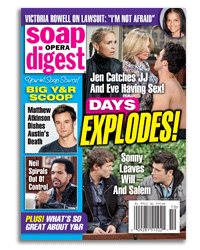 ---
---