PLEASE CLICK TO DONATE TO OUR SITE!!!!
Passions Winners & Losers
---
Winners & Losers by Michele and Cheryl
5/12/08 – 5/16/08
Winners:
Sheridan was willing to save Luis and Fancy when they were about to crash. Considering how nasty Fancy has been to her, she should have let Fancy die.
Gwen figured out that Theresa is still alive despite how much Pilar kept fighting her on it.
Losers:
Theresa chose to rape Ethan again when she drugged him and Gwen.
Eve had a chance to turn Vincent in, but she didn't want Julian to call the police. Funny, she was the one who wanted to turn him in before, but now she wants to protect him.
Back to the Main Passions Winners & Losers Page
Back to the Main Passions Page
---
---
Buy Soap Magazines
Go here for great news & scoops, photos and in-depth articles!
Soap Opera Digest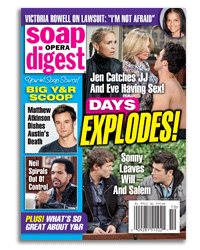 ---
---