PLEASE CLICK TO DONATE TO OUR SITE!!!!
Passions Winners & Losers
---
Winners & Losers by Michele and Cheryl
4/28/08 Ė 5/2/08
Winners:
Julianís scenes with Norma and Edna were a riot. Julianís reaction to their striptease was priceless.
Theresa and Pilarís reunion scenes were good. It was nice to finally see that scowl look off of Pilarís face.
Losers:
Gwen continues to want to be with Ethan even knowing that he will always love Theresa.
Pretty had to go as far as using bats to keep Luis and Fancy apart.
Paloma kept insulting Tabithaís house yet sheís taking advantage of Tabithaís hospitality.
Back to the Main Passions Winners & Losers Page
Back to the Main Passions Page
---
---
Buy Soap Magazines
Go here for great news & scoops, photos and in-depth articles!
Soap Opera Digest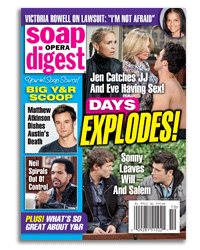 ---
---