PLEASE CLICK TO DONATE TO OUR SITE!!!!
Passions Winners & Losers
---
Winners & Losers by Michele and Cheryl
4/21/08 – 4/25/08
Winner:
Julian's story was really funny. Julian's reaction to losing his "little Julian" had us cracking up. It was the best story this week.
Losers:
Little Ethan showed that he's a schemer just like his mother. He put blue dye in Gwen's bath water and turned her skin blue. The only thing he did was make Gwen want to send him to boarding school.
Ethan expected Gwen to be okay with what little Ethan did to Gwen. It was easy for him to laugh it off because he wasn't the one who was blue.
Pilar kept pushing her luck with Gwen by singing that same song of blaming her for Theresa's death. If she doesn't want the rest of her family to die, she should stop giving her a reason to call Juanita.
Back to the Main Passions Winners & Losers Page
Back to the Main Passions Page
---
---
Buy Soap Magazines
Go here for great news & scoops, photos and in-depth articles!
Soap Opera Digest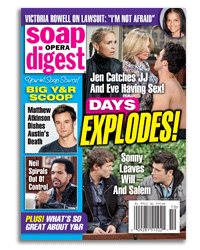 ---
---