PLEASE CLICK TO DONATE TO OUR SITE!!!!
Passions Winners & Losers
---
Winners & Losers by Michele and Cheryl
4/14/08 – 4/18/08
Winner:
Sheridan warned Luis that Pretty was going to have an abortion. She put his baby before her chance at being with Luis.
Losers:
Fancy was worried about Luis not being able to spend all of his time with her because of Marty and Pretty's baby. She didn't care how Pretty's news would have affected Luis.
Gwen wanted to send little Ethan to boarding school. She should have known that plan wasn't going to go over well.
Eve warned Vincent that she was going to sell him out instead of just doing it. What else was he going to do but threaten her to keep quiet?
Back to the Main Passions Winners & Losers Page
Back to the Main Passions Page
---
---
Buy Soap Magazines
Go here for great news & scoops, photos and in-depth articles!
Soap Opera Digest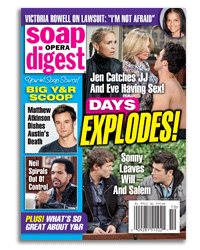 ---
---