PLEASE CLICK TO DONATE TO OUR SITE!!!!
Passions Winners & Losers
---
Winners & Losers by Michele and Cheryl
4/7/08 Ė 4/11/08
Winner:
Little Ethan was the only one who knew that Gertrude was Theresa. It took a child to realize that Theresa looked the same.
Losers:
Pilar didnít recognize her own daughter dressed up as Gertrude.
Ethan claims that Theresa is the love of his life, but he didnít recognize her as Gertrude. So much for their connection.
Fancyís father was in the hospital, but she was worried about Pretty and Sheridan stealing Luis from her.
The writers expected us to believe that no one noticed how drunk/high Eve was when she operated on Julian. Only one nurse thought she didnít look right, but Vincent was able to keep her from saying anything about Eveís behavior.
Back to the Main Passions Winners & Losers Page
Back to the Main Passions Page
---
---
Buy Soap Magazines
Go here for great news & scoops, photos and in-depth articles!
Soap Opera Digest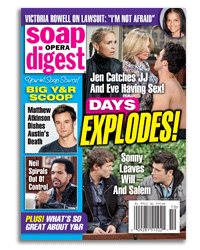 ---
---