PLEASE CLICK TO DONATE TO OUR SITE!!!!
Passions Winners & Losers
---
Winners & Losers by Michele and Cheryl
3/17/08 – 3/214/08
Winners:
Sam realized that Ethan was being unfair to Gwen when he said he would be stuck with her.
Julian was willing to give Ethan permission to adopt little Ethan. He complimented him about being a good father and accepted responsibility for not being a good father to little Ethan.
Losers:
Ethan felt he was stuck with Gwen since he couldn't be with Theresa.
Gwen kept begging Ethan to be with her even when he clearly didn't want to be with her.
Back to the Main Passions Winners & Losers Page
Back to the Main Passions Page
---
---
Buy Soap Magazines
Go here for great news & scoops, photos and in-depth articles!
Soap Opera Digest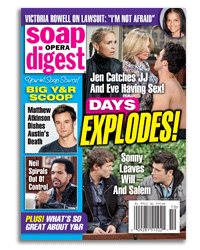 ---
---