PLEASE CLICK TO DONATE TO OUR SITE!!!!
Passions Winners & Losers
---
Winners & Losers by Michele and Cheryl
3/10/08 Ė 3/14/08
Winners:
Theresa found a way to outsmart the agent. She was determined to get home to her family and she found a way to do it.
Juanita was out to find Pilar and her family.
Losers:
Gwen kept going after Ethan when he clearly told her how much he wants to be with Theresa.
Sheridan agreed to help Pretty break up Luis and Fancy. If she didnít want Pretty to use the mind controlling device to control Fancy, she would have been better off selling Pretty out.
Ethan agreed to be with Gwen, yet he was acting as if he was forced to do it.
Back to the Main Passions Winners & Losers Page
Back to the Main Passions Page
---
---
Buy Soap Magazines
Go here for great news & scoops, photos and in-depth articles!
Soap Opera Digest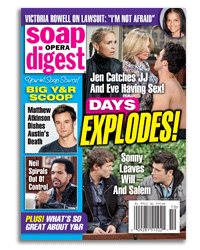 ---
---