PLEASE CLICK TO DONATE TO OUR SITE!!!!
Passions Winners & Losers
---
Winners & Losers by Michele and Cheryl
2/25/08 Ė 2/29/08
Winner:
Gwen managed to get the upper hand with Pilar when she was ready to expose her. Pilar had plenty of chances to expose her, but she didnít.
Losers:
Pilar had her chance to sell Gwen out, but she wanted to keep threatening her instead. In her vain attempt to make Gwen sweat, she ended up getting blackmailed again.
Kay didnít want Tabitha to use magic to get rid of the demon elf.
Noah kept begging Paloma to be with him and even used her grief of losing Theresa as a way to get her back.
The writers wasted more screen time by having Julian find out that Vincent was alive only to have him think it was a hallucination.
Back to the Main Passions Winners & Losers Page
Back to the Main Passions Page
---
---
Buy Soap Magazines
Go here for great news & scoops, photos and in-depth articles!
Soap Opera Digest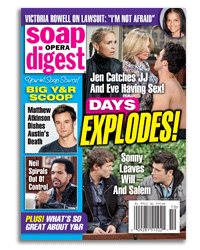 ---
---