PLEASE CLICK TO DONATE TO OUR SITE!!!!
Passions Winners & Losers
---
Winners & Losers by Michele and Cheryl
2/18/08 Ė 2/22/08
Winners:
Ivy admitted to Sam that she didnít want to see Theresa die. She showed that she isnít heartless.
Sheridan had a chance to disparage Fancy when she was talking to Marty about her behavior, but she didnít. She tried to make him feel hopeful that she will get better.
Losers:
The writers wasted airtime making us think that Theresa was alive and exposed Gwenís secret.
Kay didnít want to use magic to save Noah. She was more concerned about keeping her word to Miguel than keeping her brother alive.
Back to the Main Passions Winners & Losers Page
Back to the Main Passions Page
---
---
Buy Soap Magazines
Go here for great news & scoops, photos and in-depth articles!
Soap Opera Digest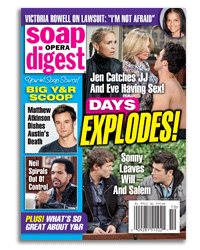 ---
---