PLEASE CLICK TO DONATE TO OUR SITE!!!!
Passions Winners & Losers
---
Winners & Losers by Michele and Cheryl
2/11/08 – 2/15/08
Winners:
Rebecca was great for a laugh this week when she was flirting with Sam. She always says the craziest things when she flirts with him.
The writers had movement in the Ethan/Theresa/Gwen story. The truth about Gwen and Rebecca blackmailing Pilar and Ethan's paternity was revealed. We were suspicious of how easily it came out, but for now, it can be a winner.
Losers:
Kay used magic to save Miguel which conjured up the demon elf. Then she had the nerve to stop Tabitha from using magic to get rid of the elf.
Noah kept bugging Paloma to get her to forgive him. She told him to leave her alone, but he wouldn't do it.
Sam was unprofessional. He was supposed to be concentrating on catching the killer in the mansion, but he had sex with Ivy instead.
Back to the Main Passions Winners & Losers Page
Back to the Main Passions Page
---
---
Buy Soap Magazines
Go here for great news & scoops, photos and in-depth articles!
Soap Opera Digest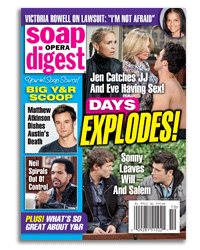 ---
---