PLEASE CLICK TO DONATE TO OUR SITE!!!!
Passions Winners & Losers
---
Winners & Losers by Michele and Cheryl
2/4/08 – 2/8/08
Winners:
Paloma didn't accept Noah or Fancy's apologies for kissing each other. Noah and Fancy tried to give Paloma the same excuse they gave her before when they were caught in bed together. Noah thought blaming magic for what he did was going to let him off the hook.
Theresa was willing to risk her life to save Pilar. She had to be the strong one during their crisis of trying to get away from Juanita.
Losers:
The writers wasted screen time on the fantasies that Luis, Miguel, and Ethan had about Fancy, Kay, and Theresa. We get that they love them but who cares about seeing them having sexual fantasies about the women in their lives Hello?! Their family was in danger and all they were worried about was their sex lives. They also wasted time on Gwen's fantasy about Ethan finding out the truth about her blackmailing Pilar.
Kay was a hypocrite. She was willing to break her promise not to use magic, but she kept stopping Tabitha from using magic.
Back to the Main Passions Winners & Losers Page
Back to the Main Passions Page
---
---
Buy Soap Magazines
Go here for great news & scoops, photos and in-depth articles!
Soap Opera Digest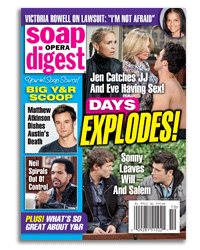 ---
---